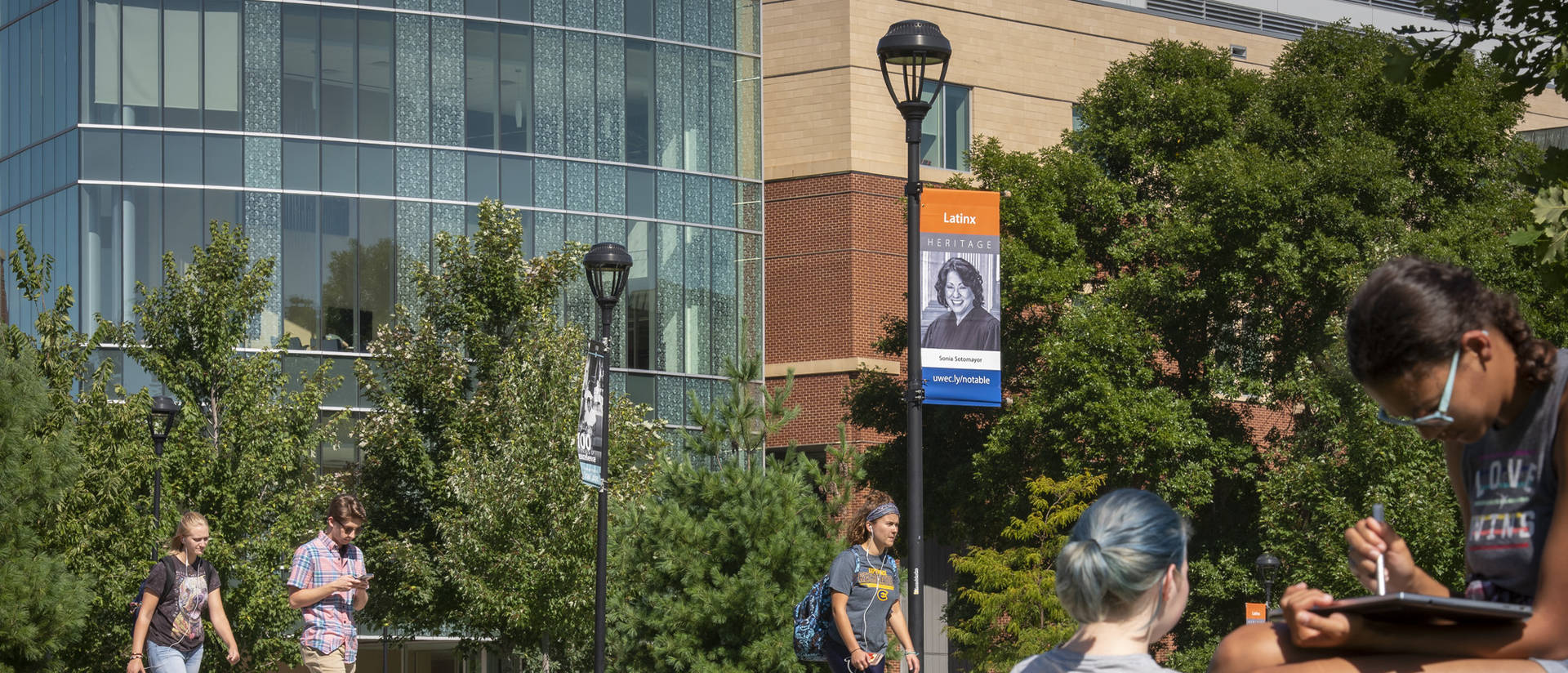 Individuals who changed history
Visibility is a critical component in the realization of equity, diversity, and inclusion. At UW-Eau Claire, we recognize the importance of showcasing the diverse array of individuals who have contributed to our histories — histories carried forward and built upon by our students, faculty, and staff. In addition, we hope to highlight and pay tribute to those whose contributions may be felt, but whose lives and names are too often unknown.
Campus recognition of heritage months
The nationally designated heritage months are important times to further amplify the experiences of historically marginalized populations through deconstructing and celebrating those cultures.
Multicultural Student Services is proud to host a variety of Heritage Month celebrations throughout the academic year! Open to all students, staff, and faculty in the UW-Eau Claire community, Heritage Month festivities are indispensable opportunities for Blugolds to appreciate the experiences of communities of color. We aim to celebrate the diverse cultural identities amongst Blugolds through thought-provoking, collaborative, and equitably driven programming.
An MSS Heritage Month celebration event series may include moving screenings, musical performances, speakers, and a myriad of other culturally relevant activities. Swing by during these celebrations to enjoy authentic food, hear phenomenal music, and learn more about the history and culture of others!
Full list of Heritage Months and spotlighted names on campus banners:
February: Black History Month

February: Black History Month

Bayard Rustin

Bayard Rustin was a Civil Rights powerhouse whose substantial legacy is often overshadowed (or left out completely). As an openly gay man, Rustin was seen as a liability by some in the Civil Rights Movement, relegating his leadership to behind-the-scenes efforts. Rustin is best known as the architect of the March on Washington, a pivotal moment in Civil Rights history, the effects of which continue to resonate today. He was also a key player in organizing Freedom Rides and helped organize the Southern Christian Leadership Conference, significantly strengthening Martin Luther King Jr.'s leadership and non-violence ethos. After the passage of Civil Rights legislation, Rustin became head of the AFL-CIO's A. Philip Randolph Institute which worked toward the integration of all-White unions, while developing and promoting unions specifically for African Americans. Before his death in 1987, and throughout the 1980s, he became an outspoken, public advocate for gay and lesbian causes.

Fannie Lou Hamer

Fannie Lou Hamer was born in 1917 and was the 20th child of Lou Ella and James Lee Townsend who were share croppers in eastern Mississippi. In the early 1940s, she married Perry Hamer. The two of them adopted two daughters from families who were unable to care for them. Though Fannie Lou Hamer had tried to have biological children, her own pregnancies failed. It was later discovered that, in 1961 while in the hospital for a minor surgery, Hamer was given a hysterectomy without her knowledge or consent. This practice was so common at the time for Black women that it was known as a "Mississippi appendectomy." Her forced sterilization was one of the catalysts that put Fannie Lou Hamer at the forefront of the Mississippi Civil Rights Movement. In 1962, Hamer went on a bus to Indianola to try to register to vote. On the way back home, the bus was stopped and the driver was arrested. While they were being held on the bus, Fannie Lou Hamer sang "This Little Light of Mine" and "Go Tell It on the Mountain," which would later become defining features in her activism. It was because of her singing and the way she challenged the registrar that she was noticed by local organizers and took on a bigger platform for desegregation and voting rights. She went on to be a co-founder of the Freedom Democratic Party and the National Women's Political Caucus. She faced constant backlash and racist attacks from White supremacists and police and still encouraged thousands of African Americans in Mississippi to become registered voters. She also helped hundreds of folks find work through Freedom Farm Cooperative. She died in 1977 and was posthumously inducted into the National Women's Hall of Fame.

Medger Evers

Medgar Evers was a civil rights activist in Mississippi, the field secretary for the NAACP, and a World War II Veteran who served in the United States Army. His activism for desegregation was a key component in overturning segregation at the University of Mississippi and in public facilities. After the 1954 ruling in Brown v. Board of Education, Evers challenged the segregation at the University of Mississippi and applied to law school there. He worked for voting rights, economic opportunity, and access to public facilities for African American people. In 1963, he received the NAACP Spingarn Medal. In 1963, Medgar Evers was assassinated outside of his home in Mississippi by Bryon De La Beckwith, a White supremacist and founding member of Mississippi's White Citizens Council. Despite the evidence, Beckwith denied murdering Evers. His first trials ended in deadlock, as the all-White juries failed to reach a verdict. It wasn't until 1994 that Beckwith was finally convicted in a state trial. Medgar Evers was buried with full military honors at the Arlington National Cemetery. His death resulted in many civil rights protests and became the focal point of many works of art, music, and film. His wife created what is now called the Medgar and Myrlie Evers Institute in Jackson, Mississippi to continue their commitment to social change. The City University of New York named one of their campuses after Medgar Evers and in 2009 the U.S. Navy bestowed his name on a Navy vessel. His home was officially designated as a national historic landmark in 2017 by former president Barack Obama.
March: Women's History Month

March: Women's History Month

Wengari Maathai

Wangari Muta Maathai was born in Nyeri, a rural area of Kenya in 1940. In 1971, she received her Ph.D. and became the first woman in East or Central Africa to earn a doctorate and was a professor of Veterinary Sciences. In 2002, she was elected to Kenya's National Assembly and served on the National Council of Women in Kenya. While serving on the National Council of Women, she came up with the idea of community-based tree planting. She continued to develop this idea into a broad-based grassroots organization which eventually came to be known as the Green Belt Movement. The Green Belt Movement focused on poverty reduction and environmental conservation through tree planting. She became internationally recognized for her activism for democracy, social justice, and environmental conservation. She addressed the United Nations on multiple occasions, serviced on Kenya's parliament, founded the Wangari Maathai Institute for Peace and Environmental Studies at the University of Nairobi, and was declared as a UN Messenger of peace. She won the 2004 Nobel Peace Prize Laureate, wrote four books and was the subject of the documentary film "Taking Root: The Vision of Wangari Maathai." She was influential around the globe and her work continues to impact the study of and activism surrounding environmental conservation, land use, resource-based conflicts, and peace studies. Wangari Maathai died on September 25th 2011 after battling ovarian cancer. Memorial services to honor her legacy were held in Kenya, New York, San Francisco, and London.

Alice Paul

Alice Paul was a leader of the Women's Suffrage Movement, advocating for the passing of the 19th Amendment. Growing up, Alice Paul's parents were advocates for gender equality, education for women, and social justice work. Alice Paul's mother was an early suffragist and often brought Alice to her suffragette meetings. She earned multiple degrees in the United States and eventually went to England to study social work, before she eventually returned to the United States and earned her Ph.D. from the University of Pennsylvania. While in England, she met Lucy Burns and joined suffragist movements abroad. It was there that she learned about protesting tactics such as picketing and hunger strikes. When she came back to the United States and joined The National American Woman Suffrage Association (NAWSA), she brought the tactics she learned in England with her. She organized many parades and pickets for the suffrage movement in the United States, the largest being over 8,000 women in Washington D.C. on March 3, 1913–the day before Woodrow Wilson's inauguration. She endured verbal and physical attacks during her protests and was arrested multiple times. By 1918, President Woodrow Wilson publicly supported suffrage and 2-years later the amendment was approved. Alice Paul continued her activist work for women across the country for the remainder of her life.

Shirley Chisholm

Shirley Anita St. Hill Chisholm was born in Brooklyn, New York, on November 30th, 1924. She graduated cum laude from Brooklyn College in 1946. After graduation, Chisholm worked as a nursery school teacher and worked towards her master's degree in early childhood education from Columbia University. She completed her master's program in 1951 and by 1960 she was a consultant to the New York City Division of Day Care. She also joined local chapters of organizations such as the League of Women Voters and the National Association for the Advancement of Colored People (NAACP). In 1964, Chisholm became involved in New York state legislation, the second African American to do so. Moving forward, Chisholm was the first African American woman elected to Congress in 1968. During her time there, "fighting Shirley" was known for pushing for racial and gender equality, the plight of the poor, and ending the Vietnam War in over fifty different pieces of legislation. In 1971, Chisholm co-founded the National Women's Political Caucus. A year later, in 1972, she became the first woman and African American to seek nomination for the presidency from one of the two major political parties. Even with an under-financed campaign and only being permitted to make one speech, Chisholm still claimed 10% of the delegates in the election. In 1977, Chisholm became the first black person and the second woman to serve on the House Rules Committee. Chisholm retired from congress in 1983 and taught at Mount Holyoke College. Additionally, she co-founded the National Political Congress of Black Women. In 1991, she moved to Florida, passing away in 2005.
April: Hmong Heritage Month

April: Hmong Heritage Month

Kao Kalia Yang

Kao Kalia Yang is a Hmong-American teacher, public speaker, and writer. Yang was born in the Ban Vinai Refugee Camp in the country of Thailand and immigrated with her family to the United States in the summer of 1987. Yang is the author of the award-winning book titled, The Late Homecomer: A Hmong Family Memoir (Coffee House Press, 2008). The Late Homecomer received the Minnesota Book Awards in Creative Nonfiction/Memoir and Readers' Choice in 2009. Yang's second book, The Song Poet (Metropolitan Books, 2016) also won the 2017 Minnesota Book Award in Creative Nonfiction Memoir. In her growing literary repertoire, Yang will release her first children's book titled, A Map into the World (Carolrhoda Books) in the fall of 2019, as well as a collection of narratives titled, What God is Honored Here? These collections will be writings related to miscarriage and infant loss by and for Native Women and Women of Color (University of Minnesota Press). Yang attended Carleton College and received a bachelor's degree in American Studies and Women's & Gender Studies in 2003. She received her Master of Fine Arts in Creative Nonfiction Writing from Columbia University in New York City. Yang currently resides in Minneapolis, Minnesota with her family.


Foung Hawj

Foung Hawj is a Hmong-American democratic member of the Minnesota State Senate. Hawj was first elected in 2012 to represent District 67, located in eastern Minnesota. As a member of the senate, Hawj serves on numerous legislative committees that include the Capital Investment Committee, the Environment and Natural Resources Finance Committee, and the Veterans and Military Affairs Finance and Policy Committee. In addition, he is involved in initiatives that support agricultural development, rural development, and accessible housing. Moreover, Hawj has also been heavily involved in his local community, as well. He has served on St. Paul's District 2 Council, the Minneapolis Foundation's Technology Steering Committee, the Hmong Chamber of Commerce, and he continues to serve on the Gateway to Health Food Coop. Hawj's leadership spans decades as he is the co-founder of the Hmong-American DFL Caucus, which was organized in the early 1990's. Outside his political and community service, Hawj is also an entrepreneur who runs has a small business where he promotes and educates the community about healthy living by using multimedia and digital technology. He received his bachelor's degree from the University of Kansas, and his Master of Science degree from Rochester Institute of Technology, New York.

Kashoua Kristy Yang

Kashoua Kristy Yang is the Circuit Court Judge on the Milwaukee County Circuit Court in Wisconsin. She was elected into this position in April 2017. Yang was born in a refugee camp in Thailand and she immigrated to the United States and grew up in Sheboygan, WI with 11 siblings. She later earned her bachelor's degree in computer science from Lakeland College in Wisconsin and holds a law degree from the University of Wisconsin Law School. Yang is the first Hmong, female judge and the second Hmong-American judge in the country. Before her current role as a Circuit Court Judge, Yang worked as a Guardian ad Litem, where she served as an advocate for children involved in court proceedings. She also worked to represent families and individuals through her role as an attorney when she worked at Nonprofit Legal Services of SE-WI and with Hawks Quindel, S.C. In 2014, Yang started Kashoua Yang, LLC in Milwaukee, WI, where she focused her work as an attorney in areas related to family law, social security, and disability law. Yang received multiple accolades over her professional career, including being recognized as a Rising Star by Super Lawyers from 2013-2016 and was recognized as a Leading Lawyer by M Magazine in 2015.
May: Asian Pacific American Heritage Month

Asian Pacific American Heritage Month


Grace Lee Boggs

Grace Lee Boggs was born on June 27th, 1915 in Providence, Rhode Island. Boggs was an American author, social activist, philosopher and feminist. Boggs studied at Barnard College at age 16 and went on to earn her Ph.D. in philosophy from Bryn Mawr College. Grace Lee Boggs was married to James Boggs, an activist and author, in 1953. For years, her work focusses on Georg Wilhelm Friedrich Hegel, Karl Polanyi and Karl Marx. She translated three of Marx's essays from German to English. She also participated in the Workers Party, the Socialist Workers Party and the Trotskyite movement as a young adult. Her work and political inclinations led her to partner up with socialist theorists such as C.L.R. James and Raya Dunayevskaya as part of a political sect called the Johnson-Forest Tendency. Grace Lee Boggs has spent much of her life advocating for civil rights and labor rights and became a noted figure in Detroit's Black Power movement. Being an activist, Boggs fight for issues related to labor and civil rights, feminism, Black Power, Asian Americans and the environment. In 1974, Boggs and husband wrote their novel called Revolution and Evolution In The Twentieth Century in 1998. Boggs also published an autobiography called Living For Change. In 2011, she co-wrote The Next American Revolution: Sustainable Activism For The Twenty-First Century with Scott Kurashige, a professor and author. In 2013, a charter elementary school in Detroit, Michigan, opened a school in honor of Boggs and her husband. It's called the James and Grace Lee Boggs School.

Mee Moua

Mee Moua was born on June 30, 1969 in Xieng Khouang, Laos, is an American politician, and is the former president and executive director of the Asian Americans Advancing Justice -AAJC(Advancing Justice-AAJC). Mee Moua immigrated to the U.S in 1978 after the Vietnam War. She lives with her husband, Yee Chang and their three children on St. Paul's East Side. She has degrees from Brown University, a Masters of Public Policy from the University of Texas-Austin, and her law degree from the University of Minnesota. Mee Moua was the nation's first Hmong American elected to a state legislature. She served as leader of the Hmong Chamber of Commerce and the Hmong Bar Association. She is a senator from Minnesota State Senate from 2002-2010. She also won Special Election in Minnesota State Senate, January 29, 2002. Her legislative accomplishments include funding for the Phalen Corridor and Metropolitan State University Library, making it easier to build affordable housing, and improving tax policies for low income Minnesotans. Along with her legislative accomplishments, Mee Moua also fought to protect civil rights and to secure funding for crime victims. In addition to being a member of the Senate, Senator Moua is an attorney. Senator Moua is a member of the Democratic National Committee and a board member on the Asian and Pacific Islander American Health Forum. Senator Moua is a Majority Whip, Vicechair of the Transportation Policy and Budget Committee, and serves on the Tax Committee and the Health and Family Security Committee.

Rachel Paulose

Rachel Paulose was born on March 12, 1973 in Kerala, India. Paulose was attorney and a Law Clerk in the United States. She earned her bachelor's degree from the University of Minnesota in 1994. She continued her education at Yale Law School and earned her Juris Doctor in 1997. Paulose's legal career began in 1997 when she worked as a law clerk under Judge James B. Loken of the U.S. Court of Appeals for the Eighth Circuit. Paulose was also the first Indian American woman to be nominated by the President and unanimously confirmed by the Senate to serve in any federal appointment. She was the youngest person, the first Asian American and the first woman to lead the District of Minnesota as United States Attorney. She earned national recognition and honors as the Chair of the Student Representatives to the Board of Regents. Paulose was also a member of League of Women Voters, Board of Directors Yale Law School Fund, Board of Directors Federal Bar Association, and Eighth Circuit National Asian Pacific American Bar Association. In addition, she is also a member in the Board of Directors of Minnesota Chapter Harry S. Truman Scholarship Foundation, a member of the Scholarship Selection Judge Trust for Public Land, Board of Directors American Bar Association, and Preview of United States Supreme Court Cases Asian-American Press.
September: Latinx Heritage Month

September: Latinx Heritage Month

Latinx Heritage Month (LHM), an official national designation, was established as a way to recognize and celebrate the enormous contributions and accomplishments of Hispanic and and Latinx Americans. During September and October, the UWEC Multicultural Student Services office works closely with members of the campus and the surrounding community to address the problems that affect Latinx and Latin Americans internationally, within the United States and on campus. Events are open to all.

There can be confusion regarding the uses of the terms Hispanic and Latinx, and in general this rule can be applied:

Latinx (X denoting non-gender specific) refers to geography, and Hispanic refers to language. Latinx is used to describe people with heritage from Latin America. Hispanic, on the other hand, describes those from a country with Spanish as the primary language.

As part as the Light Pole Banner EDI initiative, highlighted are three prominent Latinx leaders who have significantly contributed to making changes in the Latinx community on issues of racial justice, immigration, gender identity, mental health, criminal injustice, feminism, politics, and so much more.

Dolores Huerta

Dolores Huerta has made great strides to improve working conditions for farm workers. She has created organizations to help fight discrimination and improve social and economic conditions. Dolores created the Agricultural Workers Association (AWA) in 1960 and co-founded the United Farm Workers (UFW) in 1962. Dolores received the Eleanor Roosevelt Award in 1998 and continues to be a social activist for workers, immigrants, and women today.

Photograph by Jason Marck, used with permission

Sonia Sotomayor

Having a supreme court bench that is a true reflection of the American citizenry may be a high mark to reach, but in 2009, the U.S. Supreme Court came a bit closer to that goal. Sonia Sotomayor, a Yale Law School grad and a federal appeals court justice, was nominated to the Supreme Court by President Barack Obama. With her approval from the Senate, Sotomayor's historic appointment to the court made her only the fourth woman and first Latina of Hispanic descent to ascend to the bench in the highest court in the nation.

Photograph by Steve Petteway, Collection of the Supreme Court of the United States

Gloria Anzaldúa

Gloria Anzaldúa (September 26, 1942 – May 15, 2004) was one of the most influential authors and feminist theorists of our time. She helped lead the way for intersectional women, especially inclusive of Chicana women. Some of her most remarkable work includes: This Bridge Called My Back: Writings by Radical Women of Color and Borderlands/La Frontera: The New Mestiza. Anzaldúa still impacts feminism today through her outstanding essays, books, and poetry, which helped document Chicana struggle.

Photograph by Alison Hawthorne Deming, courtesy of The University of Arizona Poetry Center Photograph copyright © 1991 Arizona Board of Regents
October: LGBTQ+ History Month and Disability Awareness Month

October: LGBTQ+ History Month

Marsha P. Johnson

Marsha "Pay It No Mind" Johnson was a gay liberation activist from New York. She was an outspoken advocate for trans people of color in the city and worked not only for gay liberation, but to ensure that gay rights were inclusive of all LGBTQ people regardless of sex, gender, race, ethnicity or ability. Marsha P. Johnson is credited with starting the Stonewall Uprising in 1969, which is largely acknowledged as the beginning of what is now the contemporary queer movement. She was known to work closely with Sylvia Rivera, and together they started STAR–the Street Transvestite* Action Revolutionaries which advocated for homeless transgender youth in New York City. Although Marsha P. Johnson's death is officially ruled a suicide, it is largely speculated that she was murdered on July 6, 1992. She was 46. Today, she is the center of many films, documentaries and books and is beginning to receive long overdue credit for her tremendous contributions to the LGBTQ+ community.

(*In the time of STAR's creation, transvestite was acceptable vernacular. However, as language has shifted, STAR now stands for the Street Transgender Action Revolutionaries.)

Sylvia Rivera

Sylvia Rivera was a gay liberation and trans rights activist from New York. Along with Marsha P. Johnson, Sylvia Rivera is also credited with starting the Stonewall Riots. As the gay liberation movement became increasingly mainstream post-Stonewall, Sylvia Rivera was a tireless advocate for Queer and trans people of color and low-income queer people. After Marsha P. Johnson's death in 1992, Rivera continued to fight for Queer and trans people of color. In 2001 she resurrected STAR as a political activist group. Sylvia Rivera died of liver cancer on February 19, 2002.

Harvey Milk

Born in New York in 1930, and after moving to San Francisco in 1972, Milk was the first openly gay elected official in California. Although he was not always open about his sexuality or active in LGBTQ rights, he is considered to be the person who paved the way for LGBTQ+ people in politics. After a few unsuccessful attempts to run for political office, Milk was elected as a city supervisor in 1977. Harvey Milk served 11 months as city supervisor before he and the Governor Moscone of San Francisco were assassinated by Dan White. In 2009, Harvey Milk was posthumously awarded the Presidential Medal of Freedom and is memorialized in museums and textbooks across the country.

October: Disability Awareness Month

Judith Heumann

Judith Heumann has been a lifelong civil rights advocate for people with disabilities. At the age of 18 months, Heumann had polio, and as a result has used a wheelchair throughout her life. Her activism started at a young age when Heumann was denied access to education because she was in a wheelchair. Heumann, along with her mother, fought vehemently against the decision, and Heumann was finally allowed to attend school in the 4th grade. She continued that activism in college by organizing protests and rallies with other students with disabilities. Her work as an activist has been at the root of many human rights for people with disabilities both in the United States and internationally with the independent living movement.

Tammy Duckworth

Tammy Duckworth is a United States politician and a retired U.S. lieutenant colonel. Duckworth was born in Thailand and has since lived a life of "firsts"; the first Senator to give birth while in office, the first member of congress born in Thailand, the first Asian American woman elected to Congress in Illinois, the first woman with a disability to be elected to Congress, and the first female double amputee in the senate. She is the second Asian-American woman to serve in the U.S. senate.

Juliette Gordon Low

Juliette Gordon Low was born in Savannah, Georgia in 1860. While at school in New York when she was 17, Low started to lose her hearing. By the time she was an adult, she was almost totally deaf. Juliette married William Mackay Low and moved to England. It was in England that she became interested in the Girl Guides Association. On a visit back to her hometown, she started Girl Guides Troops in Savannah. In the 6 months she was home for a visit, she started 6 troops. In 1913, Low moved back to Savannah and Girl Guides changed their name to the Girl Scouts. By 1915, she had spread Girl Scouts throughout the country and organized the first ever National Girl Scout Convention in Washington D.C. Juliette's former home in Savannah is now the national Girl Scout Center.
November: Native American Heritage Month

November: Native American Heritage Month

Winona LaDuke

Winona LaDuke is a Native American environmentalist, economist and writer and is known for her work on tribal land preservation, sustainable development, and renewable energy and food systems. She grew up on the West Coast, but now lives and works on White Earth Reservation in Northern Minnesota. She is the founder of the White Earth Land Recovery Project which is one of the largest reservation based non-profits in the country. She has been the recipient of many rewards including the Thomas Merton Award in 1996 and the Reebok Human Rights Award in 1007. She was nominated by Time Magazine in 1994 as one of America's 50 most promising leaders under 40. The White Earth Land Recovery Project has also one many environmental awards. She works both nationally and internationally for environmental justice and seeks to also protect Indigenous plants and heritage foods from patenting and genetic engineering.


Wilma Mankiller

Wilma Mankiller was born and raised on tribal lands in Tahlequah, Oklahoma and was the sixth of eleven children. After living on the West coast for many years because of a relocation policy that forced her family to move, Mankiller ended up back in Oklahoma in 1977 and lived in Mankiller Flats. It was there that she founded the Community Development Department for the Cherokee Nation which was the catalyst for dramatic improvements to water and housing there. In 1983 she was elected deputy chief of the Cherokee Nation and was the first woman to hold that office. In 1985 she assumed the principle chief's office when Ross Swimmer left to lead the Bureau of Indian Affairs. She was the re-elected in 1987 and re-elected in 1991 making her the first elected female chief of a Native nation in Modern times. She was able to dramatically increase enrollment in the tribe, double employment, build new housing and health centers, and helped to lower the infant mortality rate and increase educational achievements. She remained a tireless advocate for Native people until she left office in 1995. In 1993 she was inducted to the National Women's Hall of Fame. In 1998 she received the Presidential Medal of Freedom.


Ada Deer

Born in Keshena, Ada Deer is a member of the Menominee Tribe. Her mother was an advocate for Native American rights and Deer followed in her footsteps at a young age. She attended UW-Madison and was the first Menominee to get an undergraduate degree there. She later went on to Columbia University and earned her M.S.W. from the school of Social Work. Deer has many accomplishments throughout her life. One being the Menominee Restoration Act of 1972 that returned the Menominee Reservation to federally recognized status which led to her becoming the first woman to chair the Menominee Tribe in Wisconsin. She worked as the head of the Bureau of Indian Affairs at the U.S. Department of the Interior and helped set federal policy for over 550 federally recognized tribes. She has taught classes at UW-Madison in Social Work and became the director of the American Indian Studies Program there in 2000.