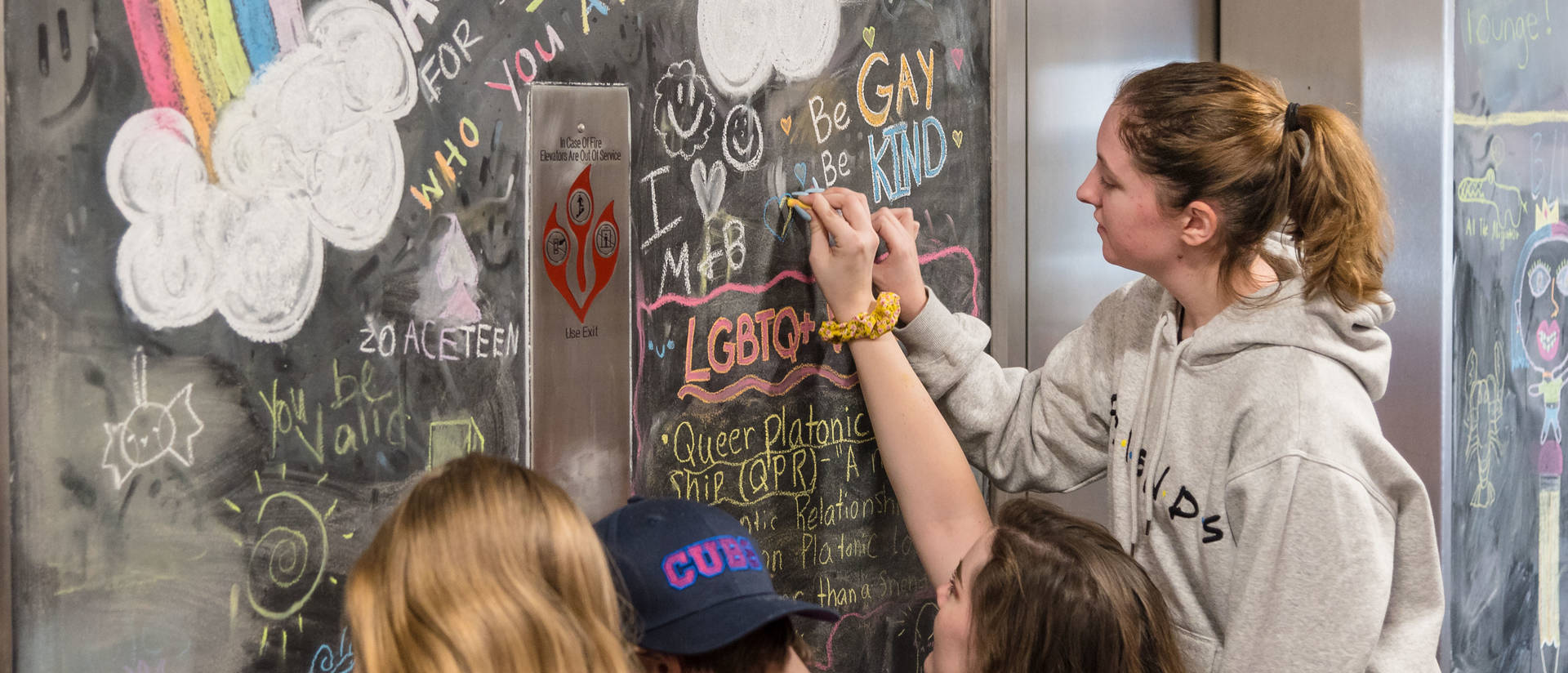 A community for LGBTQIA+ students
We are committed to providing a safe, inclusive, and supportive experience for LGBTQIA+ students. The Rainbow Floors (located in Karlgaard Towers South and in Oak Ridge Hall) offer LGBTQIA+ students an opportunity to live and learn together.
The Rainbow Floor provided a sense of community and a greater sense of home. I was able to create lasting friendships and connections with like-minded people who challenged me and accepted me for who I am. The Rainbow Floor guided me to be me and to follow my heart.

The Rainbow Floors offer the LGBTQIA+ community within UWEC Housing. Students can choose roommates regardless of assigned sex, gender expression or identity, or sexual orientation. This means that students can live in the same room with a person of a different assigned sex, gender identity, or sexual orientation. This community is an option for incoming and current UWEC students and is located on Towers South 7th and 8th floors as well as the first floor of Oak Ridge Hall. The Suites is also now home to an inclusive living pod available to returning students.
Once you have indicated the Rainbow Floors as your housing preference, you will have the option to choose which Rainbow Floor you'd like to join:
Rainbow Floor-TGNC (Trans + Gender Non-Conforming) is for students who identify as trans and/or gender diverse and seek to live amongst and develop a safe, inclusive community with students of similar experience.
Rainbow Floor-LGBTQIA+ General Floor is for the full spectrum of LGBTQIA+ students and allies who seek a safe, inclusive and community-driven experience.
Programs + events
The Rainbow Floors offer intersectional queer programming and community building. Students participating in the Rainbow Floors LLC enjoy community movie nights, dinners, and consistent engagement with the Gender & Sexuality Resource Center's numerous events and programs.
Rainbow Floors LLC
Engaging in intersectional queer histories and narratives is a critical step in understanding one's own identities, and the Rainbow Floor LLC offers students the opportunity to both live and learn together throughout the semester.
More information coming soon!
I enjoyed living on the Rainbow Floor because it was a friendly, queer-focused space that was very accessible, comfortable and usable. I would recommend this LLC for folx wanting to find friends that are also queer.
Support
The Rainbow Floors LLC is supported by RAs who identify as LGBTQIA+, as well as faculty sponsor Kallie Friede.
Gender & Sexuality Resource Center

Director

Davies Student Center 229, Eau Claire | Directions
Who can participate?
The Rainbow Floor is open to LGBTQIA+ students.
How do I join the Rainbow Floor?
Apply to join a Living Learning Community through your Housing Portal. On the LLC page, indicate which of the communities you prefer.
Pro tip! If you are in a roommate group, make sure your roommate(s) indicate the same LLC preferences on their housing application. Otherwise, you will not be placed in the LLC.
Living in the Karlgaard Towers as a resident of the Rainbow Floor has been a highlight of my housing and residence life experience here at UW-Eau Claire. I have made lifelong friendships. Building such a strong support is important for student success, and I can say with 99% certainty that I wouldn't be as successful as I am today without all the love and support I garnered from my time on the floor. Spending time in the floor lounge, working on homework or playing games with friends are probably some of my fondest memories from my first two years here.