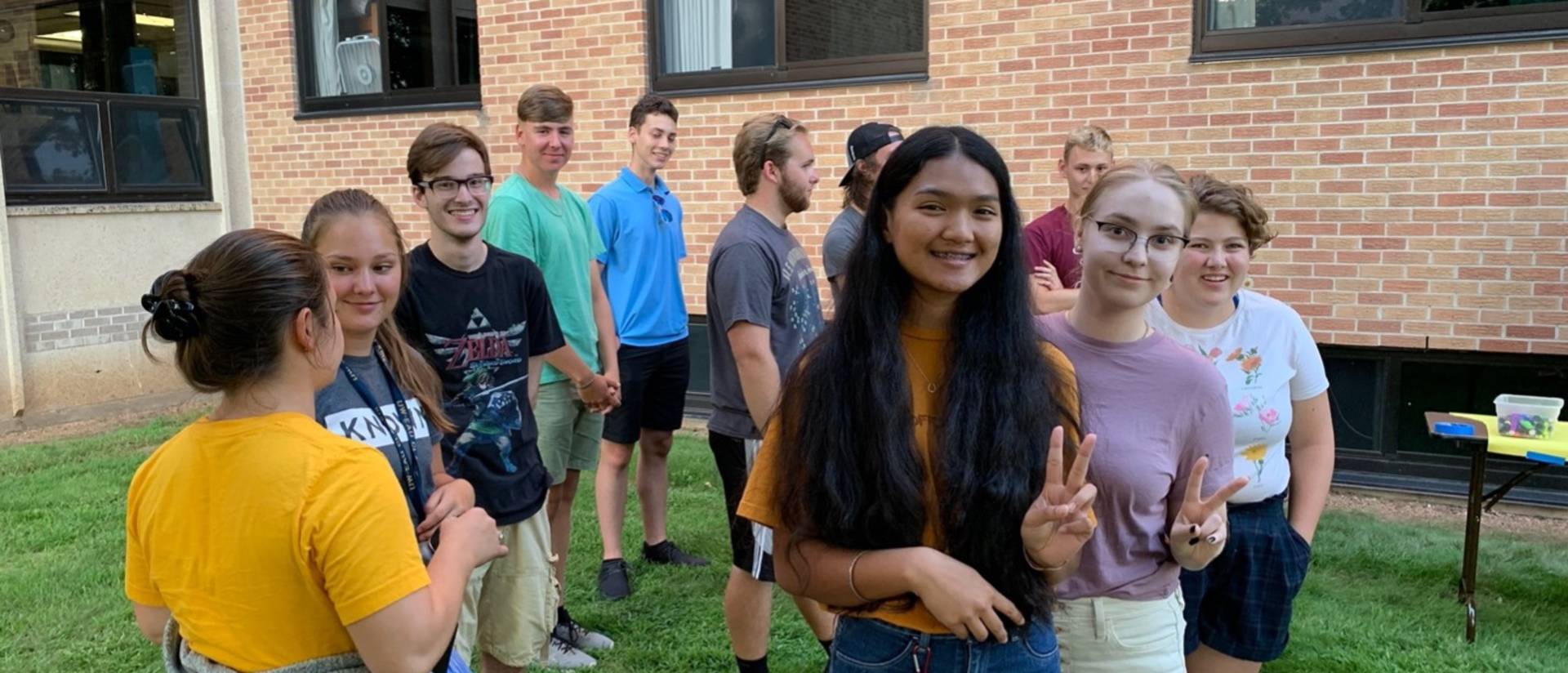 A community for high-achieving students
The Honors Living Learning Community brings together talented, highly motivated students to live, learn, grow, and achieve.
The Honors LLC was a great group of people who wanted to get to know each other. Being in the LLC, it was easier to find friends with people you're living with, which makes your living experience more enjoyable. I found my best friends through the Honors LLC. It's also nice because when you're signing up for honors classes, I could talk to other people in the LLC and find out what they were taking—we wound up taking the same classes and seeing each other again and again.
Programs + events
Students in the Honors LLC gather frequently for movie and game nights, community meals, field trips and more. They also have special access to Honors faculty and staff, who hold advising hours and host pizza nights just for LLC students, in Bridgman.
Learning
The Honors community grows in the classroom, where our students share perspectives with each other in our small, discussion-oriented seminars and labs. Honors LLC students all take HNRS 100, our first-year seminar, and meet each other and other Honors students in all of their Honors courses. Honors offers about 40 courses just for Honors students every semester. For recent course offerings, see the Honors Courses webpage.
One of the great things about the Honors LLC is that the students were from all different majors, but we had one connecting factor, being in Honors. This helped us to become friends even though we had different interests. I feel like this helps broaden your own interests and knowledge, and encourages you to explore other things rather than staying in one narrow lane.
Support
The LLC is supported by two LLC RAs, who are experienced honors students, as well as by faculty/staff sponsor Dr. Heather Fielding and the LLC liaison officer from our student org, the Honors Student Steering Committee.
English | University Honors Program

Professor | Director, University Honors Program
Who can participate?
Participants are first- and second-year students in the University Honors Program, which is a diverse community of high-achieving, highly motivated students.
How do I join the Honors LLC?
Apply to join a Living Learning Community through your Housing Portal. On the LLC page, indicate which of the communities you prefer.
Pro tip! If you are in a roommate group, make sure your roommate(s) indicate the same LLC preferences on their housing application. Otherwise, you may not be placed in the LLC.