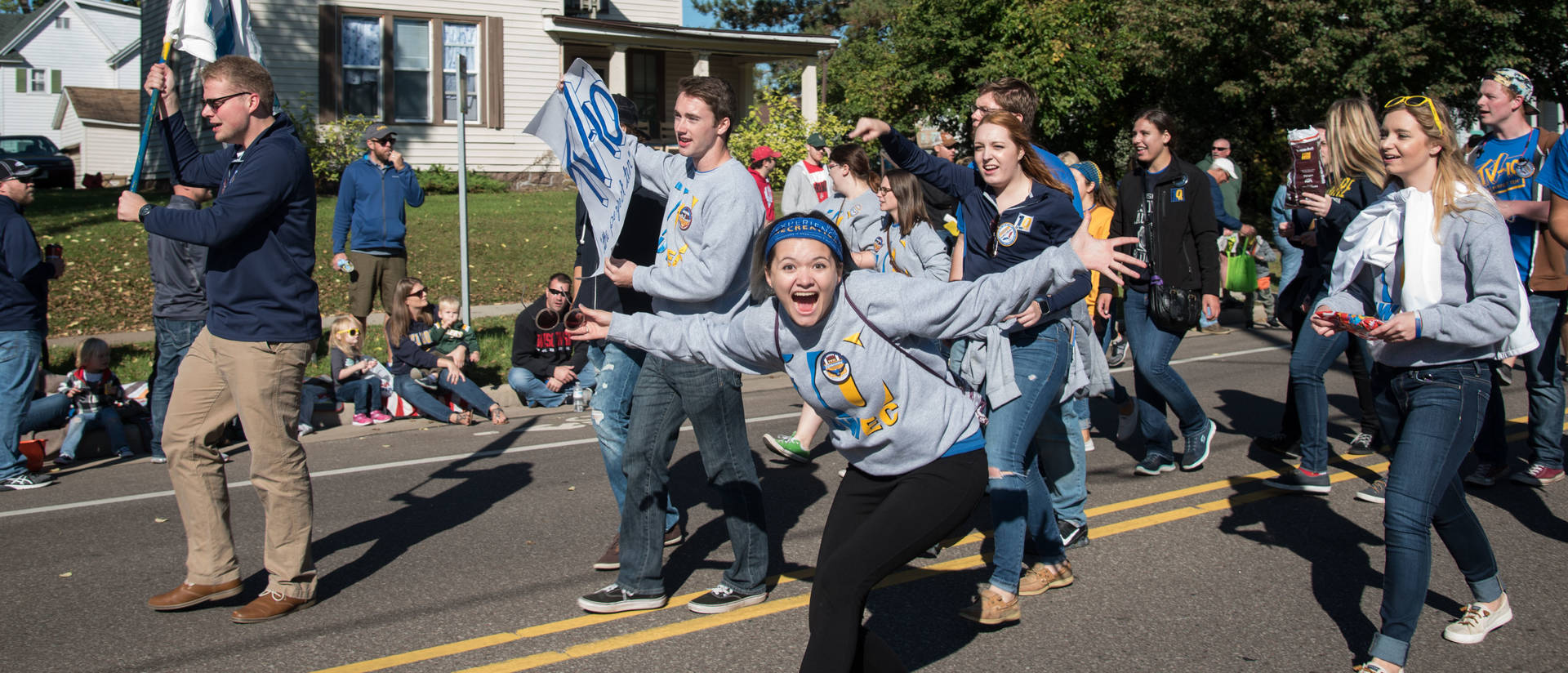 Each year, campus hosts a variety events that tie directly to the students living in the residence halls. We welcome new and returning students during welcome week, host homecoming festivities, and invite Blugolds to have family visit.
Upcoming events
Family Weekend: Sept. 29-Oct. 1, 2023
Tickets and order forms
You can purchase tickets for brunch through University Tickets - search Family Weekend Brunch.

Schedule of Events
Friday, Sept. 29

| Date | Time | Event | Location | Description | Cost | Department |
| --- | --- | --- | --- | --- | --- | --- |
| Friday, Sept. 29 | 9 a.m. - 3 p.m. | Campus Bookstore | Davies | | | University Centers |
| Friday, Sept. 29 | 8:30 - 10 p.m. | The Little Mermaid | Woodland Theater | PG l The youngest of King Triton's daughters, Ariel is a beautiful and spirited young mermaid with a thirst for adventure. Longing to find out more about the world beyond the sea, Ariel visits the surface and falls for the dashing Prince Eric. Following her heart, she makes a deal with the evil sea witch, Ursula, to experience life on land. | FREE | AIL/UAC |
| Friday, Sept. 29 | 8pm-9:30pm | Moonlight Hike | Start - Sutherland Hall Backyard | Join our Outdoor Adventure LLC in a moonlight hike with glow sticks around upper-campus trails. The hike will be about a mile. It will start and end at the RHA bonfire behind Sutherland Hall. | FREE | Housing |
| Friday, Sept. 29 | 8 - 9:30 p.m. | RHA Family Bonfire | Sutherland Hall Backyard Rain Site: Suites Lobby | Joing the Residence Hall Association for an intimate bonfire experience. Enjoy hot chocolate, music, and lively conversation with Blugold families and students. | FREE | Housing |
Saturday, Sept. 30

Date
Time
Event
Location
Description
Cost
Department
Saturday, Sept. 30
7:30 a.m.- 1 p.m.
Farmers Market
Phoenix Park, Downtown EC
Free
Community Event
Saturday, Sept. 30
9 a.m. -12 p.m.
Ticket and T-Shirt Pick-Up
Service Center
Saturday, Sept. 30
10 a.m. -2 p.m.
Campus Bookstore
Davies
University Centers
Saturday, Sept. 30
9:30 a.m. - 10:45 a.m.
Family Weekend Brunch
Davies Marketplace
Join us for brunch buffet! We will be serving french toast, eggs, bacon, sausage, assortments of scones, croissants, potpies, and assortment of fruit. Coffee, tea, orange juice, and water will be available. The welcome presentation to families begins at 10am. You will be greeted by campus administrators and members of UWEC student organizations. Performance by Jazz Band. Purchase your brunch tickets online through the Service Center.
ADULTS/STUDENTS $18
CHILDREN (AGES 5-11) $13
4 & UNDER FREE
Sodexo Dining and Housing
Saturday, Sept. 30
11:00 & 11:15 AM start time
Putnam Trail River Hike
Meet at Putnam Park at the bottom of the hill.
Join a hike led by our Recreation staff along the beautiful river side trail!
Free
Rec
Saturday, Sept. 30
11:00am-11:30am
Marching Band Performance
Campus Mall
Join us in watching our impressive Marching Band performance on the Campus Mall.
FREE
Saturday, Sept. 30
11:30am-12:15pm
Housing Information Session
Woodland Theater
Have questions about Housing? We have answers! Come and hear a brief presentation that includes updates about Housing options, deadlines, and opportunities, followed by an open Q&A session. Whether you have questions about this year's experience, or next year's upperclassmen living options, we're happy to help create a quality living experience at UWEC.
FREE
Housing
Saturday, Sept. 30
3:30-6:30
Upperclassmen Housing Tours
The Suites, Chancellors Hall, Aspenson-Mogensen Hall, Haymarket Landing
Explore upperclassman living options by taking a guided tour through UWEC Housing's apartment and suite-style buildings. Sign up for tour (only 1 person per group needs to sign up) with the QR codes in the mailer.
FREE
Housing
Saturday, Sept. 30
1 PM, 3 PM, 5 PM
High Ropes Course
Student can sign up family/family members in advance at recservice.uwec.edu - space is limited!
$10 per person
Rec
Saturday, Sept. 30
5:00 PM - 8:00 PM
Open Swim
McPhee
Enjoy the pool for open swim!
Free
Rec
Saturday, Sept. 30
7:00 pm - 10:00 pm
Dueling Pianos
Ojibwe Ballroom
Join a great performance by Howl2GO Dueling Pianos for a 3 hour energetic performance. You will be able to request songs during the performance, enjoy wonderful music, and be entertained! Students can register for this event on Blugold Connect!
FREE
Artiest Series & Forum
Sunday, Oct. 1

| Date | Time | Event | Location | Description | Cost | Department |
| --- | --- | --- | --- | --- | --- | --- |
| Sunday, Oct. 1 | 10:30 am-Noon | Drop-In Coffee Tasting | Flesch Family Welcome Center 206 | Stop by to sample each of the four (light, medium, dark, and decaf) roasts of the student-founded Blugold Roast Coffee and learn a little about our passion for brewing. | Free | Blugold Roast Coffee LLC |
| All Weekend | | Free use of all Rental Equipment at the EAC | Hilltop Center | Canoes, kayaks, paddle boards, fat tire bikes, camping and hiking gear | Free | Recreation |