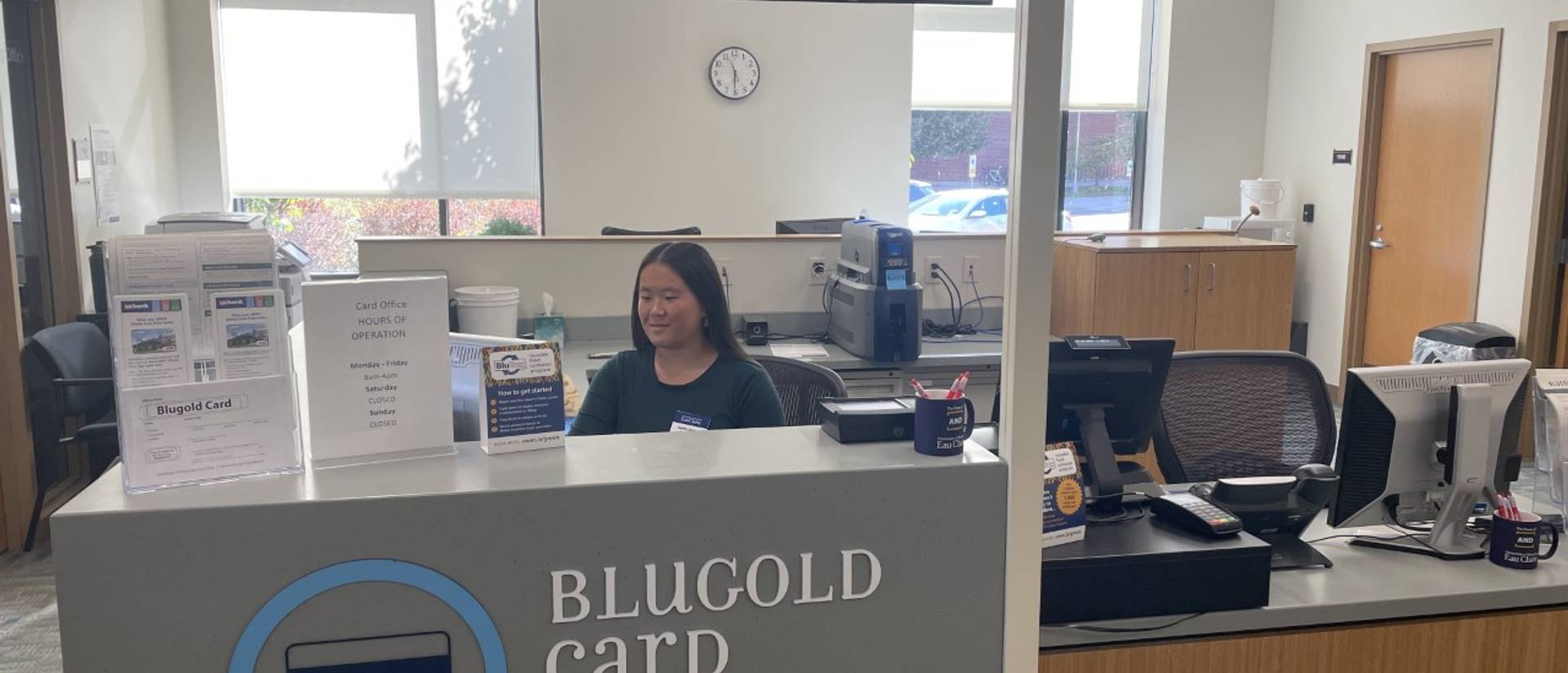 The Blugold Card — the official photo identification card of the University of Wisconsin- Eau Claire — is issued and replaced at Blugold Card Services. Our office is the point of contact for ID-based activities offered campus-wide — including point-of-sale, attendance, circulation and e-commerce. Blugold Card Services also administers the meal plan that is required for nearly every student who lives on campus.
Present your Blugold Card whenever access to facilities and services is required. A Blugold Card is required for meal plan access, for all textbook rental transactions in the University Bookstore, and to borrow materials from McIntyre Library. Your Blugold Card also offers you the following:
Door access at select residence halls and academic buildings
Reduced-price tickets for many campus activities and events
Access to McPhee Physical Education Center facilities
Free use of the Eau Claire Transit System
Frequently Asked Questions
How do I deposit money for printing?

There are three ways to deposit money to use for printing on campus

1. Stop in the Blugold Card Services Office - cash, check, Mastercard, VISA, Discover, debit

Office hours Monday - Friday 9:00am - 3:00pm

2. Login to Eaccounts - Mastercard, VISA, Discover, debit

Deposit money to BLUGOLD ACCOUNT only.
Eaccounts is "Locked due to inactivity". What do I do?

Call or email the Blugold Card Services Office (Davies Center) and the office staff will unlock your account.

Office Hours - Monday - Friday 9am - 3pm

Phone: 715-836-4070

Email: blugoldcard@uwec.edu

Please note: Eaccounts will lock every 90 days if there is no access during that time.
I need access to a door. Who do I contact?

For a residence hall, please contact the Hall Director or the Housing and Residence Life Office.

For all other buildings, there is a designated person/people responsible for access to that building, please contact your supervisor or Facilities Management for further information.
I lost my Blugold Card. How do I get a new one?

Stop in the Blugold Card Services Office (Davies Center), they will be happy to help you.

They can check to see if your ID card has been turned in. If it has, it will be returned to you.

If you need a new card, they can print a new one while you wait. The replacement cost is $15. It usually takes less than 5 minutes.
The "tap" on my card does not work anymore. What do I do?

There is a chip and antenna within the card to allow the "tap" capability. These can be damaged if the card is bent or exposed to magnetic forces (for instance in a phone pocket when the phone is being charged).

The Card Office staff will check your card on our equipment to verify that the card does not work. If you need a new card, we can replace it for you while you wait. The replacement cost is $15. The wait time for the card is usually less than 5 minutes.
My Blugold Card is expired. What do I do?

The Blugold Card does not expire. It will remain valid until your affiliation with the University ends.

However the Blugold Card does serve as valid form of photo identification for voting purposes in the State of Wisconsin. The voter identification on the ID does expire two years from the issue date. If you are an out-of-state resident and plan to vote in Wisconsin, we will replace your expired card free of charge. It must be a working ID and in your possession at the time you request the replacement or the replacement cost will be $15. If you are a Wisconsin resident, you can use your driver's license as a valid form of photo identification and do not need a new Blugold ID. You will also need proof of your local residency when you register to vote.
News
Students in certain online degree-seeking programs are now eligible for a Blugold ID Card for Online Students. If desired, please contact your academic program personnel for details.
Important notes
Deposited funds cannot be used to pay tuition.
Deposits may not be refunded for cash.
DO NOT PUNCH A HOLE anywhere in your card, or you will be charged $15 for Blugold Card to replace it. If you would like to attach your card to something, please visit the University Bookstore for cardholder options.
If using a card pocket attached to a cell phone, please remove Blugold Card when charging phone as it may erase or damage chip in the card.
Diners Club, 50/50, or Blugold account balances are refunded only when your relationship with the university ends and there is an account balance of $25 or more. You must request a refund from Blugold Card Services, Davies Center 110, within one month of ending your association with the university. A $15 processing fee will be assessed for all refund requests.
New card requests (not for replacement cards)
Follow the instructions below to request a new Blugold ID, Camp and Conference cards, Spouse cards, Children's Nature Academy cards and Custom Designed cards. The instructions for requesting cards is as follows:
Please go to https://eform1.uwec.edu/
Login with UWEC info
Choose "Start a new form"
From the pull down menu- select "University Centers"
Then select "Blugold Card Services- Request a Card" select the type of card you are requesting and follow the instructions.
Do not forget to print the form, sign it and bring it with you to the Blugold Card Service Office with a valid government-issued photo ID to obtain your ID card.
If you have any questions, please contact Blugold Card Services at (715) 836-4070.
Thank you for your cooperation with this procedure.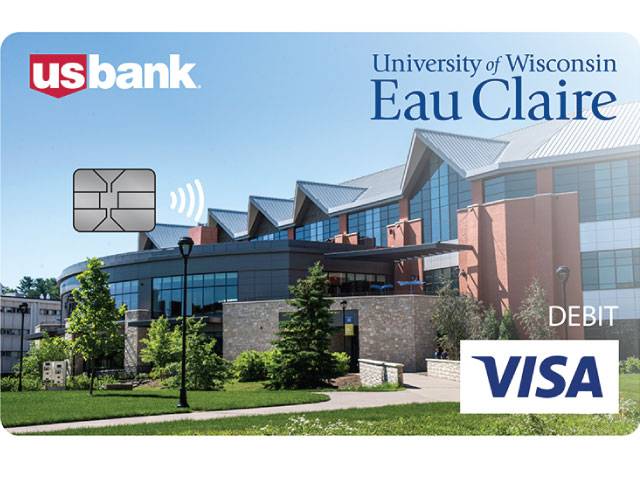 U.S. Bank offers a UWEC Visa Debit Card, so you can show your school pride while making everyday purchases.
The U.S. Bank Visa Debit Card is issued by U.S. Bank National Association, pursuant to a license from Visa U.S.A. Inc. Member FDIC. ©2021 U.S. Bank