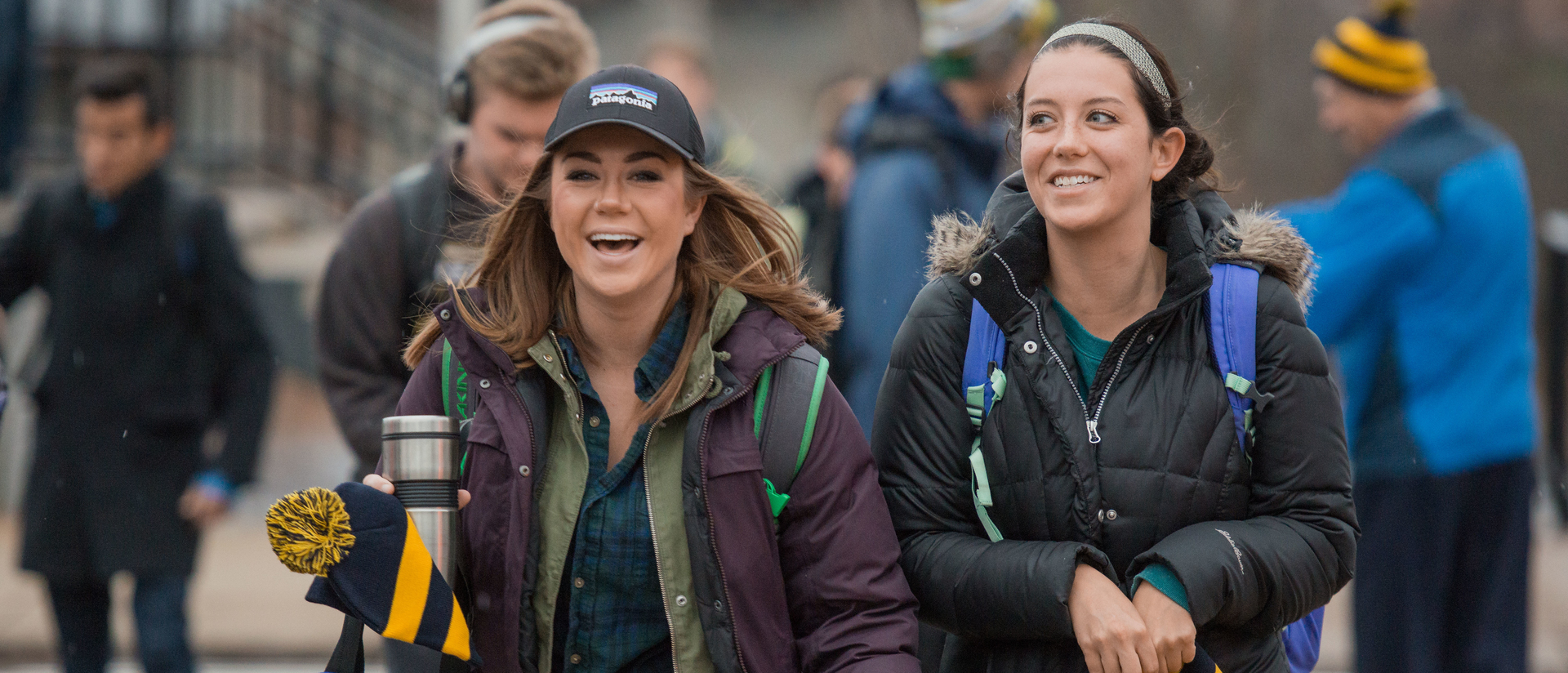 Congrats! You're almost a Blugold.
Now that you've been accepted to UWEC, there are just a few more things you have to do so we can see you on campus. We'll walk you through those next steps below.
After you activate your account in STEP 1, you can track your progress through these steps by logging into MyBlugold CampS to see your Student Guide completion checklist.
NOTE: Some of the steps below are not applicable for students transferring from UW-Eau Claire—Barron County to UW-Eau Claire. Please refer back to your admit letter for further details.
STEP 1: Activate your account

To activate your account, you will need your username and campus ID, which are found in your admit letter or application acknowledgment email (which is sent from our LTS Help Desk within three business days of submitting your application).
STEP 2: Submit your transfer enrollment deposit

After being admitted and activating your account (STEP 1 above), sign in to MyBlugold CampS, select the Admissions tile, and click Pay Enrollment Deposit.

From here you will indicate the term you were admitted to, whether you are a first-year or transfer student, and how you wish to pay your deposit.

Your $100 enrollment deposit is refundable until the last business day before classes begin. Notice of cancellation must be received by that date. To cancel your admission and receive your refund, log into your MyBlugold CampS account, select the Admissions tile, and click the Decline button. Cancellations will also be accepted via email.
STEP 3: Apply for housing

If you plan to live on campus, submit your housing application as soon as possible for the best chance of getting your preferred residence hall.

Wondering where you want to live? Check out the Housing and Residence Life page, which will provide you with your residence hall options and packing suggestions. Priority for housing selection is based on your housing application submit date — so don't procrastinate!
STEP 4: Apply for financial aid

The Free Application for Federal Student Aid (FAFSA) form found at fafsa.gov determines your eligibility for need-based financial aid, so fill out the FAFSA as soon as possible. Be sure you have released the information to UWEC—the FAFSA Federal School Code is 003917.

NOTE: If you are transferring in 90 or more credits, contact the financial aid team in Blugold Central at 715-836-3000 or blugoldcentral@uwec.edu for information about eligibility to continue to receive financial aid. Your financial aid package may not reflect all incoming scholarships. If you haven't applied for scholarships, please refer to the scholarships page to learn more about eligibility, deadlines, and the application process. For questions about scholarships, call the Admissions Office at 715-836-5415.
STEP 5: Apply for scholarships
STEP 6: Register for music auditions, if applicable

Students intending to major or minor in music need to complete a placement and scholarship audition before enrolling. Visit the music website for information on audition schedules and how to register. We recommend registering for your audition as early as possible. Questions? Contact the Music Department at musicandtheatre@uwec.edu or call 715-836-4954.
STEP 7: View your transfer credit report

The Transfer Credit Report is available in your My Blugold CampS account and is typically available within two weeks of your acceptance. It will give you an evaluation of transferred credits. Contact the Admissions Office about missing or incorrect transfer of credits. Learn more about how to access your My Blugold CampS account and where the Transfer Credit Report is located.

Second Degree/Post-Baccalaureate students do not receive a Transfer Credit Report and should contact the appropriate individual listed on the Second Degree Advisors list to discuss program requirements.
STEP 8: Register for Orientation

If you have submitted your $100 enrollment deposit, our Orientation Team will contact you beginning in March (for a fall semester entry term) or October (for a spring semester entry term) to connect you with an academic advisor. Your academic advisor will contact you via email to set up a time to discuss your transfer credits and registering for classes. Questions about orientation, advising and registration can be sent to ARCC@uwec.edu.

Learn more about Orientation for transfer students!

Second Degree/Post-Baccalaureate students should contact the appropriate individual listed on the Second Degree Advisors list.

Nursing students admitted to UW-Eau Claire for the BSN Completion program and the Marshfield Nursing program should initiate contact with the Nursing Department. BSN Completion students are advised to contact Gail Hanson Brenner at brennegm@uwec.edu for information about course selection. Marshfield Nursing students are to contact Dr. Rachel Merkel at merkelrm@uwec.edu to let her know you have been admitted.
STEP 9: Send in your official transcript(s)

Review your letter of acceptance for the name of the institution(s) from which we need a final official transcript sent. Please request that the final transcript be sent to the Admissions Office within 30 days of your last term.
STEP 10: Apply for Minnesota Reciprocity, if applicable

The current reciprocity agreement between Minnesota and Wisconsin enables a Minnesota resident to attend Wisconsin public institutions of higher education at rates approximating tuition prevailing in the Minnesota State University System. You may apply online with the Online Tuition Reciprocity Application or, if you have additional questions about reciprocity, contact the Minnesota Office of Higher Education at 800-657-3866.
Not a transfer student?
Select your student type below to see your next steps for after admittance: