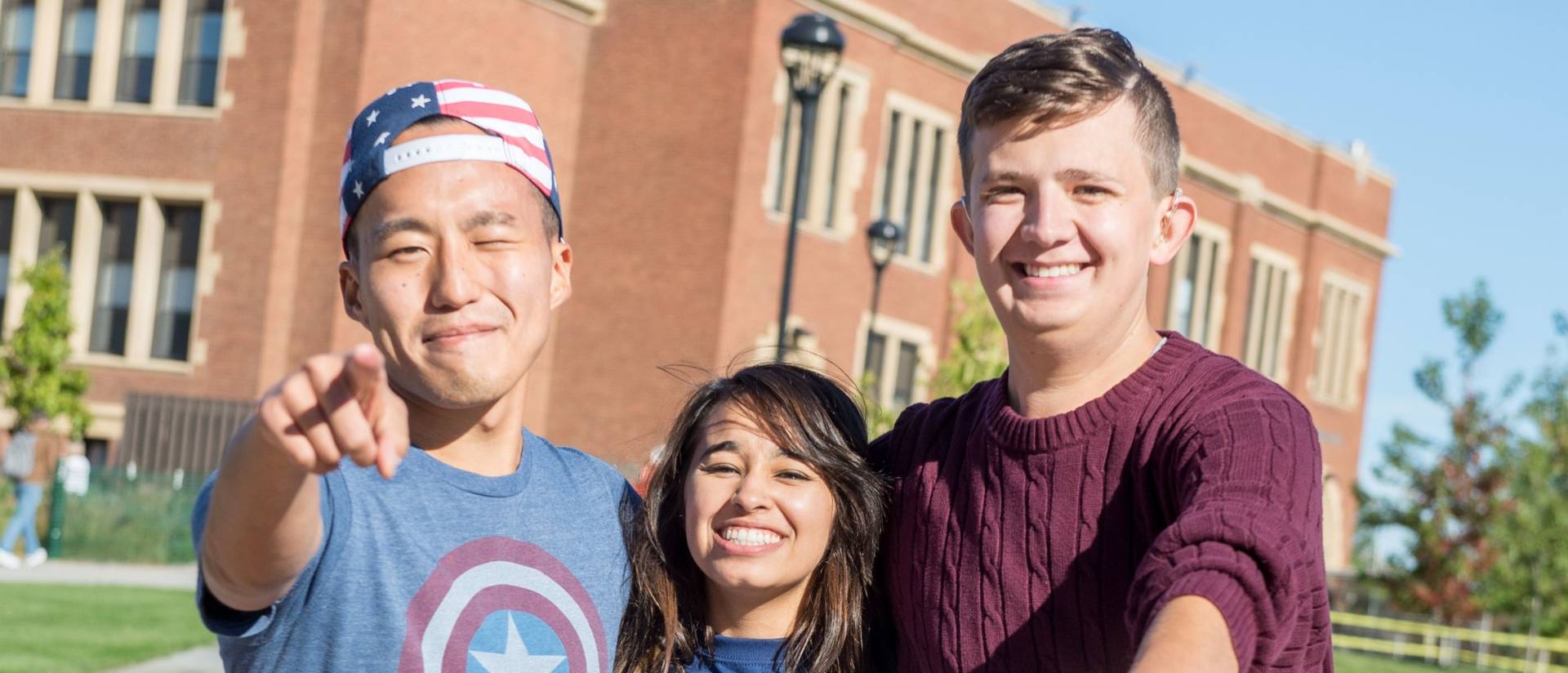 Find Your Home Away From Home!
UW-Eau Claire has two different recruitment processes that our organizations follow. Sorority Formal Recruitment is hosted by the Panhellenic Council and is a great way to meet women from all three National Panhellenic Conference chapters in a structured format. Fraternity recruitment is an informal process where interested men participate in various events held by the individual chapters. Events range from floating down the Chippewa River to tailgating at football games. Recruitment is a great way to begin building your network of college friends while exploring all Greek Life has to offer!
*If a disability related accommodation is needed to participate in any of our programs, please contact the Activities, Involvement and Leadership Office at activities@uwec.edu.
Spring Recruitment 2023
We are currently in the Spring Recruitment Season. All chapters are looking for new members! If you are interested in joining a Greek Life organization, Please fill out the Greek Life Interest form above!
Sorority Formal Recruitment (Fall Only)
Formal recruitment includes pre-recruitment events and regular recruitment rounds during the fall semester.
Pre-recruitment events are opportunities to speak with current sorority women and get any questions answered about Greek Life. Recruitment rounds allow registered women to spend time with each chapter to help them determine which chapter is the best fit for them.

Formal Recruitment is conducted through means of a mutual selection process. At the end of the second round of events, recruitment guests will priority rank in order the chapters they would most like to see again. Likewise, the chapters issue invitations back to the recruitment guests they most wish to see again. Immediately following the last preference party, preference card signing will be explained to all recruitment guests.
Every woman interested in attending Formal Recruitment is required to register, online, prior to the first round.
Fall 2023 Sorority Recruitment Schedule
Pre-recruitment
Pre-recruitment events coming soon!
Formal Recruitment Rounds · Must Attend Two Rounds
All rounds for Fall 2023 will be held in-person in the Ojibwe Ballroom of the Davies Center (330). Registered women will be sent information to select events they would like to attend prior to the events listed below. Individuals can register using the link above.
Recruitment Round 1 — Saturday, September 16, 1:30 p.m. - 5 p.m.
Recruitment Round 2 — Sunday, September 17, 5:30 p.m. - 9 p.m.
Recruitment Round 3 — Tuesday, September 19, 5:30 p.m. - 9 p.m.
Recruitment Round 4 — Wednesday, September 20, 5:30 p.m. - 9 p.m.
For more information about sorority recruitment or joining a chapter, contact the Panhellenic Recruitment Chair, Kya Meunier, at meunieks4624@uwec.edu.
Recruitment Counselors
Recruitment counselors are women that choose to step away from their own chapters during recruitment in order to help interested women find their home away from home. They are unbiased supporters that are here for the potential new members throughout the entire process. Women participating in formal sorority recruitment should feel free to ask these women anything, since their role is to help them find an answer. They are ready and willing to help and want any woman interested in joining a sorority to find the perfect fit for them. The 2023 Recruitment Team will be coming soon!
2022 Recruitment Team

Kya Meunier

Panhellenic Recruitment Chair

Grade:
Hometown:
Major/Minor:

Kendall Nord

Panhellenic President

Grade:
Hometown:
Major/Minor:

Recruitment Counselors Coming Soon!
Fraternity Recruitment
Fraternity recruitment is structured very differently from women's recruitment. Recruitment for the men's groups are coordinated by the individual chapters through a variety of events and activities. The Interfraternity Council hosts a few events in the fall semester that provide a means to meet all three national North American Interfraternity Conference chapters on campus and connect with the men of fraternity life at Eau Claire. There is no formal recruitment process, but rather an opportunity for students to connect with the whole community while finding a new home that best suits them.
Fraternity Recruitment Schedule (Fall)
Our three fraternities will be hosting a week-long collaborative fall recruitment to provide opportunities to informally meet the members. Any interested student is welcome to join and all events are free to participate.
Individual chapters will also be hosting various events throughout the first month of the semester that are open for any interested member. Complete the Greek Interest Form for more information or follow their social media accounts for more information.