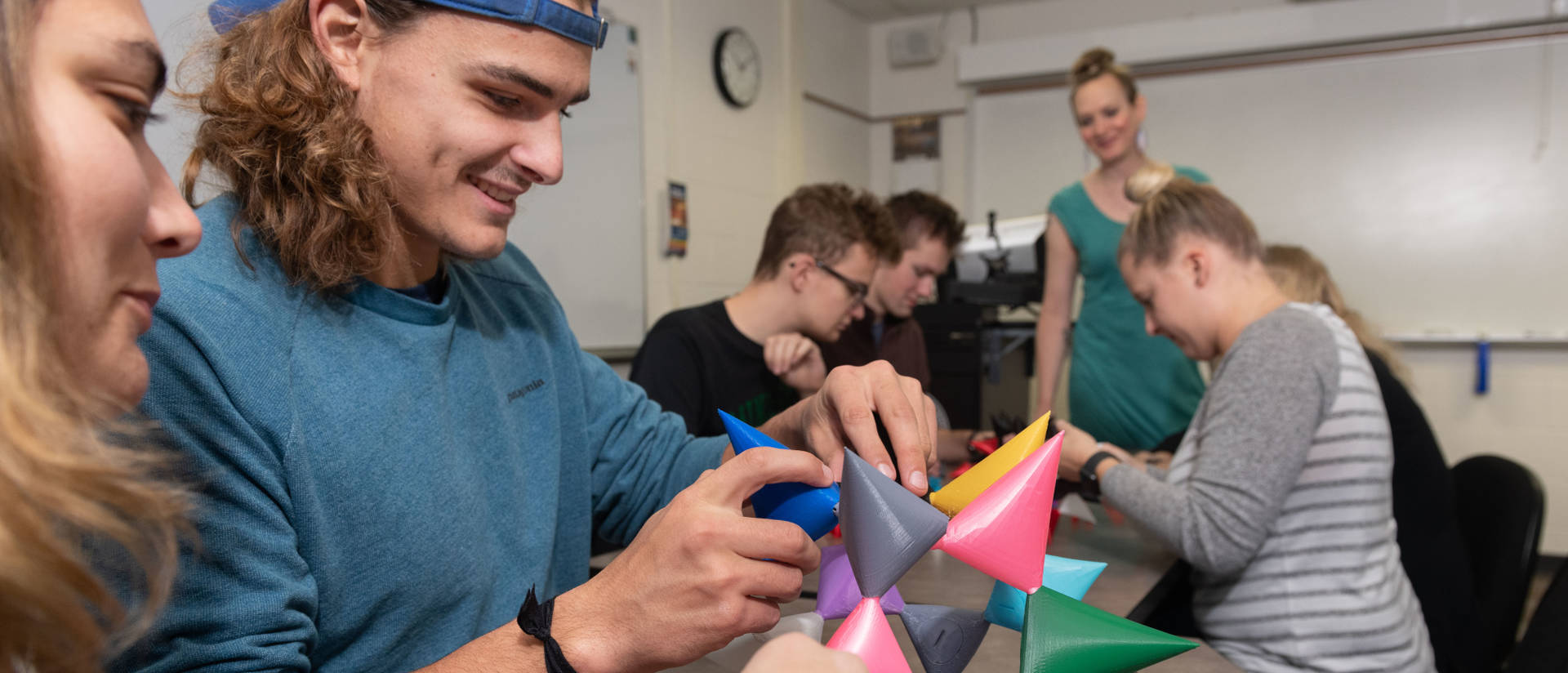 Explore the mathematics - statistics and applied mathematics emphasis bachelor's degree program at UW-Eau Claire
The University of Wisconsin-Eau Claire's mathematics - statistics and applied mathematics emphasis bachelor's degree is an excellent choice for students interested in scientific or engineering applications of mathematics; careers in business, industry, statistics or data science; or graduate work in areas like mathematics, engineering or statistics.
Curriculum throughout the rigorous major will show you how to use mathematics to solve problems for the natural, social and actuarial sciences. In addition to core mathematics courses, a variety of electives within the degree allow you to further study topics that interest you or align with your career goals. Explore classes in digital signal processing, complex variables, probability, survey sampling or nonparametric statistics.
While pursuing your degree, you'll have countless opportunities to take your studies to the next level. Take your learning outside the classroom by participating in a cultural immersion program or studying abroad. Or conduct research alongside your professors, secure an internship, become a math tutor or join an on-campus student organization.
Upon graduation, you'll have the knowledge, skills and experience necessary to pursue any career that requires a scientific or engineering application of mathematics, including careers in statistics such as quality improvement. You will also be well-prepared to continue your education through graduate work in pure, applied, or statistical areas of math and engineering.. No matter your career goals, here at UWEC, our expert and supportive faculty, staff, advisors and numerous other academic resources are here to help you be successful and make your mark on the world.
Why mathematics - statistics and applied mathematics emphasis at UW-Eau Claire?
A collaborative, personalized education. During your time at UWEC, you'll learn from expert professors who are committed to excellent teaching. Small class sizes allow for the formation of deeper relationships and one-on-one attention, with plenty of face-to-face time with faculty. Many math courses are taught in active-learning pod rooms, which encourage collaborative learning and effective use of technology.
Outside-the-classroom learning. The department's annual Math Retreat will give you the chance to practice presenting your research to other math students, participate in math competitions and learn from guest speakers. It is also a great way to hear about new and ongoing research projects that you may want to join or investigate further. Additionally, two intensive data analysis challenges each year give you a chance to showcase your skills against dozens of other university teams.
Student-faculty research projects. The UWEC math department offers countless opportunities for you to learn beyond the classroom, including the chance to conduct groundbreaking mathematical research alongside faculty. Many of our math majors partner with faculty on unique projects, learning advanced math topics and solving problems that no one else has solved before. These research projects have led to paid work, published papers and scholarships, and the opportunity to travel to math conferences and share research results with other mathematicians.
Innovative facilities. As a mathematics student, you'll have access to technology-equipped classrooms, collaborative student seminar rooms, the Blugold Supercomputing Cluster and computer laboratories filled with programs and specialized software tools, including Python, Matlab and R. These are some of the same programs you'll find in the field, giving you a competitive advantage when applying for jobs.
Volunteer opportunities. Each year, staff, faculty and students work together to present the department's Math Meet, a fun math competition for over 300 high school students from Wisconsin and Minnesota. Another event, Sonia Kovalevsky Day, allows for a day of engaging math activities and encourages middle-school and high-school girls' interest in math. These events are excellent opportunities to build connections and make a difference.
Mathematics - statistics and applied mathematics emphasis program details
Program length: four years
Offered: in person
Campus: Eau Claire
This major requires a minor or certificate.
Students majoring in this program may choose either a Bachelor of Arts (BA) or Bachelor of Science (BS) degree.
Student organizations
Math Club
Women and Gender Minorities in STEM
What can I do with a mathematics - statistics and applied mathematics emphasis degree from UWEC?
UWEC's statistics and applied mathematics program provides students with exceptional preparation for graduate school and opens doors to countless career opportunities in business, government and industry.
Statistics and applied mathematics careers
Research scientist
Education consultant
Financial analyst
Mathematician
Operations research analyst
Software developer
Research mathematical statistician
Data analyst
Consultant
Data scientist
The math department became my home, my classmates became my family and my professors became my friends. We worked together to collaborate, achieve and succeed. Anyone can be good at math, so jump in feet first and don't be afraid to fall — because someone will be there to pick you back up. As an alumnus, I can tell you that you are going to miss it, so enjoy the time you have at UWEC. When you are there, be there. The rest of the world can wait its turn.

Mathematics - statistics and applied mathematics emphasis bachelor's degree program curriculum
The curriculum within the statistics and applied mathematics program focuses on how to select appropriate methods and apply them, using technology, to solve problems. In addition to core mathematics courses taken by all math majors, you'll also take several mathematics-related elective classes.
What classes do mathematics - statistics and applied mathematics emphasis majors take?
Your classes may cover topics like:
Complex variables
Differential equations
Linear algebra
Probability and statistics
Digital signal processing
Abstract algebra
Mathematical modeling
Numerical analysis
Learn more about the mathematics- statistics and applied mathematics emphasis major in the UWEC course catalog.
Related programs at UW-Eau Claire
Thinking about a bachelor's degree in mathematics? Here are a few other programs you may be interested in exploring.