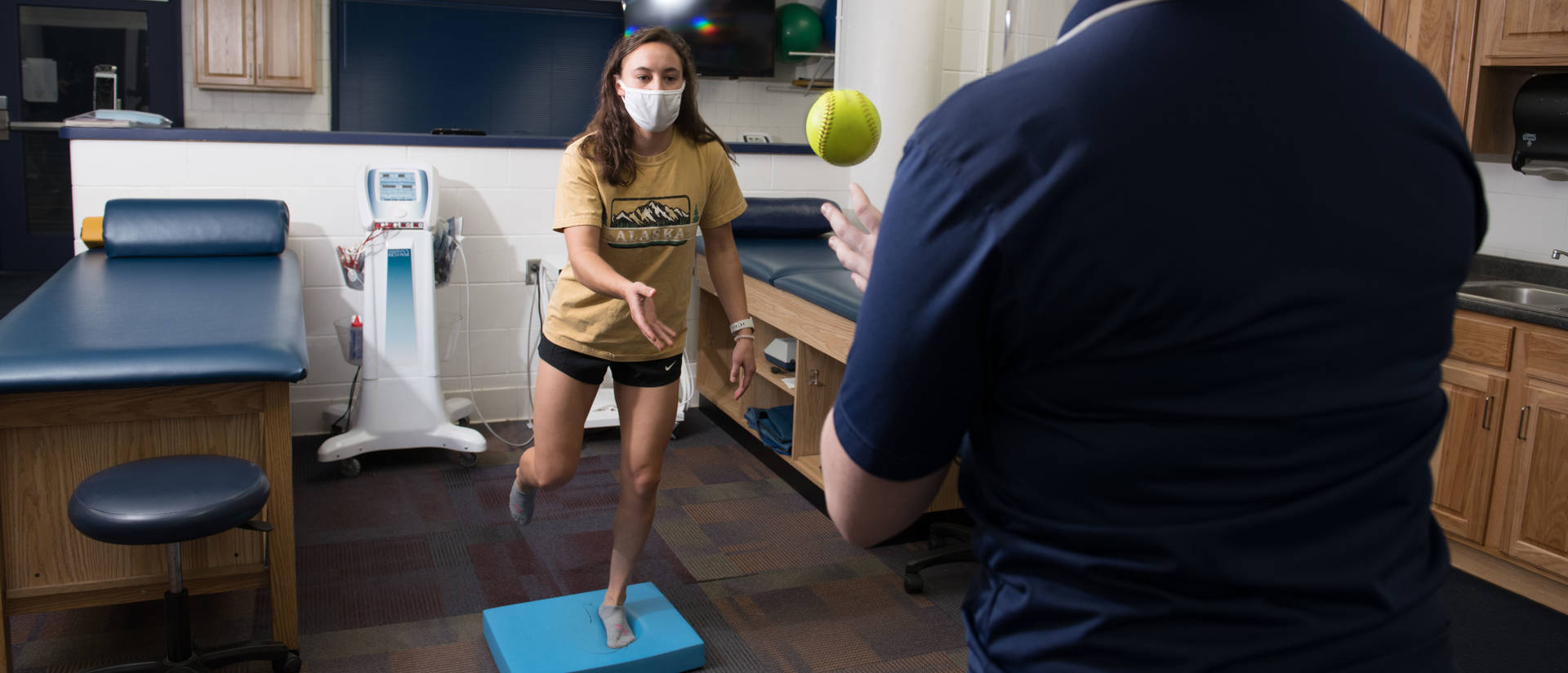 Explore pre-athletic training at UW-Eau Claire
The University of Wisconsin-Eau Claire's pre-athletic training curriculum provides a pathway to graduate school for students interested in a career as an athletic trainer.
Athletic trainers are highly versatile, multiskilled health care professionals who assist patients of all types in injury prevention, injury management and rehabilitation. Alongside physicians, these experts make diagnoses, triage patients, activate emergency action plans, provide frontline health care and rehabilitate injuries. Athletic trainers work in a variety of environments and organizations. You may cover sports teams for a small high school, monitor a professional sports team, assist the military, work with pediatric and youth athletes, help performers in the arts, or find employment in sports medicine clinics, orthopedic clinics or hospitals. Your degree can truly take you wherever you'd like to go.
Pre-athletic training is not a major at UW-Eau Claire, but rather a declaration of your intention to continue your education and enroll in graduate school. The minimum professional degree needed to become a licensed athletic trainer is a master's in athletic training. Our 3+2 program option lets you earn both your bachelor's degree in exercise science (pre-athletic training concentration) and master's degree in athletic training in only five years. This accelerated format allows you to start your master's level coursework in your fourth year, saving you time and money and getting you into the field more quickly.
Entry into a graduate-level athletic training program is typically based on a student's academic record and other criteria set by particular programs. A specific major is not required to get into athletic training graduate programs, but many UWEC pre-athletic training students choose to major in exercise science or rehabilitation science. Minors in kinesiology or the science of coaching are also available.
Excellent career support
A unique resource for pre-athletic training students at UWEC is the William J. and Marian A. Klish Health Careers Center. Here you can find personalized advising, opportunities to meet with athletic training school admissions representatives and connections to ongoing clinical research.
Why be pre-athletic training at UW-Eau Claire?
Experiential learning. We want you to feel prepared as you take your next steps toward becoming a licensed athletic trainer. As part of the pre-athletic training curriculum, you will have the chance to participate in a variety of high-impact learning opportunities, including student-faculty research, mentoring, health promotion activities and professional development workshops.
Innovative facilities. Take your studies to the field — literally. The McPhee Physical Education Center is an outstanding facility with three regulation-size hardwood courts, a competition-size swimming pool, a 30-foot climbing wall, a wresting room, an indoor 200-meter track, seven racquetball courts, a spacious weight training and fitness center, and group-exercise classrooms. Outdoor facilities include a 400-meter track, football field, tennis courts, and jogging and fitness trails.
Relevant student organizations. On-campus student organizations — like the Student Athletic Trainers Association — connect students like you who are also interested in becoming athletic trainers. These extracurriculars are an excellent way to gain professional experience. The group regularly covers athletic events and volunteers in the community.
Exceptional faculty and career preparation. Certain skills and experiences are also usually favored when applying for graduate schools, such as science aptitude, strong communication skills, service experiences, internships and job shadowing. Our exceptional faculty and career advisors are aware of these requirements and ensure you gain the knowledge and experiences necessary for acceptance into graduate school.
Pre-athletic training program details
Offered: in person
Campus: Eau Claire
Students are able to choose a major and/or minor that best aligns with their career goals.
UWEC student organizations related to pre-athletic training
Pre-Professional Health Club
Kinesiology Club
Student Athletic Trainers' Association
What's next after completing the pre-athletic training program?
After earning your undergraduate degree from UWEC, your next step toward becoming an athletic trainer is earning your master's degree in athletic training (MSAT). You may choose to pursue your master's in athletic training at UW-Eau Claire or attend a graduate school of your choice. After completing your master's degree, you will be eligible to sit for the national Board of Certification (BOC) exam and become a licensed health care provider in the state where you choose to practice.
What can I do with an MSAT?
Licensed athletic trainers can be found delivering quality health care in colleges and high schools, but may also work in the military or staff organizations such as hospitals, performing arts organizations, NASCAR, rodeos and sports medicine clinics. Those who wish to pursue additional graduate degrees may find work as a biomechanist or in a career in exercise physiology. Residency programs are also available to graduates and can enable you to work in exciting fields like pediatric orthopedics.
Pre-athletic training curriculum
As a pre-athletic training student, your curriculum can be customized to fit the admission requirement needs of your chosen master's program. Admission requirements vary by school due to differently structured programs, so it is important for students to research and identify early which schools they plan to apply to so that the undergraduate experience can be planned accordingly. Pre-athletic training advisors are available to you during your time at UWEC to help you plan out your semesters.
Pre-athletic training students should plan to take the Graduate Record Exam (GRE), which is required for some athletic training programs, during the spring semester or summer following their junior year.
What classes do pre-athletic training students take?
Students interested in a career in athletic training may focus on these topics during their undergraduate career:
Human anatomy and physiology
Biomechanical kinesiology
Exercise physiology
Strength and conditioning
Nutrition
Human development
Care and prevention of athletic injuries
Epidemiology
Chemistry
Statistics
Physics
Learn more about pre-athletic training in the UWEC course catalog.
Related programs at UW-Eau Claire
Programs that would best support a career in athletic training include: