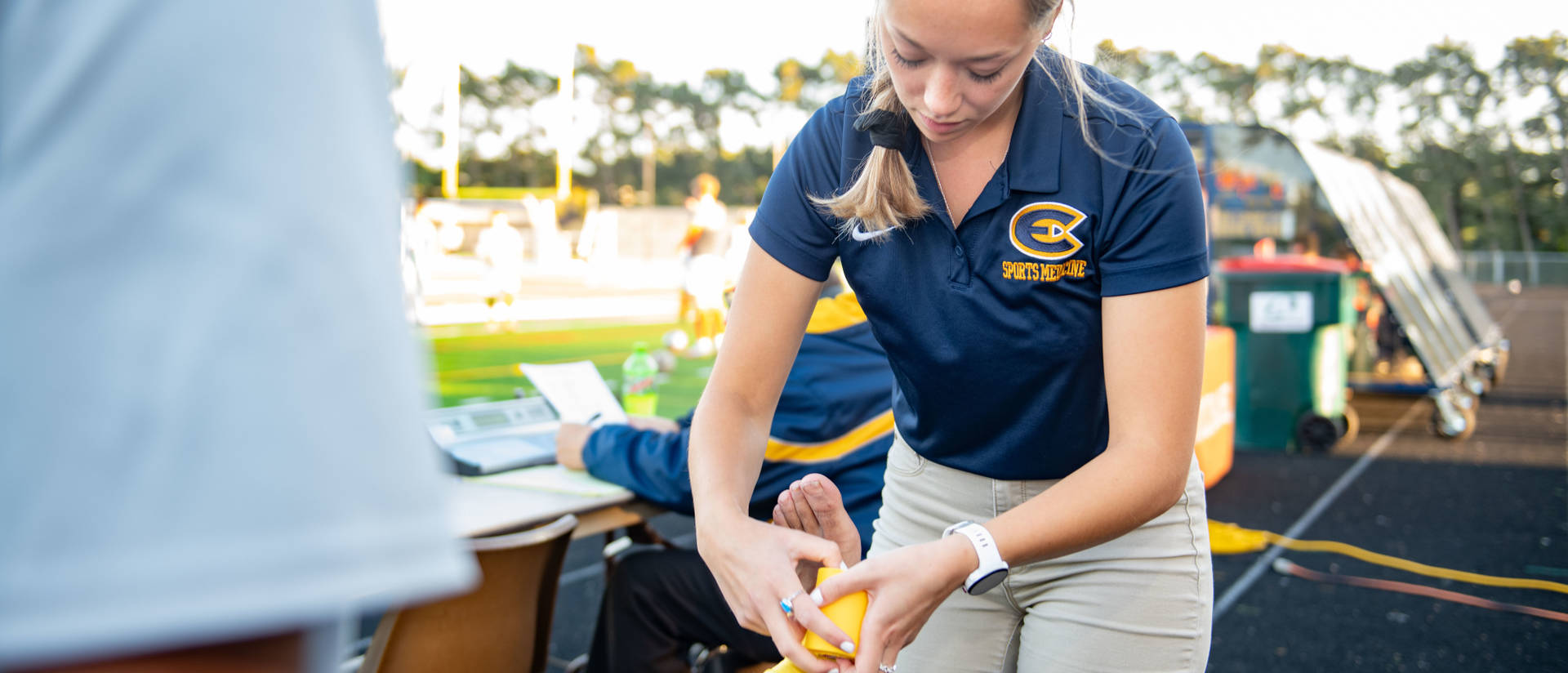 Explore the athletic training graduate program at UW-Eau Claire
Prepare for your career as an athletic trainer with a master's degree in athletic training from the University of Wisconsin-Eau Claire.
Our rigorous program will give you the education and experience needed to pass the Board of Certification (BOC) exam and become a highly educated, versatile healthcare professional. Interactive coursework, relevant clinical experiences and career-focused research opportunities will provide you with the skills to assist patients of all types in injury prevention, injury management and rehabilitation. Learn how to triage patients, activate emergency action plans, communicate with a broad range of people and become a comprehensive healthcare provider in an ever-changing environment.
In addition to clinical experience, you'll also have the opportunity to receive professional mentorship from preceptors. As part of a complete health team, you'll have clinical education experiences with a certified athletic trainer and a licensed physician, monitoring and assisting athletes competing in a variety of sports. A strong collaboration with Mayo Clinic for patient care, impactful research and interprofessional practice — as well as other schools, universities and minor league teams in the area — open even more doors to unique internships, experiences and networks.
Whether your goal is to be working on the sidelines of a professional team or managing patients in a clinical setting, our program is designed to equip you with the experience and knowledge necessary to enter the career force confidently.
Why complete my master of science in athletic training at UW-Eau Claire?
Big-time facilities, small class sizes. Numerous clinical facilities and athletic teams at UWEC allow you to graduate as a well-rounded and informed athletic trainer. But class sizes throughout your program stay small, keeping your education personal and individualized. Here, our expert faculty will know your name and will work closely with you to reach your goals.
Personalized mentorship. Working directly with an athletic trainer on campus, you'll help athletes from a variety of sports — from football to hockey to swimming to soccer — and gain firsthand experience in real-world settings.
Professional experience. Our program's strong collaborations with organizations such as Mayo Clinic, Eau Claire Express, and area universities and high schools will give you the opportunity to work in a variety of settings and gain invaluable experience outside the classroom. Your clinical experience may even take you out of state as you see what a day in the life of an athletic trainer is like.
Interprofessional curriculum. Curriculum within our athletic training master's degree program includes an interprofessional education component, meaning you'll learn with and from other healthcare providers in a variety of fields. You may work alongside social workers, paramedics, nurses, and communication sciences and disorders professionals, as you solve real-world problems.
Endless career possibilities. As a licensed athletic trainer, you'll quickly find endless career paths are available to you. You may cover sports teams for a small high school, monitor a professional sports team, assist the military, work with pediatric and youth athletes, help performers in the arts, or find employment in sports medicine clinics, orthopedic clinics or hospitals. Your degree can truly take you wherever you'd like to go.
Program length: two years
Offered: in person
Campus: Eau Claire
Credits: 66
Cost: $445 per credit
Additional fees: $850 per year
Students will earn a Master of Science (MS) degree.
Accreditation information
The Commission on Accreditation of Athletic Training Education (CAATE) has accredited this program since 2021. The program status is "Active in good Standing" and in compliance with all Standards.
Licensure information
The U.S. Department of Education requires institutions to disclose information for programs leading to professional certification or licensure about whether each program meets state educational requirements for initial licensure or certification.
The requirements of this program meet licensure in the following states: Alabama, Alaska, Arizona, Arkansas, Colorado, Connecticut, Delaware, Florida, Georgia, Hawaii, Idaho, Illinois, Indiana, Iowa, Kansas, Kentucky, Louisiana, Maine, Maryland, Massachusetts, Michigan, Minnesota, Mississippi, Missouri, Montana, Nebraska, Nevada, New Hampshire, New Jersey, New Mexico, New York, North Carolina, North Dakota, Ohio, Oklahoma, Oregon, Pennsylvania, Rhode Island, South Carolina, South Dakota, Tennessee, Texas, Utah, Vermont, Virginia, Washington, West Virginia, Wisconsin, Wyoming, and the District of Columbia.
What can I do with a master of science in athletic training degree from UWEC?
After completing your master's degree at UWEC, you will be eligible to sit for the national Board of Certification (BOC) exam and become a licensed healthcare provider in the state where you choose to practice. From there, your career path may take you in one of four directions: entering the field as an athletic trainer, attending physical therapy school, pursuing additional graduate degrees or entering a residency program.
If you choose to work as an athletic trainer, you have more options than ever when it comes to work settings. Athletic trainers can be found covering colleges and high schools, but may also work in the military or staff organizations such as hospitals, performing arts organizations, NASCAR, rodeos and sports medicine clinics. Those who wish to pursue additional graduate degrees may find work as a biomechanist or a career in exercise physiology. Residency programs are also available to graduates and can enable you to work in exciting fields like pediatric orthopedics.
All of these incredible paths begin right here at UW-Eau Claire with a master's degree in athletic training.
Athletic training master's degree curriculum
In nearly every course you take in this program, you will find opportunities for firsthand, experiential learning that takes you out of your seat and into the field — literally. Courses are interactive and provide the chance to work in small groups and to practice tests and procedures similar to what will be used with future patients. Curriculum ensures you will learn what the industry needs, including appropriate treatment practices and the latest techniques used in the field.
What classes do master of science in athletic training students take?
Your classes may cover topics like:
Anatomy
Nutrition in kinesiology
General medicine and diagnostic modalities
Healthcare management and practice
Pathophysiology and emergency medicine
Performance enhancement in the physically active
Psychological aspects in healthcare
Learn more about the athletic training graduate program in the UWEC course catalog.
Applications for the summer term are due by June 1. To enroll in our master's in athletic training program, please fill out the UW System application and pay the $56 application fee. You will also need to complete the Athletic Training Centralized Application Service (ATCAS) application. For the ATCAS application, you will need to create an account and select UW-Eau Claire as the institution, as well as pay the $85 application fee.
You will also need to submit the following items:
Official transcripts from all postsecondary institutions attended.
Three letters of recommendation, with at least one letter from an instructor/professor. The letter must reflect your integrity (i.e., professionalism, communication skills, work ethic, etc.)
Documentation of a minimum of 50 hours of observation completed under the direct supervision of a BOC-certified and appropriately state-licensed athletic trainer in a healthcare setting. The 50 hours must be completed within one calendar year of application.
These items should be sent to:
UW-Eau Claire Graduate Admissions
Schofield 111
105 Garfield Ave.
Eau Claire, WI 54701
Or emailed directly to admissions@uwec.edu.
To be considered for admission, an applicant must have:
An overall GPA of 3.0 at application with a BS/BA degree from a regionally accredited university, completed prior to matriculating into the program.
The following courses must be completed with a letter grade of C or better, earned and documented on official transcripts prior to matriculating into the program:
Two semesters of Anatomy and Physiology with lab.
One semester of General Chemistry with lab.
One semester of General Psychology.
One semester of General Physics.
One semester of Biomechanics.
One semester of Exercise Physiology.
One semester of Statistics.
International students must meet the English Language Test score requirements as listed on the Admissions-Graduate Student webpage.
Please note:
The application does not constitute acceptance into the program nor is acceptance guaranteed simply upon satisfactory completion of requirements. Admission requirements are weighted. Weighted criteria include overall GPA (35%), Anatomy/Physiology Grades (15%), GPA from Prerequisites (20%), evaluation of letter of recommendation (15%), and interview scores (15%). Exceptions to the requirements can be made on a recommendation by the M.S. in Athletic Training Application Committee.
The M.S. in athletic training application is a competitive process. A committee reviews completed graduate applications and selects applicants to interview. The committee will set up a time with the student to complete the interview process (video conference or in person). The committee will forward their recommendations regarding acceptance into the M.S. in athletic training program to the Dean of Graduate Studies. All UW-Eau Claire Graduate Studies policies will be followed accordingly.
Students who opt to transfer into this program must meet all UW-Eau Claire Graduate Studies and program requirements. The athletic training admissions committee will review all official transcripts to determine transfer eligibility of previous coursework.
For more information, please contact:
Corey Hannah
hannahcm@uwec.edu
715-836-5484
All students who graduate from the ATP and meet the criteria established by CAATE will qualify to sit for the Board of Certification (BOC) national certification examination. Successful completion of the BOC certification examination allows the individual to become a Certified Athletic Trainer and eligible for state licensure.
"Currently, 49 states and the District of Columbia regulate the practice of athletic training. Individuals must be legally recognized by the appropriate state regulatory agency prior to practicing athletic training. The BOC exam is recognized by all Athletic Trainer state regulatory agencies to meet their exam requirement. Compliance with state regulatory requirements is mandatory and the only avenue to legal athletic training practice." (BOC, 2020)
Student transportation
Students in the athletic training program must provide their own transportation to and from clinical experiences. Some clinical experiences may require travel to other communities.
Associated costs
Along with the tuition and fees, students accepted into the ATP bear all costs associated with admission, didactic, and clinical experiences. These associated expenses may include, but are not limited to:
Program application

Applicants are responsible for all costs associated with applying to the ATP, which includes the completion of the UW System eApplication ($56) and ATCAS ($85).

Physical examination and up-to-date immunizations

Physical exams can be performed at UWEC's Health Clinic at no cost to the student. Standard immunizations, tetanus/diphtheria/pertussis (Tdap), measles/mumps/rubella (MMR), and hepatitis B, are also available with minimal to no cost. Flu and meningitis immunizations are given 'at cost'. UWEC Health Services does not third-party bill (submit fees to insurance companies). If your health insurance covers immunization including the meningitis immunization through your primary care provider, that route may be more cost-effective. More information regarding cost associated with the Health Center are located here.

Adult/Child CPR/AED and First Aid (American Red Cross) or its equivalent is required for application to the ATP. Certification is available on campus for a fee of $45.
National Athletic Trainers' Association membership (once admitted to professional program)

$75.00 (2021 dues structure); may be done online at NATA.org.

Daily travel to/from campus and to your clinical site is the responsibility of the student (e.g., gas, car maintenance, bus ticket)

Clinical sites average from 1-26 miles one way from campus. When possible, students are encouraged to pair up with other clinical students placed at the same clinical site to travel and reduce expenses.
Travel to/from physicians' offices for orthopedic exams or to observe surgical procedures.

Uniform staff shirts (if necessary)

Approx. $50-$75 each; while on clinical rotation, all UWEC Athletic Training Program students are expected to display professionalism not only through behavior, but especially through attire (e.g., polo shirts; collared shirts; khaki pants; appropriate length khaki shorts; chinos). Some clinical sites may provide clinical students with staff attire, while others may ask students to purchase attire. The ATP will provide one clinical polo shirt upon matriculation.

Background checks will be 'at cost' and will be determined by the College of Education and Human Sciences. This is a one-time expense and is approximately $50.
Textbooks

The cost for textbooks is a required purchase (cost varies). Some textbooks will be used in multiple courses (e.g., Evaluation/Rehabilitation, Practicum), with a yearly expenditure ranging between $300-500 per year.
Program outcomes
The athletic training program at the University of Wisconsin-Eau Claire has been highly successful since its inception in 1970. The program has shown a high success rate not only on the Board of Certification (BOC) examination (required exam for state licensure) and an overall pass rate of 98% (some alumni have chosen not to take the exam), but also in the 94% placement rate within six months of graduation. All program alumni who seek either employment or graduate school following their undergraduate education at UWEC find it. Our graduates are or have been employed in a variety of athletic training practice settings, including high schools, colleges and universities, professional athletic programs, hospitals, medical offices, performing arts settings and the military. You may review our program's BOC pass rates, along with all others (of varying institution types, number of students taking the BOC exam from each institution and by region) in the country by visiting our accrediting agency's program outcomes page: https://caate.net/program-info/61/.
Program retention rate
This measures the percentage of students who have enrolled in our professional program and who have returned to continue their studies in the Athletic Training Program the following academic year.
| | | | | |
| --- | --- | --- | --- | --- |
| | 2018-2019 | 2019-2020 | 2020-2021 | 3-yr aggregate |
| Number of students beginning program (cohort number; Sophomores) | 17 | 10 | 0 | 27 |
| Number of students returning for subsequent year 2 (Juniors) | 12 | 14 | 6 | 32 |
| Program retention rate (%) | 66.7% | 82.3% | 60% | 84.4% |
| Number of students returning for subsequent year 3 (Seniors) | 14 | 12 | 12 | 38 |
| Program retention rate (%) | 93.3% | 100% | 85.7% | 84.2% |
Student BOC pass rate
| | | | | | |
| --- | --- | --- | --- | --- | --- |
| | 2017-18 | 2018-19 | 2019-20 | 2020-21 | 3-yr aggregate |
| # of graduates | 20 | 14 | 12 | 12 | 38 |
| % completion (retention rate) | 100% | 73.6% | 66.7% | 82.4% | 74.1% |
| # grads to take BOC exam | 20 | 14 | 12 | 12 | 38 |
| # students to pass BOC on 1st attempt | 14 | 12 | 11 | 7 | 30 |
| % pass rate for BOC exam, first attempt | 70% | 86% | 92% | 58% | 79% |
| National average of students who passed on 1st attempt | 80.7% | 73.2% | 77.6% | 61.7% | -- |
| Number of students to pass BOC, any number of attempts | 20 | 13 | 11 | 10 | 34 |
| % pass rate, any # of attempts | 100% | 93% | 92% | 83% | 89% |
Note: Programs must meet or exceed a three-year aggregate of 70% first-time pass rate on BOC exam.
Student graduation rate
Graduation rate (from U.S. Department of Education) measures the progress of students who began their studies as full-time, first-time degree- or certificate-seeking students by showing the percentage of these students who complete their degree or certificate within 150% of "normal time" for completing the program in which they are enrolled.
| | | | | | |
| --- | --- | --- | --- | --- | --- |
| | 2017-18 | 2018-19 | 2019-20 | 2020-21 | 3-yr aggregate |
| # of students graduating from program | 20 | 14 | 12 | 12 | 38 |
| Student graduation rate (%) | 100% | 78% | 75% | 76% | 76% |
Student employment rate
Graduate employment/placement rate: Percentage of students within six months of graduation who have obtained positions in the following categories: employed as an athletic trainer, employed as "other" or not employed.
| | | | | | |
| --- | --- | --- | --- | --- | --- |
| | 2017-18 | 2018-19 | 2019-20 | 2020-21 | 3-yr aggregate |
| Number of students Employed as AT | 18 | 12 | 10 | 9 | 31 |
| Student Employment Rate as AT (%) | 90% | 86% | 83% | 75% | 82% |
| Number of students employed as other | 1 | 2 | 0 | 2 | 4 |
| Student Employment Rate as other (%) | 5 | 14 | 0 | 17 | 11 |
| Number of students not employed | 1 | 0 | 2 | 1 | 3 |
| Student Not Employed Rate (%) | 5% | 0% | 17% | 8% | 8% |
Related programs at UW-Eau Claire
Thinking about a master's degree in athletic training? Here are other programs you may be interested in exploring.