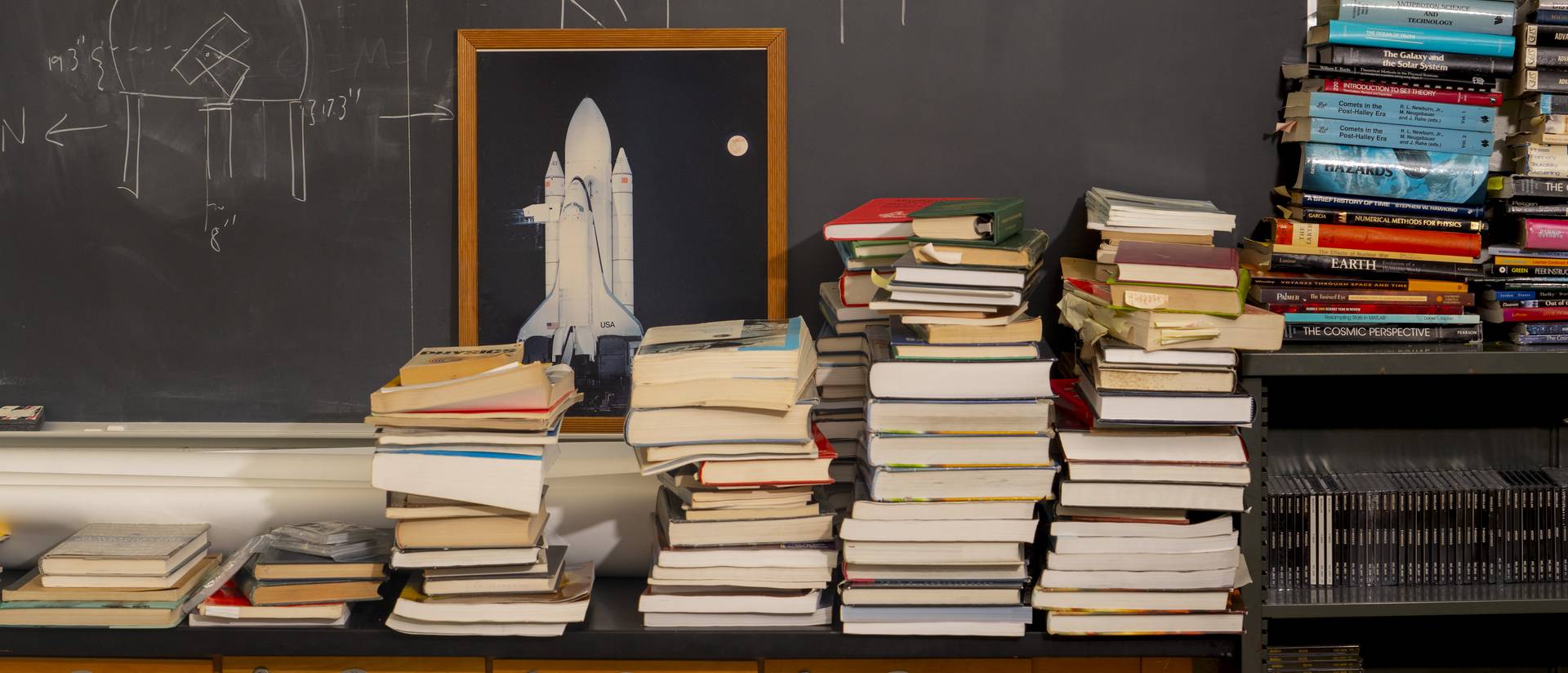 Explore the physics - astrophysics emphasis bachelor's degree program at UW-Eau Claire
Discover the wonders of the universe with a bachelor's degree in physics - astrophysics emphasis at UW-Eau Claire. This field of study offers a wide range of opportunities, combining scientific exploration, intellectual stimulation and the potential for societal impact.
We'll help you answer some of the biggest questions in the universe while still developing practical and desirable skills. Learn to code, perform experiments and analyze astronomical data. Our faculty are experts in their field and are here to provide guidance and a stellar education.
In fact, our physics and astronomy department was one of eight departments selected nationally by the American Institute of Physics as a case study for the best practices of physics higher education, with a record of success in preparing students for careers in STEM. What the case study found was something that we've always known about our university: the student-centered atmosphere, dedicated faculty, research opportunities and mentoring, and excellent advising set this program apart.
What you do next is up to you! Some astrophysics graduates choose to start their own businesses, leveraging their scientific knowledge and problem-solving skills to develop innovative products or services. Others dive into research and academia, science communication, finance or even aerospace engineering. No matter your career path, you'll leave UW-Eau Claire well-prepared to achieve your goals.
Why physics - astrophysics emphasis at UW-Eau Claire?
State-of-the-art equipment and facilities. While pursuing your degree in physics, you'll have direct access to outstanding academic facilities, such as the UWEC supercomputer cluster, Hobbs Observatory, an optics research lab, the Materials Science and Engineering Center, an electron microscopy lab, and an electronics lab. There, you can use real-world technology such as a 24-inch reflecting telescope, an atomic force microscope, a scanning tunneling electron microscope and an X-ray diffractometer.
In-demand skills. As a graduate of our physics program, you'll gain critical skills, including the ability to effectively initiate new ideas, conduct research, analyze data, develop theories and solve problems. You'll also gain experience using sophisticated technology and applying physical and mathematical principles across disciplines — making you an extremely versatile employee. Learn to program in Python, develop computational skills and take advantage of working with our data science faculty all while completing your major.
Outside-the-classroom learning. UW-Eau Claire consistently offers students the chance to learn and refine their craft in the real world. Be a part of a service-learning project over spring break, mentor an international student majoring in physics, hear from international experts and speakers, study abroad in Scotland or attend one of the 200 universities that participate in the National Student Exchange program.
Exceptional preparation. Graduates leave UW-Eau Claire ready to hit the ground running. Thanks to the program's "learn by doing" approach, you'll be able to convert a physical situation into a mathematical model; use measurement technology, computational tools and statistical techniques to collect and analyze data; and use physical principles to model astronomical objects and to explain observations of astronomical objects — all before you even graduate.
Physics - astrophysics emphasis program details
Program length: four years
Offered: in person
Campus: Eau Claire
This major requires a minor or certificate.
Students majoring in this program may choose either a Bachelor of Arts (BA) or Bachelor of Science (BS) degree.
Student organizations
Society of Physics Students
Women & Gender Minorities in STEM
Materials Research Society
Sigma Pi Sigma
What can I do with a physics - astrophysics emphasis degree from UWEC?
The versatility of an astrophysics degree means there are countless opportunities in a variety of fields, allowing you to consider your own interests, strengths and goals to determine which path aligns best with your aspirations. Whether your passionate about research and academia or data analysis and technology, the possibilities are endless. A degree in astrophysics can open doors to roles in observatories and space agencies such as NASA or ESA, the aerospace industry and even finance.
If you enjoy explaining complex scientific concepts to others, you can pursue a career in science communication. This may involve writing articles, hosting science podcasts, creating educational content, or working as a science journalist to make astrophysics accessible to the public. Your knowledge of astrophysics can also be valuable in shaping science policy and advising government agencies, non-profit organizations, or private companies on matters related to space exploration, research funding and scientific initiatives.
Astrophysics jobs
Research scientist
Data scientist
Aerospace engineer
Science communicator/writer
Software engineer
Educator
Financial analyst
Consultant
Science policy advisor
Entrepreneur
Physics - astrophysics emphasis bachelor's degree program curriculum
The astrophysics emphasis major provides preparation for astrophysics or astronomy graduate school, as well as a broad range of careers in technical fields found in business/industry settings.
What classes do physics - astrophysics emphasis majors take?
Your classes may cover topics like:
The solar system
Stars and galaxies
Quantum physics
Advanced laboratory techniques
Optics
Computational physics
Learn more about the physics - astrophysics emphasis major in the UWEC course catalog.
Related programs at UW-Eau Claire
Thinking about a bachelor's degree in physics? Here are other programs you may be interested in exploring.