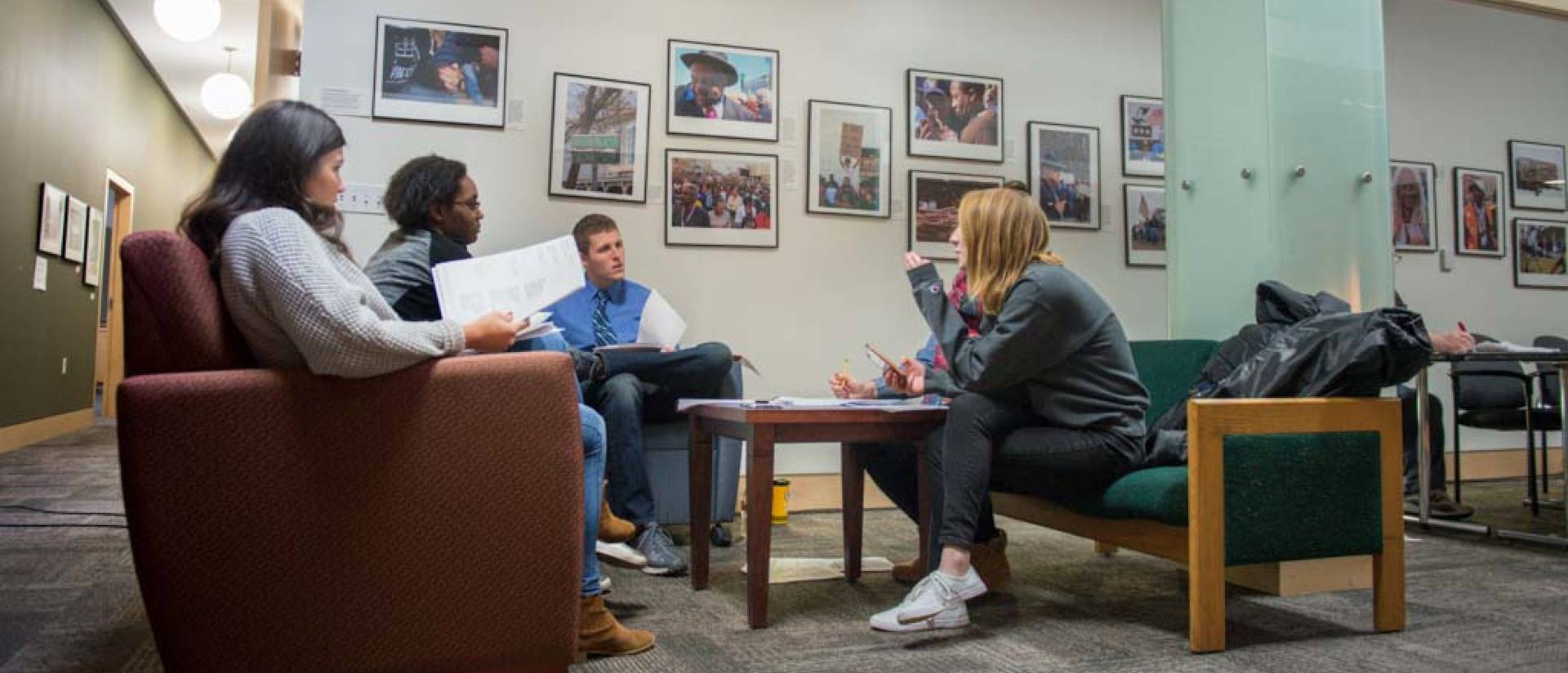 Explore the communication - organizational communication emphasis bachelor's degree program at UW-Eau Claire
Learn how to analyze, develop and deliver messages to a variety of stakeholders with a communication - organizational communication emphasis bachelor's degree from the University of Wisconsin-Eau Claire. Our career-building program will introduce you to best practices across all types of communication, including organizational, professional, multimedia, interpersonal, intercultural, small group, leadership and health communication.
Coursework focuses on deepening your understanding of strategic message design. Through case studies and real-world examples, you will analyze messages within organizations, identify common organizational needs and develop effective strategies to address them. Unique projects and presentations will help you to improve communication in ways that enhance individual experiences and organizational productivity.
A critical component of all our programs at UW-Eau Claire is providing students with opportunities to gain professional experience and make industry connections. Here, you'll have opportunities to collaborate with faculty on research, intern at local organizations or study abroad.
With a growing need for skilled communicators, a degree in organizational communication is in high demand. Previous students have gone on to work in management, human resources, marketing, training and development, event planning, community relations and a variety of other areas in for-profit and nonprofit organizations.
Why communication - organizational communication emphasis at UW-Eau Claire?
Skill-building facilities. The communication and journalism department is home to the Communication and Journalism Center, a state-of-the-art facility that includes TV and radio news studios and projection facilities, a visual communication studio and lab, and the offices of The Spectator and Blugold Radio (WUEC FM 89.7) — student media outlets. Here, you can take what you've learned in the classroom and put it into practice, all while gaining professional experience.
Career preparation. Rigorous coursework will prepare you for the demands and challenges of a career in organizational communication. Many classes throughout the major have a strong emphasis on professional development. Learn the fundamentals of effective public speaking, mindful interviewing and self-presentation.
Collaborative research opportunities. Through our student-faculty collaborative research program, you will have opportunities to participate in fascinating research projects, like the link between recruitment messages and applicant leadership qualities or the analysis of messages in corporate rhetoric. In addition to bolstering your resume and portfolio, these projects help you foster relationships with mentors, the community and even potential employers.
Relevant student organizations. Many of our communication students are active in on-campus student clubs and organizations, like the Communication and Journalism Organization (CJO). These extracurriculars are excellent ways to learn new skills, network and explore career paths.
Supportive faculty experts. Classes are taught by passionate, enthusiastic professors who know and love their field. Through creative projects and guest presentations, they go out of their way to immerse you in the diverse world of communication. Small class sizes help you form meaningful relationships and gain an even more personalized education.
Connection to local employers. Annual on-campus Career Conferences and a Client Communication and Management Career Fair bring potential employers right to you. These events are excellent opportunities to network and submit your resume for current and future job openings.
Communication - organizational communication emphasis program details
Program length: four years
Offered: in person
Campus: Eau Claire
This major requires a minor or certificate.
This program is also available as a minor and certificate. 
Students majoring in this program may choose either a Bachelor of Arts (BA) or Bachelor of Science (BS) degree.
Student organizations
Communication and Journalism Organization (CJO)
Forensics
International Association of Business Communicators (IABC)
Kappa Tau Alpha
The Spectator
What can I do with a communication - organizational communication emphasis degree from UWEC?
Our organizational communication graduates are experiencing successful careers all over the world. From Wisconsin to England to Antigua, Blugolds are helping organizations make decisions, craft effective messages and build reputable brands.
Where are communication - organizational communication emphasis alumni now?
Client service coordinator, Banfield Pet Hospital, Minnesota
Community manager, American Cancer Society, Wisconsin
Communications assistant, Mission Impact, Antigua
Advertising coordinator, Post-Bulletin, Minnesota
Social media and communications coordinator, Harlaxton College, England
Administrative coordinator and department liaison, Boys & Girls Club of the Greater Chippewa Valley, Wisconsin
Organizational communication jobs
Events specialist
Marketing communications specialist
Digital marketing coordinator
Talent acquisition specialist
Sales and events coordinator
Event operations
Marketing specialist
From the moment I stepped on campus, UWEC felt like home. I've been lucky to study abroad twice (in Jamaica and Spain), complete student-faculty research submitted for publishing, serve on the Executive Board of numerous organizations, raise money for Blugold scholarships, and follow multiple passions. UWEC was the perfect place to lay down roots and prepare for an exciting career in Minneapolis as a technology consultant for a Fortune 50 company.
Communication - organizational communication emphasis bachelor's degree program curriculum
Curriculum within the organizational communication major is intentionally built to provide you with firsthand experience. A Communication Research Seminar capstone course will require you to investigate current research issues in interpersonal, group, intercultural, organizational and public communication.
You may also choose to pursue a communication internship — many of which count for credit. There, you'll apply classroom knowledge and skills to a variety of professional activities, taking away new skills and an impressive resume.
What classes do communication - organizational communication emphasis majors take?
Your classes may cover topics like:
Human resource development
Intercultural communication
Strategic event planning
Interpersonal communication
Strategic message design
Organizational communication
Research methods
Learn more about the communication - organizational communication emphasis major in the UWEC course catalog.
Learn more about the communication - organizational communication emphasis minor in the UWEC course catalog.
Learn more about the organizational communication certificate in the UWEC course catalog.
Related programs at UW-Eau Claire
Thinking about a bachelor's degree in organizational communication? Here are other programs you may be interested in exploring.