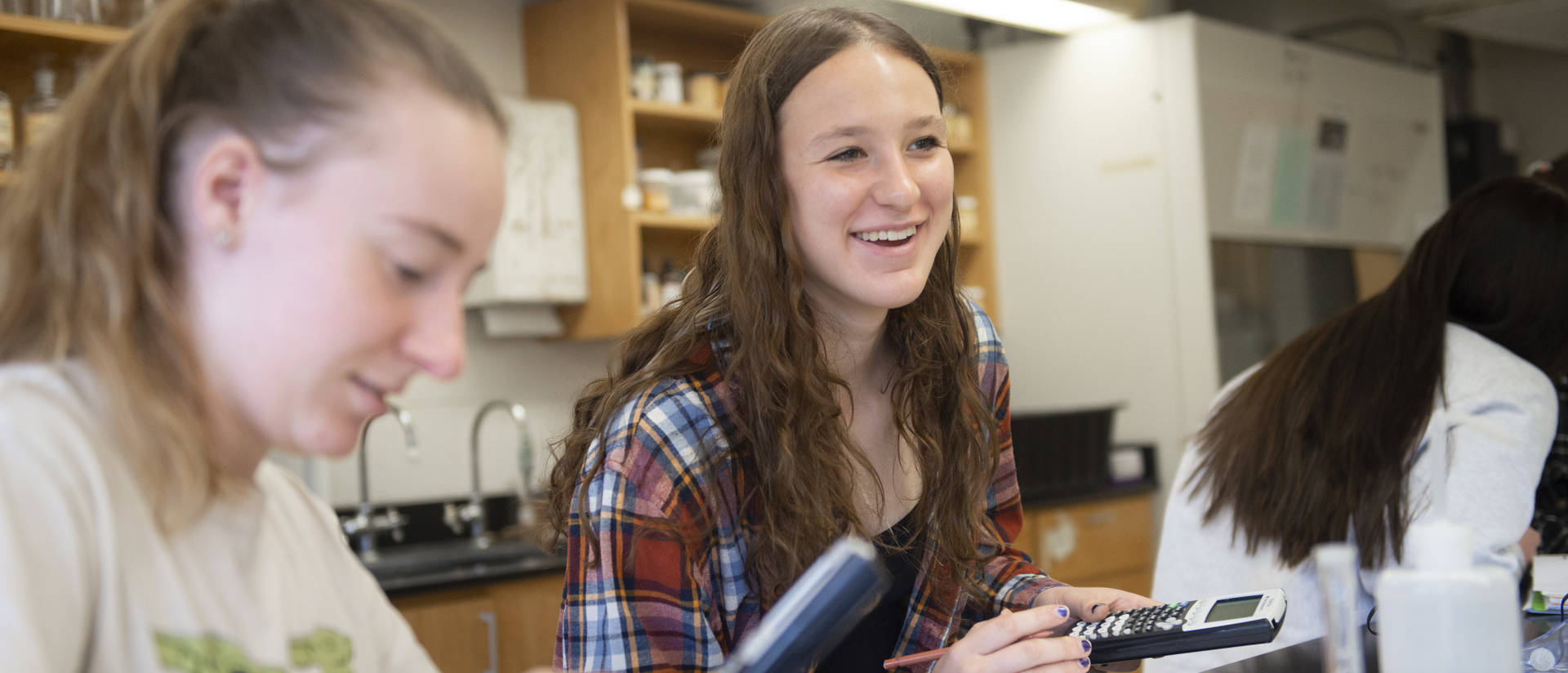 Explore the chemistry with business emphasis bachelor's degree program at UW-Eau Claire
The University of Wisconsin-Eau Claire's chemistry with business emphasis bachelor's degree is one of only a handful of programs nationwide to combine a core set of chemistry courses with targeted business classes and integrated coursework demonstrating the applications of chemistry in a wide range of industries. These include pharmaceuticals and health care; cosmetics and personal care products; energy, sustainability, and environmental protection; agriculture and food; paints and adhesives; electronics and semiconductors; plastics and materials.
Chemistry is involved in the production of almost every consumer product we use on a day-to-day basis. During your studies, you will develop an understanding of the principles that give rise to practical, profitable applications, and also take courses in accounting, economics, marketing, and management. By completing the program, you'll gain an understanding of how chemistry underlies innovation, drives the global supply chain, and how potentially useful chemical properties become products and enter the market.
You will also have access to hands-on learning experiences that prepare you to hit the ground running after graduation. Internships are available in both sales and laboratory or diagnostic work, and many students conduct research alongside expert faculty members and/or industry partners. They also travel to regional and national conferences or business meetings to present their work. Additionally, the department has an impressive array of modern instrumentations, providing students with experience using the same state-of-the-art tools used in modern industrial settings.
Whether you go on to a career in technical sales, a position involving diagnostic lab work and maintaining customer relationships, or even a healthcare profession, a degree in Chemistry with Business Emphasis from UW-Eau Claire will serve you well.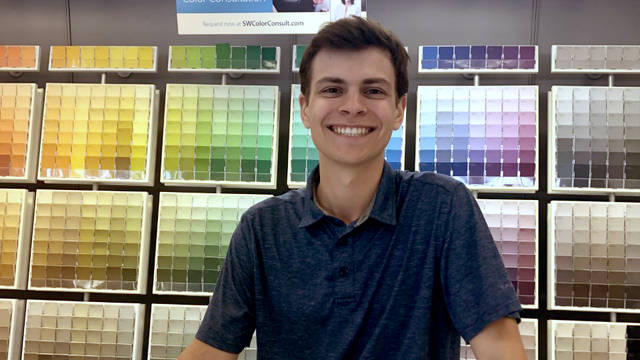 Why chemistry with business emphasis at UW-Eau Claire?
Innovative instruments and facilities. The chemistry department at UW-Eau Claire is home to a comprehensive suite of state-of-the-art instrumentation for chemical analysis — and you'll have direct access to it. Here you can master a number of specialized research instruments, including an X-ray diffractometer, an optical cryostat, a jet-cooled expansion system and a supercomputing cluster (BGSC) — a high-performance computing system that provides resources that are on par with (or above) what is available at most major research institutions. You'll also be able to use specialized laboratories, including a laser spectroscopy lab, a low-temperature spectroscopy lab, a computational lab and a thermal analysis lab.
Research opportunities. The chemistry department has a long tradition of productive collaborative research partnerships between undergraduate students and faculty. These experiences often lead to published papers in peer-reviewed journals and presentations at regional, national and international meetings. Previous research projects have ranged from work on self-repairing LC displays on phones, TVs and monitor screens to mucin peptides and how they might be used as antigens against some cancers.
Exceptional career preparation. As a chemistry major, you'll find countless internships, seminars, lectures and nationally funded summer research opportunities available to you. These experiences allow you to explore career paths, gain valuable career experience and work with experts in the chemical industry. A series of lectures by faculty and speakers from industry will introduce you to various chemical and related industries as well as career opportunities and their qualifications. Participating companies have included organizations like Univar, Ecolab, Hydrite Chemical, 3M, Boston Scientific and Nestle USA.
Strong partnership with alumni. Our extended alumni network connects you with 50-plus years of program graduates — and our graduates know the value of a UWEC education. In fact, the chemistry with business emphasis program has a long history of Blugolds hiring Blugolds, as many program grads now own their own business.
Award-winning, dedicated faculty. While at UW-Eau Claire, you'll learn from expert faculty who have a wealth of knowledge in — and passion for — chemistry. Our professors have received national recognition for supporting and mentoring students, currently hold 16 patents and work tirelessly to create high-impact learning opportunities for students. In fact, over the last six years, chemistry faculty have brought in over $2 million in external grant funds, directly benefiting UWEC chemistry majors.
Chemistry with business emphasis program details
Program length: four years
Offered: in person
Campus: Eau Claire
This major does not require a minor.
Students majoring in this program may choose either a Bachelor of Arts (BA) or Bachelor of Science (BS) degree.
Student organizations
American Chemical Society-Student Affiliate (ACS-SA)
Materials Research Society
Women and Gender Minorities in STEM
Accreditation information
The chemistry department is accredited by the American Chemical Society (ACS).
What can I do with a chemistry with business emphasis degree from UWEC?
Graduates of this program leave UW-Eau Claire with an impressive range of knowledge, skills, and experience — a rare combination of technical and business expertise. This is particularly attractive to employers who need people with both technical skills and "people skills." Our program will prepare you for non-laboratory careers in the chemical industry, including product development, business development, sales, marketing research, technical service and manufacturing. The degree is also excellent preparation for graduate studies in business or for careers in expanding industries, such as pharmaceuticals, biotechnology, nanotechnology, electronic materials, petrochemicals, polymers, pollution control, and the production of bio-based fuels and materials.
Where are chemistry with business emphasis alumni now?
Ingredient manager, Nestle Nutrition, Wisconsin
Sales, Stepan Company, Illinois
Purchaser, 3M, Minnesota
Buyer, Emerson Process Management, Minnesota
Quality assurance auditor, Covance, Wisconsin
Customer service, Brenntag Great Lakes, Wisconsin
Purchasing manager, EMCO Chemical Distributors, Illinois
Quality assurance, Nestle, Wisconsin
Sales, Hydrite Chemical, Wisconsin
Chemistry with business emphasis careers
Technical service engineer
Pharmaceutical sales representative
Quality control and quality assurance specialists
Purchasing agent
Business development specialist
Marketing specialist
Product manager
Distribution and transportation manager
Regulatory specialist (EPA, FDA, OSHA)
I really enjoy the laboratory side of chemistry — working with materials, seeing the reactions — but I'm also a people person who loves talking and collaborating with people. The chemistry with business emphasis program lets me do both.
Chemistry with business emphasis bachelor's degree program curriculum
The curriculum within the chemistry with business emphasis major will provide you with the technical expertise needed to be a successful scientist, while also shaping you into a well-rounded professional with skills in communication, analytics, problem-solving and creative thinking. A required professional development program will help you with career planning, interviewing techniques, job etiquette and networking.
Because the program draws on courses from both the College of Arts and Sciences and the College of Business, you will have the unique advantage of exploring career opportunities in both sectors. This shared curriculum also allows for an easy transfer to, or addition of, a business major or minor, providing you with flexibility and options as it relates to picking your chosen degree.
Students pursuing our pre-pharmacy, pre-medicine and pre-dentistry studies may especially find this major aligns well with their interests and career goals.
What classes do chemistry with business emphasis majors take?
Your classes may cover topics like:
Industrial chemistry
Information systems in business
Managing global organizations
Organizational behavior
Polymer chemistry
Business writing
Quantitative analysis
Trigonometry
Learn more about the comprehensive chemistry with business emphasis major in the UWEC course catalog.
Related programs at UW-Eau Claire
Thinking about a bachelor's degree in chemistry with business emphasis? Here are other programs you may be interested in exploring.