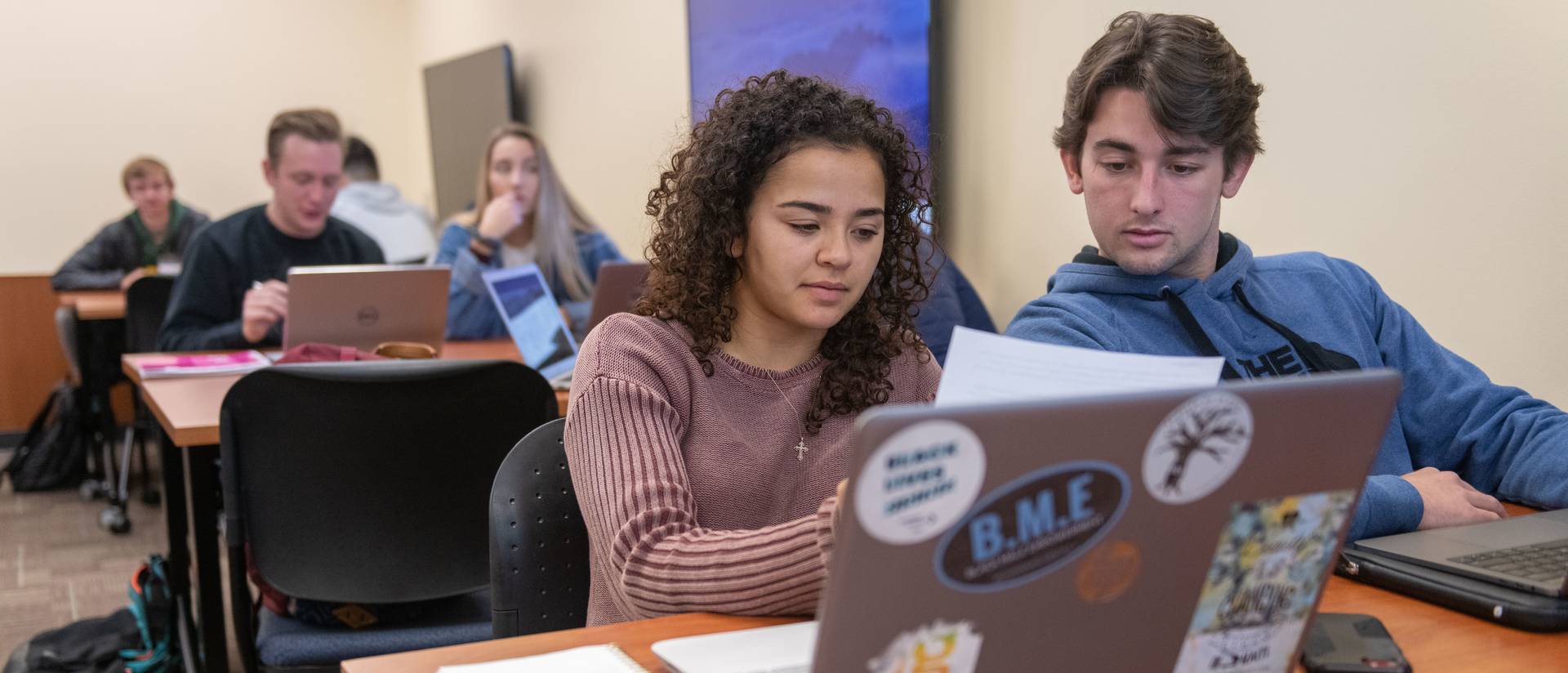 Explore the business administration bachelor's degree program at UW-Eau Claire
The University of Wisconsin-Eau Claire's business administration program delivers innovative ideas and solutions to practical business principles.
Build your understanding of business practices through a diverse curriculum, with courses ranging from accounting and business communication to marketing and management. Through real-world projects and experiential learning opportunities, you'll enhance your communication, interpersonal, technical and critical thinking skills — all of which are highly valued by organizations seeking to employ business graduates.
UW-Eau Claire students are always striving to experience something new and explore places they never have before. And we encourage it. The business administration program offers countless opportunities for you to grow, whether it's through an internship, student organizations, study abroad, competitions or projects that better the community.
Because of the broad-based nature of the program, graduates can go on to pursue a variety of careers, including arts administration, advertising, sales, marketing, hotel management, restaurant management and retail.
Why business administration at UW-Eau Claire?
Current, evolving curriculum. Business administration majors are forward-thinking, business-savvy individuals with a thirst for knowledge — and so are our faculty. Course curriculum focuses on ways you can stay sharp, current and on top of your game. Professors will do all they can to prepare and empower you to realize your full potential and excel in life.
Opportunities to gain professional experience. Build out your resume with real-world experience by pursuing internships and international study and participating in competitions and service projects. UW-Eau Claire's business administration program offers many transformational educational experiences that will build your self-confidence while allowing you to apply and test what you've learned.
Development of leadership skills. The College of Business hosts 15 student organizations — all of which are available to business administration majors. Seventy-one percent of our students report that they belong to at least one student organization and 30% hold a leadership position (Source COB 2015-16 graduating senior surveys). Student organizations are an excellent way to not only get involved on campus but to also build your leadership skills. These experiences are ones you can leverage in future job interviews to better demonstrate your ability to manage, delegate and work on a team.
Connection to local employers. Annual on-campus Career Conferences and a Client Communication and Management Career Fair bring potential employers right to you. These events are excellent opportunities to network and submit your resume for current and future job openings.
Business administration program details
Program length: four years
Offered: on campus
Campus: Eau Claire
This major requires a minor or certificate.
This program is also available as a minor.
Students majoring in this program will earn a Bachelor of Business Administration (BBA) degree.
Student Organizations
Beta Gamma Sigma Honorary (BGS)
Beta Upsilon Sigma (BUS)
Collegiate DECA
Accreditation information
Our business programs are among the best. We are accredited by AACSB International, a mark of excellence achieved by less than 5% of all business schools worldwide.
What can I do with a business administration degree from UWEC?
With a business administration degree from UW-Eau Claire, you will graduate with the framework, tools and experience necessary to jump into a successful career, full of advancement opportunities. Jobs for business administration graduates are plentiful — and you'll be able to take your pick when it comes to markets and career paths.
Where are business administration alumni now?
Vice president of events, ESPN, North Carolina
District manager, Aldi, Minnesota
Senior trading analyst, Target, Minnesota
Human resource administrator, Ashley Furniture, Wisconsin
Procurement specialist, Ecolab, Minnesota
Marketing manager-convenience stores, General Mills, Minnesota
Business administration careers
Manager trainee
Advertising project manager
Business development manager
Sales manager
Business consultant
Financial analyst
Market research analyst
Human resources (HR) specialist
Loan officer
Business administration bachelor's degree program curriculum
UW-Eau Claire's business administration program requires a minor or approved certificate as a secondary area of study. Pair this degree with popular choices such as communications, math, music, psychology or Spanish to obtain an even more well-rounded education. For those interested in furthering their education, we also offer a Master of Business Administration (MBA).
What classes do business administration majors take?
Your classes may cover topics like:
Business communication
Business logistics management
Compensation theory and administration
Financial management
Legal and regulatory environment
Managerial accounting
Marketing analytics and technology
Learn more about the business administration major in the UWEC course catalog.
Learn more about the business administration minor in the UWEC course catalog.
Related programs at UW-Eau Claire
Thinking about a bachelor's degree in business administration? Here are other programs you may be interested in exploring.