Explore the BSN completion program at UW-Eau Claire
Take your career to the next level with our BSN completion (RN to BSN) program at the University of Wisconsin-Eau Claire. Our renowned program offers a flexible way for currently employed registered nurses, or those looking to build on their Associate of Nursing, to earn their Bachelor of Science in Nursing.
UW-Eau Claire nursing programs have a long and proud history of providing students with an exceptional education. As part of the collaborative UW BSN@HOME program, UW-Eau Claire offers hybrid online synchronous and asynchronous coursework, giving you the flexibility of continuing to work in the field, while still benefiting from in-person instructor feedback and peer connections.
Courses throughout the program will guide you to the next level of professional development, covering topics related to research, evidence-based practice, leadership, management and information management. A range of electives gives you the chance to study additional interests, including cross-cultural health, school nursing and nursing care at the end of life. This rigorous curriculum prepares you well for the next step of your career, allowing you to seamlessly transition into new roles and responsibilities.
If you'd like to learn more about the BSN completion program, we invite you to register for an upcoming information session.
Why complete your BSN at UW-Eau Claire?
Work-school balance. Our RN to BSN program offers the majority of courses online (hybrid synchronous and asynchronous), so you have the option of completing your degree while still working.
Flexible scheduling. The core courses within the program are offered in 7 and 14-week sessions, including the summer term. With these scheduling options, you can focus on one class at a time — while still completing two classes a semester — and finish your required nursing courses more quickly.
Rolling admissions. Our BSN completion program accepts applications throughout the year. Whenever YOU are ready, you can meet with us in-person or have a phone conversation with our Admissions Coordinator. This is an excellent way to ask questions, gain more information and apply at your own pace.
Unique opportunity for ADN students. We offer the first BSN completion course, CND 310 Bridge to Professional Nursing, as an opportunity to get a jump start on your BSN degree while completing your ADN. This flexible option lets you begin your BSN program early while offering you the chance to experience what UW-Eau Claire has to offer.
Variety of clinical experiences. The 90-hour clinical project can be completed in a range of agencies, providing opportunities for working with local health departments, national nursing organizations, and everything in between.
Enhanced skillset. Graduates leave with deeper cultural awareness, greater confidence and stronger attention to detail. Additional improved skills include leadership, organization, communication, critical thinking, creative problem solving and professionalism.
Connection to local employers. For those not yet in the field, or those looking to switch career paths, our annual on-campus Nursing & Health Care Professional Fair is an excellent way to make connections and submit your resume for current and future job openings.
BSN completion program details
Average program length: two years
Offered: Hybrid online synchronous and asynchronous
Students majoring in this program will earn a Bachelor of Science in Nursing (BSN) degree.
Student organizations
Eau Claire Student Nurses Association (ECSNA)
Sigma (Honor Society of Nursing)
American Assembly for Men in Nursing
Accreditation information
The baccalaureate degree program in nursing, master's degree program in nursing, and Doctor of Nursing Practice program at the University of Wisconsin-Eau Claire are accredited by the Commission on Collegiate Nursing Education (CCNE), 655 K Street NW, Suite 750, Washington, DC 20001, 202-887-6791, through December 31, 2031.
The programs are also approved by the Wisconsin State Board of Nursing.
What can I do with a BSN from UWEC?
Graduates of the BSN completion program leave with enhanced skills, additional tools and more connections. This increased knowledge leads to improved patient care and outcomes. Graduates find they are prepared for more responsibility within their current roles and often move up within their organization.
BSN careers and opportunities
Nurse manager
Nurse case manager
Clinical coordinator
Public health nurse
Promotion within the Veterans Affairs Administration
Leadership roles within Magnet hospitals
The BSN completion program has allowed me the flexibility to be able to work full time while fulfilling my academic goals from a distance. It has given me the opportunity to enhance my foundation of nursing knowledge at my own desired pace.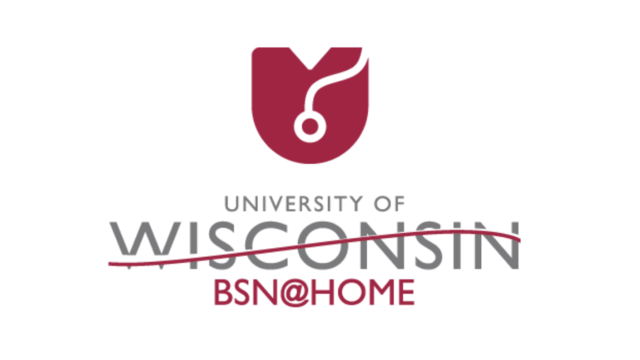 BSN completion program curriculum
UW-Eau Claire has developed a collaborative and rewarding bachelor's degree completion program for registered nurses and those looking to move up in the field. Our comprehensive RN to BSN program will allow you to build on existing skills and prepare you for management and leadership roles, making you an even more qualified and sought-after nurse.
What classes do BSN completion students take?
Core RN to BSN courses (offered online through the BSN@Home collaborative program)
Research & Evidence-Based Practice
Foundations of Professional Nursing Practice
Community Health Nursing
Leadership & Management
Chronic Care Management
Information Management and Healthcare Technology
The core RN to BSN courses are offered online in 7 and 14-week sessions, including the summer term, helping you balance work, school and family responsibilities.
UWEC courses (offered as online hybrid synchronous and asynchronous)
Bridge to Professional Nursing
Nursing Within Systems: Analysis and Application (coursework and in-person clinical)
You will also have the opportunity to take courses that interest you and diversify your education, with over a dozen electives to choose from.
Learn more about the comprehensive nursing BSN completion program in the UWEC course catalog.
Step 1: Contact the Admissions Coordinator for the BSN Completion Program
Before applying, it is important to connect with Dr. Catherine (Kitty) Kenney to review your transcripts & answer questions about the program. Contact Dr. Catherine (Kitty) Kenney for additional information regarding the application process.
Step 2: Complete the UW-Eau Claire application
After your meeting with the Admissions Coordinator, you are ready to apply! Please submit the following:
$25 application fee online at time of application submission, or log back into your application to pay the fee. You are exempt from this fee if you are directly transferring from a UW System campus within one year.
Official high school transcript — required for ALL transfer students
Official transcripts, sent electronically by each college or university you have attended

Transcripts must be sent by this institution through a secured electronic delivery service (preferred) or by mail to UW-Eau Claire Office of Admissions 105 Garfield Avenue Eau Claire, WI 54701. Emailed or faxed transcripts will not be accepted.
Note: If you're a member of the military, submit your Joint Service Transcript or Transcript for Community College of the Air Force.
Step 3: Complete the BSN completion application
Click here for the e-form application, admission requirements, and checklist information. The $35 application fee is currently waived.
To be considered for admission to the BSN completion program at UW-Eau Claire, you must have:
Graduated with an associate degree from a nationally accredited ADN program with at least a 2.50 GPA (e.g. ACEN, CNEA)
A current Wisconsin or Minnesota RN license (may apply last semester of ADN program)
Admitted to UWEC in good standing
Completed 30+ transfer credits with at least a 2.5 overall GPA
Completed at least 3 of 5 required science courses with at least a 2.5 GPA
Learn more about the admission requirements and application process of the BSN completion program.
If you are currently enrolled in an associate degree program or a graduate of an ADN program and are interested in taking the first BSN completion course, CND 310 Bridge to Professional Nursing, please contact our post-licensure admissions coordinator, Dr. Catherine (Kitty) Kenney, to discuss eligibility and the application process.
The BSN Completion program is now an approved institution for Wisconsin's Eligible Training Program (ETPL). When students eligible for the Workforce Innovation and Opportunity Act (WIOA) Adult and Dislocated Worker Programs select classroom training through ETPL, UWEC's BSN Completion program is now an available option. Potential students eligible for ETPL tuition support are encouraged to contact their career planner to begin the confirmation process.