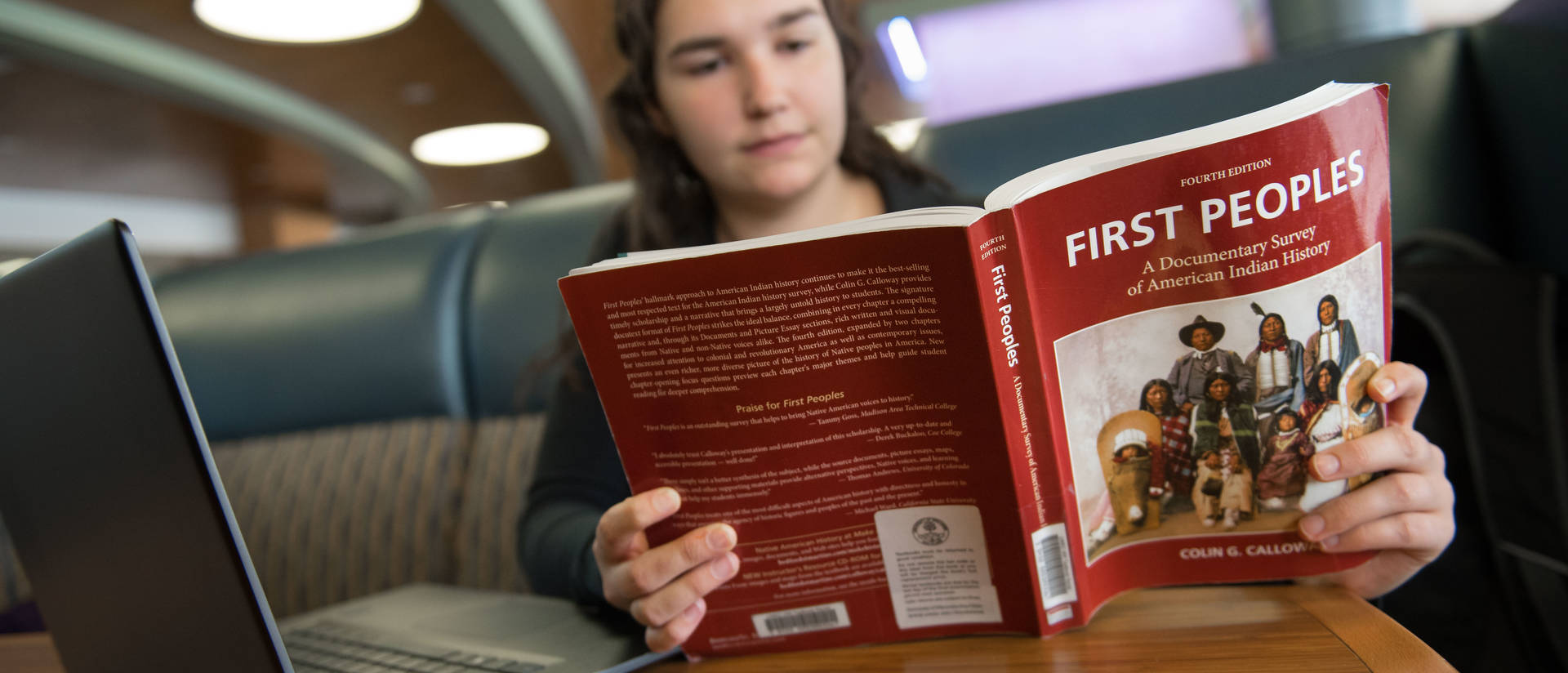 Explore the American Indian studies bachelor's degree program at UW-Eau Claire
Examine the history, culture and values of the indigenous tribal nations of the United States with a bachelor's degree in American Indian studies (AIS) from the University of Wisconsin-Eau Claire. Designed to offer a range of courses to meet the diverse career goals and needs of students, this interdisciplinary major is an excellent choice for those who wish to enter a profession related to tribal affairs, tribal heritage centers and business enterprises; those looking to pursue graduate study in anthropology, history, museum studies, English or casino management; or those who are American Indian and seek to learn more about their culture and heritage.
While pursuing the AIS major at UW-Eau Claire, you'll quickly find that countless opportunities for real-world learning are available to you. You may choose to connect with American Indian communities and tribal members through practical internships, cultural immersion programs and collaborative research projects. Annual activities during American Indian Heritage Month will enhance your classroom studies and include the opportunity to participate in the annual Spring Celebration Pow Wow or join the Inter-Tribal Student Council.
Rooted in active discussion and exploration, program curriculum will encourage you to examine historical and contemporary issues and their effects on indigenous peoples — particularly on native peoples of the Great Lakes and across the U.S. A required capstone course will challenge you to produce a research project or creative activity within a seminar format, enhancing your critical thinking, data analysis and problem-solving skills.
UW-Eau Claire was proud to be the first university in the UW System to offer the American Indian studies major — and is one of only three programs available in the UW System today. Our renowned program focuses on providing a wide breadth of interdisciplinary courses, making it an incredible asset for a variety of career choices.
Why American Indian studies at UW-Eau Claire?
Fascinating field studies. Many courses throughout the AIS program include a field trip component, allowing you to explore the communities you are studying and apply what you have learned in real-world situations. The state of Wisconsin offers a wide variety of native communities to visit, and the richness of these interpersonal interactions are invaluable. These experiences help you to understand the importance of the traditional culture and values of communities and how those are expressed in contemporary times.
Cultural immersion experiences. The "Water Protectors of Wisconsin" cultural immersion program is a spring break experience available to AIS majors and can help you understand the connections among the history, culture and science of humans and water in the Lake Superior Watershed, which is home to several tribal nations. After several weeks of in-class content, students spend a week visiting three tribal nations and two companies to learn about the protection of the Watershed.
Insightful internships. In addition to the plentiful opportunities to work with tribal organizations — like the Great Lakes Indian Fish & Wildlife Commission and the American Indian Center located in Minneapolis — another exciting internship exists right here on campus. In a collaboration between McIntyre Library's Special Collections and the AIS program, students can work as curators of McIntyre's Special Collections, which holds and cares for a vast number of American Indian artifacts.
Unique offerings. Rarely offered at other universities — let alone online — UWEC students have the incredible opportunity to study the Ojibwe language throughout the major and minor. Currently, no other school in the world is offering Ojibwe classes online.
American Indian studies program details
Program length: four years
Offered: In person
Campus: Eau Claire
This major requires a minor or certificate.
This program is also available as a minor and certificate.
Students majoring in this program may choose either a Bachelor of Arts (BA) or Bachelor of Science (BS) degree.
Student organizations
Inter-Tribal Student Council (ITSC)
What can I do with an American Indian studies degree from UWEC?
The AIS degree offers real-world experience working with Indian professionals and tribal leaders in fields like tribal government, education, human services and healthcare, preparing you well for a career in those areas. The major is also an excellent complement to fields in which workers may have occasion to encounter social issues relevant to indigenous populations, such as nursing, business and history. Pairing an American Indian studies degree with a second major in social work, education or criminal justice opens doors to even more career possibilities.
American Indian studies careers
Family services specialist
Race relations specialist
Community outreach worker
Teacher
School counselor
Literacy program coordinator
Health educator
Case worker
The American Indian studies minor helped me learn how to discuss current issues regarding not only my tribe, but others as well. It encouraged me to consider different points of view on important issues.
American Indian studies bachelor's degree program curriculum
Cultural studies, like American Indian studies, are about people — their history, their culture and their language. This interdisciplinary degree spans a number of departments on campus, giving you a comprehensive and diverse education. Designed to educate both American Indian and non-Indian students, you'll gain a broad understanding of the distinctive lifeways, politics and histories of a number of tribal nations.
What classes do American Indian studies majors take?
Your classes may cover topics like:
American Indian history
American Indian literature
Cultural anthropology
Indigenous religions of the Americas
Indigenous theory and methodologies
Native geographies
Wisconsin Indian history
Learn more about the American Indian studies major in the UWEC course catalog.
Learn more about the American Indian studies minor in the UWEC course catalog.
Learn more about the American Indian studies certificate in the UWEC course catalog.
Related programs at UW-Eau Claire
Thinking about a bachelor's degree in American Indian studies? Here are other programs you may be interested in exploring.