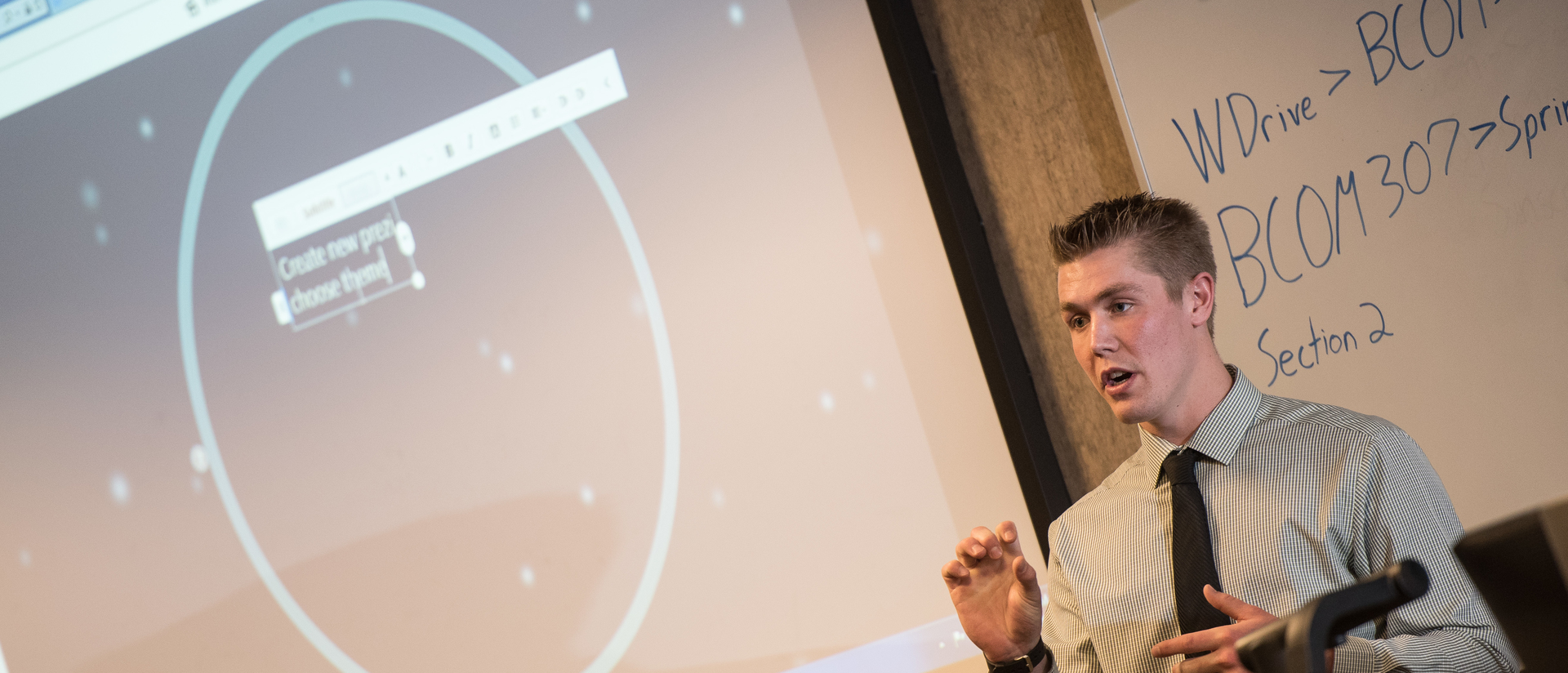 Explore the business communication bachelor's degree program at UW-Eau Claire
The first degree of its kind in the UW System, UW-Eau Claire's bachelor's degree in business communication will give you a strong foundation in business fundamentals paired with critical communication skills that will transfer to a wide variety of roles and industries. Through projects and real-world experiences, you'll gain the skills you need to achieve your business goals and promote a professional image of yourself and your organization.
As a graduate of this program, you'll be a top candidate for in-demand careers, such as internal communication or corporate communications specialists. These roles require coordinating, creating and disseminating communications across all functional areas in a business — from marketing to accounting to top-level management — as well as executing external communication with customers, vendors and other stakeholders. As a result, you will develop oral, visual and written communication skills that enable you to contribute effectively as an individual and on a team via presentations, meetings, roundtable discussions and interviews.
An advanced business communication certificate is also available within this growing program, which focuses on similar topics as an add-on to your chosen major.
Why business communication at UW-Eau Claire?
In-demand skills. The demand for internal communications specialists is expected to grow, as is the demand in related fields of corporate communication and general management. In fact, many employers rank oral and written communication among the top skills they look for in job applicants — even higher than technical or job-specific skills. The knowledge you'll gain throughout the business communication program will ensure you have what employers are looking for.
Internship experience. Similar to all UW-Eau Claire business degrees, this program will focus on experiential learning inside the classroom through real-world examples, as well as emphasizing the importance of — and assisting you in obtaining — relevant internships. This well-rounded approach to learning the ins and outs of business communication will set you up for success when you enter the workforce.
Helpful resources. Available to any student in a business course, the Business Writing and Presentations Studio gives you access to work with mentors on upcoming projects. Whether you need help crafting an elevator speech, drafting a press release or fine-tuning your resume, a trained team of staff and students is here for you.
Connection to local employers. UW-Eau Claire's strength in the field of business communication is widely known to many businesses within the Eau Claire community and beyond — ensuring you will find opportunities after graduation.
Business communication program details
Program length: four years
Offered: on campus
Campus: Eau Claire
Students majoring in this program will earn a Bachelor of Business Administration (BBA) degree.
Student Organizations
Beta Gamma Sigma Honorary (BGS)
Collegiate DECA
Accreditation information
Our business programs are among the best. We are accredited by AACSB International, a mark of excellence achieved by less than 5% of all business schools worldwide.
A business communication degree gives graduates the best of both worlds — they are internal communications specialists who understand the core functional components of economics, information systems, finance, accounting, management and marketing that underpin the world of business.
Business communication bachelor's degree program curriculum
Classes in accounting, management, marketing and information systems paired with business communication courses will enable you to become a well-rounded communicator overall. Coursework will also familiarize you with various communication technologies and visual communication fundamentals. This major's courses are primarily delivered in person, with some hybrid, high-flex and online options available as well.
Courses within the advanced business communication certificate are primarily chosen by you and can be applied as electives toward many UWEC College of Business majors.
What classes do business communication students take?
Your classes may cover topics like:
Business writing
Editing business documents
Business presentations
Workplace cultures and relationships
Data visualization and communication
Technology for business communication
Topics in business core courses: accounting, finance, management, marketing and information systems
Learn more about the business communication certificate in the UWEC course catalog.
Learn more about the business communication comprehensive major in the UWEC course catalog.
Related programs at UW-Eau Claire
Thinking about earning a bachelor of business administration in business communication? Here are other programs you may be interested in exploring.