Master of Science in Nursing
Graduate Program
Explore the master of science in nursing graduate program at UW-Eau Claire
The University of Wisconsin-Eau Claire's Master of Science in Nursing (MSN) master's degree is designed to prepare professionals in nursing administration and nursing education. With a hybrid model, this flexible program is accessible for currently working nurses who would like to take their careers to the next level. No matter where your interests lie, our rigorous program will help you succeed — and help you become a decision-maker in the nursing field.
Throughout the program, you'll integrate knowledge and theory of health policy, organizations and health care financing and use it as a basis for the provision of quality, cost-effective care. Our program's core curriculum is curated to develop and increase your competencies in theory analysis and evaluation; concept clarification and development; research and refined skills in clinical inquiry; leadership; and analysis of contemporary issues. Building on the core curriculum, you'll apply your new knowledge and skills in a clinical setting. This will prepare you well for a variety of advanced nursing roles across health care settings and help you demonstrate effective advocacy for diverse populations.
Students select a population focus of either adult-gerontologic or family health nursing and are prepared for the role of nursing educator or nursing administration/leadership and management. If you are interested in pursuing the nurse practitioner or nurse executive role preparations, you should apply to our postbaccalaureate Doctor of Nursing Practice (BSN-to-DNP) degree option.
No matter which focus you choose, we are here to support you and your goals with an accredited program and expert faculty to guide you on this exciting journey.
Why complete my master of science in nursing at UW-Eau Claire?
Flexible coursework. At UW-Eau Claire, we understand that you may have other things to juggle in addition to graduate school, such as working full time or family obligations. Advisors are here to help you plan your schedule each step of the way. We offer both full-time and part-time program plans, and you can take up to seven years to complete your degree — all while being supported by knowledgeable and caring faculty.
Firsthand research. UWEC's collaborations with renowned health care organizations allow students to be a part of innovative research while also networking with a wide array of health care providers. Education and health science graduate students also have access to a variety of research opportunities while working with clients in on-campus clinical facilities using state-of-the-art technology.
What can I do with a master of science in nursing degree from UWEC?
A master's degree in nursing opens the door to new and exciting career opportunities. Our CCNE-accredited program will increase your leadership skills, update your health care provider knowledge and help you stand out when applying for jobs. A master's degree in nursing also allows you to become a nurse educator, shaping the future of professional nursing.
MSN jobs
Nurse educator
Nursing faculty
Nurse administrator
Nurse manager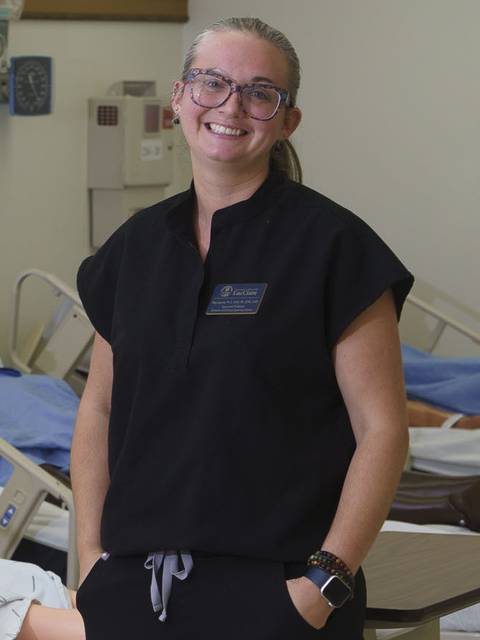 When I get the opportunity to work with MSN students, I look at them and hope they will become my colleagues. I want to teach them everything I wish that I had known when I started as a brand-new educator.
Master of science in nursing degree program curriculum
Courses throughout the MSN program are designed to build on your core nursing knowledge, helping you to become an expert in your field. You can personalize your studies to focus on education or administration career goals and take courses that align best with your passions and interests. Together, you and your advisor will select courses to increase your knowledge, population focus and functional role preparation. In the classroom, you'll examine health policy, personal and professional transitions, and ever-evolving, advanced nursing roles.
Students can select full-time or part-time programs of study. You can find information on potential course sequencing in the MSN Sample Program Plan. Courses are offered during fall semester, Winterim and spring semester. The program plan begins in the fall semester.
The MSN program of study is approximately 40-41 credits, depending on whether the student chooses to complete a scholarly project or thesis. Past projects have included the creation of educational brochures and development of a toolkit, health agency needs assessments, and other projects.
Clinical practicums require an additional 525 hours of time over two semesters, scheduled during weekdays, and many of these can be arranged in your home community/region. Clinical hours provide a valuable opportunity for students to work with preceptors in clinical areas, under the supervision of a faculty member, to apply knowledge of the graduate coursework related to the role preparation.
What classes do master of science in nursing students take?
Your classes may cover topics like:
Conceptual and theoretical foundations of nursing
Health care finance and economics
Leadership and health policy
Health care human resources and organization
Nursing administration
Physiological and pathophysiological concepts
Learn more about the master of science in nursing, family health-education degree in the UWEC course catalog.
Learn more about the master of science in nursing, family health-administration degree in the UWEC course catalog.
Learn more about the master of science in nursing, adult-gerontology-administration degree in the UWEC course catalog.
Learn more about the master of science in nursing, adult-gerontology-education degree in the UWEC course catalog.
Prior to applying, we strongly encourage you to contact Dr. Catherine Kenney, Admissions Coordinator – Graduate Nursing Programs, to review your career goals, discuss your interest in the program and address any questions you might have about the program. Information sessions are also available so that you can better understand the graduate nursing program options at UWEC.
MSN applications open from August 1st until January 15th for the following fall program.
Please submit the following materials for admission to the MSN program:
A completed University of Wisconsin-Online Admission Application ⁠— including completing an essay and uploading a resume/CV ⁠— and a $56 university application fee. This fee may be paid by credit card at the time you submit the university application. View the essay requirements.
Transcripts of your academic work, which must be sent from the institution that granted your baccalaureate degree in nursing and from any institution from which you have completed coursework necessary for admission (e.g., an undergraduate statistics course if taken at an institution different from your degree-granting institution).

Transcripts must be sent by this institution through a secured electronic delivery service (preferred) or by mail to UW-Eau Claire Office of Admissions 105 Garfield Avenue Eau Claire, WI 54701. Emailed or faxed transcripts will not be accepted.

Submit the MSN Demographic Data Form. Please activate your CampS Account to access the form. Credentials are sent to your application email after submitting the application. It may take up to 48 hours for access to this form. You must have a valid RN license in the U.S. to apply. An RN license in the state of Wisconsin is required by July 1 after being admitted to the MSN program. Special consideration/exceptions may be obtained for applicants completing a BSN and licensure eligible.
References from three individuals who are knowledgeable about your clinical ability and/or potential for graduate study, (e.g., APRN, employer, nurse manager, supervisor or faculty). Submit the Reference Form to start the process. Please activate your CampS Account to access the form. Credentials are sent to your application email after submitting the application. It may take up to 48 hours for access to this form to be sent to you.
For consideration for admission, an applicant must have:
An undergraduate degree in nursing (with at least a 3.00 GPA) from a program accredited by CCNE.
NLN or ACEN RN licensure in the U.S. at time of admission and Wisconsin licensure by no later than July 1 following admission to the program.
Prerequisite course content in undergraduate statistics and health assessment (minimum grade of C).
Graduates of foreign nursing schools please find more information about obtaining a WI license on the Wisconsin Licensure and Registration Info webpage.
The Department of Nursing Graduate Curriculum and Admissions Committee reviews completed applications after the priority deadline. Following admission to the nursing program, students must in a timely manner provide required health record information, information to conduct a criminal background check and evidence of current CPR certification.
Please contact Dr. Catherine Kenney (715-836-3638, kromricc@uwec.edu) or Patricia McGregor, University Services Program Associate (715-836-4834, mcgregpj@uwec.edu) if you have any questions about the application process.
For full-time students, the first year of courses are generally held on Mondays and second-year courses are held on Tuesdays. These courses are offered in a hybrid format that combines in-person with synchronous and asynchronous online components.
Learn more about the Master of Science in Nursing program!
Related programs at UW-Eau Claire
Thinking about a master's degree in nursing? You may be interested in exploring our doctor of nursing practice degree, including our MSN-DNP program.