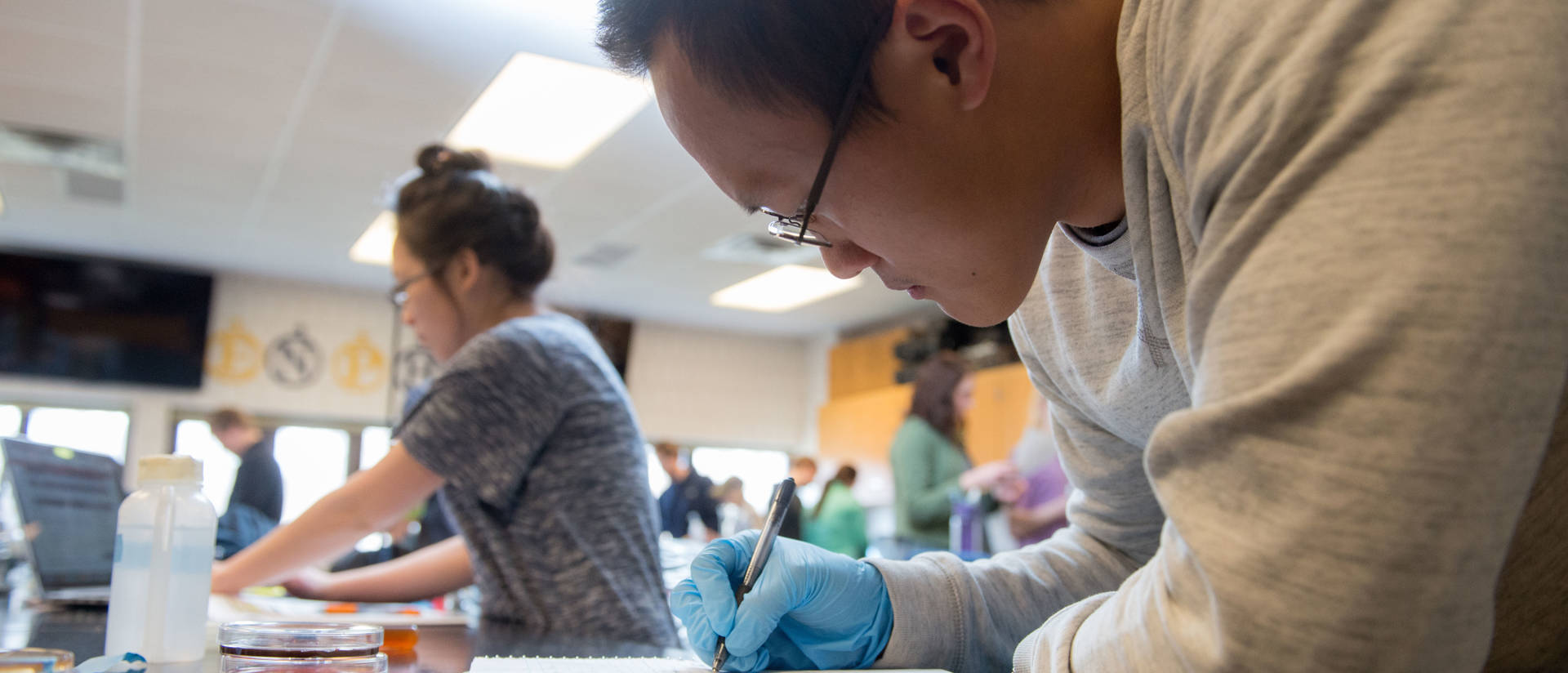 Rich and diverse career opportunities
Some students fear they won't be able to find a job after they graduate – not our students! The students coming out of our Environmental Public Health program have a 100 % placement rate after graduation. Pursuing a major or minor within public health and environmental studies gives you an endless number of career options. Many companies, agencies, and government entities are looking for students with an understanding of environmental issues and value the broad educational background that our students bring to their positions.
What are UWEC graduates doing with their ENPH degrees?
Environmental health and safety specialist
Environmental public health director
Registered sanitarian
Clinical quality consultant
Associate director of safety and environmental services
Director of environmental health and safety
Environmentalist
Safety manager
Global health and safety manager
Health education specialist
Accreditation & clinical quality consultant
Advanced food scientist
Energy manager
FDA consumer safety officer
Storm water research scientist
Industrial hygiene technician
What can I do minor from within public health and environmental studies?
Environmental agencies
Private company sustainability efforts
Local, state, or government entities
Natural resource management
Environmental education and outreach
Environmental consulting
Environmental policy
Laboratory technician
Soil conservationist
Sustainability marketing manager
1971-1975

1971

1972

M. Massie Briggs
T. Hanson
C. McKittrick Heise
S. Korthof
K. Krenz
L. Larson
T. Wittkopf

1973

D. Bussen
N. Dunbar
K. Engebretson
P. Fernholz
G. Gabor
D. Jackson
B. Bauer Lamb
C. Mohr
S. Nutter
J. Gerczak Quirt
T. Rufledt
L. Schaeffer
A. Yarrington

1974

D. Boardman
R. Bedoh
C. Handberg Borchers
C. Fitzgerald
Dennis Hibray
Douglas Hibray
R. Higgins
K. Jain
M. Knoepke
M. Schmidt
R. Wegin
J. Zaher

1975

B. Adler
P. Bowe
J. Larsen Cody
J. Dahlie
G. Fox
H. Harry
G. Johnson
R. Manz
M. Meske
R. Rohland
G. Rossing
L. Sagen
D. Wick
1976-1980

1976

F. Aiken
T. Anderson
W. Brocker
R. Busch
C Buskirk
T. Call
M. Carr
L. Couillard
G. Goldsmith
D. Hagen
A. Gelhaus Harris
J. Price Hove
K. Husby
R. Johnson
L. Lehman
T. Morris
J. Hiller Peterson
J. Tesch
K. Trinrud
D. Sampson Volz

1977

P. Siakpere
S. Moss
M. Kuba
T. Brandenburg
R. Berg
S. Lackore
D. Serchen
A. Yankowski
K. Bartilson
T. Norgaard
J. Erdman
L. Rott
G. Obry
M. Uebele
J. Nowak
J. Fawcett
R. Brian
S. Merriman
P. Pelletier

1978

J. Hart
R. Dahl
P. Heiser
D. Bell
D. Pukall
M. Gjerning
L. Yeager
F. Anderson
A. Thorsness
D. Byers
J. Stenner
J. Eliason
F. Bonesha
P. Christianson
M. Ryder

1979

J. Schultz
C. Pare
D. Escher
K. Smetana
D. Weber
M. Kniffin
T. Braun
P. Price
M. Pettis
S. Thibedeau
M. Jensen

1980

P. Degler
G. Lee
S. Gigot
D. Drawert
S. Hedin
P. Lokin
W. Daggett
D. Sevaldson
L. Gower
L. Paolocci
J. Jaeger
1981-1985

1981

D. Jahr
M. Scott
L. Laszewski
L. Meitner
C. Bush
G. Mueller
R. Kowalski
M. Setum
A. Watton
S. Stenjem
K. Arntson
L. Ballard
E. Verkuilen
J. Cronin
W. Burnham
K. Groth
M. Laska
J. Renoos
J. Stenner

1982

M. Tibbits
K. Sexe
M. Falk
M. Mueller
V. Heller
T. Nelson
W. Bjorkman
R. Novy
J. Hanson
G. Pagel
T. Alters

1983

M. Sohlberg
B. Barber
L. Girard
R. Riebe
G. Mezera
C. Yogerst
W. Kopp
K. Lembezeder
T. Mirkes
L. Brown
T. Gutsch*
R. Orazulike*

1984

P. Harrison
L. Beilke
R. Pautsch
M. Rupp
R. Swiggum
B. DeJulius
F. Awad
M. Williams
S. Goff
D. Kimbrell*
R. Al-Ghanami*
G. Bone*
R. Petri*

1985

L. Couillard
D. Peterson
T. LaMasney
C. Filkouski
D. Bates
T. Carrell
D. Jorris
S. Schulner
R. Schulze
P. Franz
A. Wheeler
D. Zeltner

* indicates graduate student
1986-1990

1986

W. Thompson
J. Jacobson
D. Liddell
J. Kroll
D. Rubenzer
C. Rollins
K. Haworth
M. Weber
J. Newberg
K. Bishop
D. Nelson
D. Delano
L. Holmgreen
C. Reimer
J. Shiffer
F. Lillyblad
F. Awad*
P. Franz
B. Jankoski*
D. Kragness*
C. Kramer
B. Miller
A. Peterson
I. Rollo

1987

P. Waack
J. Kelly
S. Anderson
J. Traynor
M. Dunn
B. Biegel
C. Michaletz
M. Gilderhus
M. McCourtney
S. Mueller
P. Scharenbrock
S. Ogungbe
R. Talbott
J. Viskocil*
J. Fallon*
H. Grote*
L. Stai*

1988

C. Leichtle
L. Wipfli
W. Hohn
K. Gerland
K. Rettler
M. Reineke
K. Caine
T. Brunner
J. Crum
R. Hentschel
M. Serivner
R. Haltner*
J. Vickery*
D. Wiesner
R. Johnson*
R. Seevers*

1989

P. Sandberg
M. Bozikowski
J. Falbo
C. Vande Vrede
B. Kossel
S. Schneider*
P. Brady
R. Schaumburg*
R. LeBansky
S. Alberts
D. Radisewitz
D. Sweetman*
L. Stovring*

1990

M. Finney*
M. Alghoosen*
P. Hokanson*
J. Smith*
D. Palet
J. Wiese
A. Dennee
J. Flatness
S. Schaefer*
M. Somheil*

* indicates graduate student
1991-1995

1991

G. Markgren
J. Abdella*
C. Vande Vrede*
L. Calkins*
M. Omar*
B. Koslowski*
J. Edsall
S. Provost
M. Daley
T. Anderson*
M. Brantmeier
A. Omar*
S. McLeod*
K. Otterson
C. Bosshart
G. Hague
N. Bowles*
J. Smith*
A. Adefuye*
J. Falbo*
J. Flatness*

1992

J. Gasser
K. Accola
T. Condon
S. Schleicher
M. Stauber
B. DeVries
M. Stanton
B. St. Germain*
M. Daley*
D. Sorenson
D. Schmitt
M. Briggs*
D. Palet*
S. McCurdy*
J. Steinhoff*
M. O'Connor*
S. Stage*
J. Dunning*
T. Delsart
T. Bauer
R. Bozikowski
R. Decker
S. Wiisanen
D. Osinski
J. Plakut
G. Chojnacki*
K. Neu*
T. Jaworski*
S. Provost*

1993

Mark Stanley*
Eric Davis*
Ron Brasswell
Kevin Otterson*
Mike Brantmeier*
Michelle Larson*
Marci Vedeen
Lisa Brovold
Lance Reeve
Robert Decker*
Andrea Jacobson
Darren Capra
Dave Bergeson
Dean Laube
John Caron
Jean Canadco
Brian Schudiske
Eleanor Duscheck*
Jana Murphy*
Rebecca St. Germain*
James Steinhoff*
Dianne Birmingham*
Marv Gjerning*
Dean Wirtanen*

1994

Pam Moseley*
Kevin Grabau
Rob Landowski
Jim Carlsen
Matt Dale
Steve Kihl
Tate Zurbach
Curt Hoffart
Shane Arrowood
Keith Bergeson
Amy Lenfestey
Mike Puzak*
Marge McFarlane*
Sheila McNulty
Carol Schmelke
Janelle Iverson
Susan West
Tasha Golly
Beth Nelson
Todd Wanous*
Dean Laube*
Bill Tealey
Peter Grauze
Dave Schmitt
Roland Peterson
Charles Kainz
James King*
Robert Decker*
Steven Kopp
Phil Laube
Dave Bauman*
Lonna Beilk
Lorna Girard*
Lynn Kalfsheek*
Bruce Kyes

1995

Kristin Forte
Fong Lor
John Nieland*
Tami Giese
Michelle Schmid
Jim Peterson
Georg Fischer*
Jim Kaplanek
Anna Clementi
Gina Kerke
Chad Demulling
Joe Foss
Linda Walta
Debbie Darclius
Monique Ford*
Mary Cook*
Vincent Xiong-Ger*
Peter Hrauze*
Ed Paz*
Ed Thurman*
Kathleen Bates*
Chuck Dykstra
Chris Goodwon*
Dawn Guetschow
Pat Harrington*
Diane Kelsch*
Brian Schudiske*
Laura Unold*
Jessica Wanerski*

* indicates graduate student
1996-2000

1996

James Blackmore
William Kelsey
Steve Rykal
Kelly Knapmiller
Tammy Scheibner
Charles Losby
Jason Frohle
Maria Brunner
Charity Hendricks
Krista Steines
Denise Arens
Shannon Raaen
Ed Nash
Brett Campell
Chad Hess
Nicole Styer
Valerie Cardinal
Caral Engle*
Jason Boetzer
Kara Jacobson
Kyle Myers
James Anklam*
Anne Watton
Julie Whitted*
David Stone*

1997

Carrie Loback
Melissa Walters
Carrie Mazzy-Pobjola*
Stefanie Curless
Jodi Knutson
Carla Block
Amy Swan
Brett Campbell
Brian Becker
Mohammed Adam*
Patrick Murphy*
Frederick Cascadden*
Jennifer Steinike
Jessica Taylor
Elaine Borton
Michael Field*
Eric Dianich*
Kam Roetter
Kevin Bonard
Amy Beug
Sara Kahl
Jennifer Schneider
Mary Jo Mack
Michael Pocernich
Robert Becker
Lance Westby*
Kenneth Andracyzak
Michael Voss
Ryan Krick
Jeremy Kachmar*
Pamela Borden-Glass*
Lauri Clements
Ruby Dow*
Joshua Gibson
Marion Koch
Craig Kratcha

1998

Gina Macke*
Allie Turay*
Oua Xiong*
Jodi Mai
Cynthia Dums
Jennifer Shimitz
Aimee Spolde
Paula Krejci
Jason Kuehl
Jason Breininger
Gregory Espersen
Mark Janko
Jennifer Dachel
Lane Helmueller
Ed Nash*
Nathan Brandt
Eddie Yates
Nicholas Mueller
Jennifer Hayes*
Jason Lemke*
Kathleen Murphy*
Nicole Styer*

1999

Paul Laube
Kayoko Nakamura
Amy Bueg*
Natalie Little*
Molly McMullan*
George Morrell*
Todd Peterson*
Karl Brockmeier*
Bruce Neumann
Corey Bender
Michele Mohn
Erin Miller
Phillip McGraw
Jason Roggenbauer
Jeff Pippenger*
Nathan Luedke
Sarah Smitch
Amice Spilde*

2000

Dave Vosburgh
Talal Al-Otaibi*
Kristy Pauly
Amanda Young
Steve Thon*
Doug Dyer*
Craig Ungerecht*
Jonathan Blonk
Brett Peterson
Trista Gelher
Marshall Disrude
Sarah Pyzik
Julie Runkel*

* indicates graduate student
2001-2003

2001

Brahim Mohamed Adam
Kristopher Keller
Reyna Cash
Kerry Puza
Naomi Tiry
Kokoechat Saidtourqui
Steven Phillips
Nathan Bortz
Suzanne Phelps*
Lee Albrecht
Holly Verschay
Robert Voss
Michael Fishman*
Robert Davis
Natalie Halfman*
Bruce Neumann*
Susan Schrage*
Sarah Smith

2002

Donna Holzer*
Dacia Quick*
Theresa Marshall
Anne Reese
Jonathan Blonk*
Carla Britton*
Trisha Schmid
Mumtaz Khan*
Joel Hustedt
Aaron Dunbar
David Vosburgh*
Shane Sanderson*
Samira Ahmed*
Jean Edsall
Eric Konop
Tim Sic

2003

Eli Gottfried*
Holly Verschay*
Jennifer Barrows*
Courtenay Johnson*
Sam Welch
Brandon Macomber
Pam Larson
Jodi Oppelt-Glamann
Shelley Schuh

* indicates graduate student