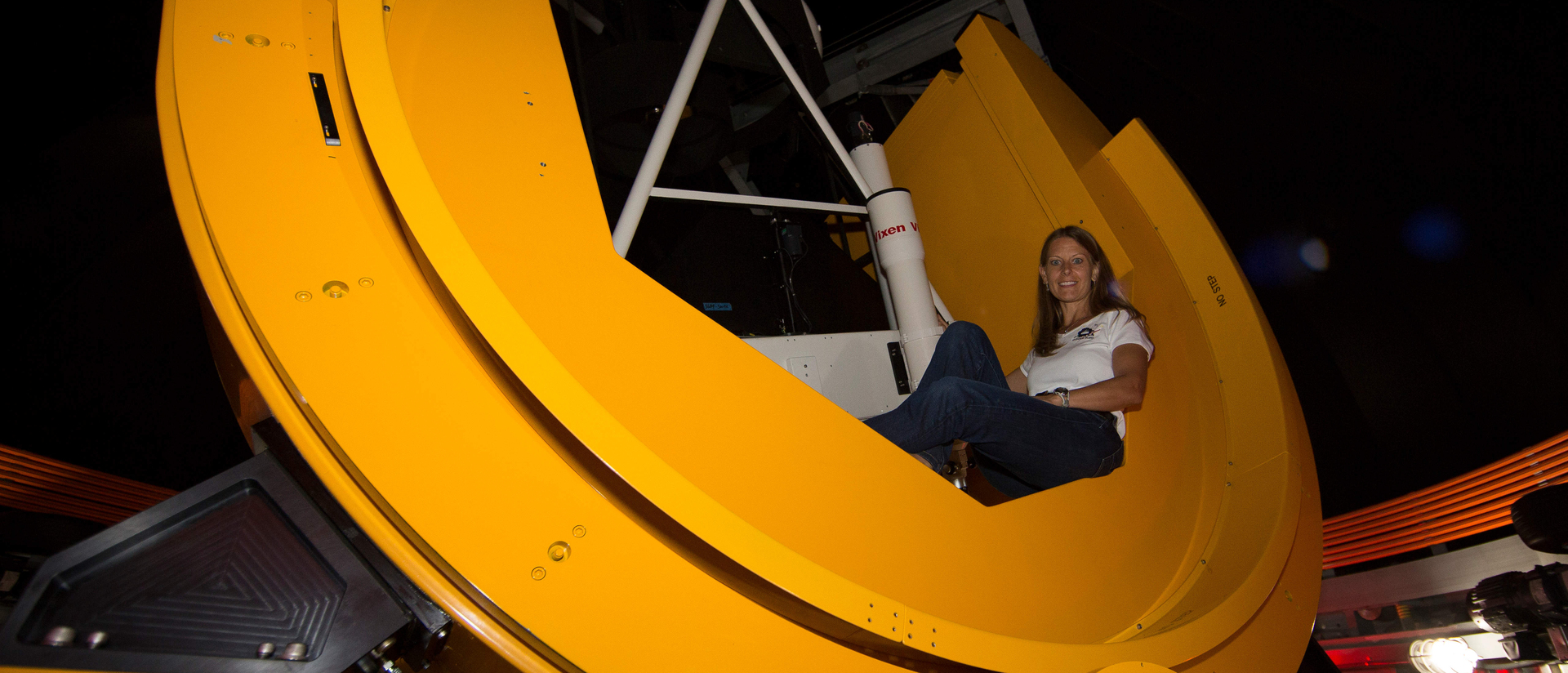 Where a physics degree can take you
Physics and the theories that underlie it are so integral to the modern world, it's hard to even think of major advancements of the last century that don't involve physics. From laser, television, radio, and computers, to newer areas of nanotechnology, nuclear energy and medical instrumentation, it all comes down to physics.
It's difficult to accurately describe the diversity of careers that exist for students of physics, but we can say this much—the skills you will learn studying physics will open doors in all directions. The basis in problem-solving, analysis, and the communication of complex ideas, combined with a solid grasp of "how the world works" are career skills that transfer beyond measure.
What kind of careers?
Typical job fields
Engineering
Theoretical physics
Material science
Electronics
Computer programming
Medical physics
Astrophysics
Geophysics
Aviation
Example job titles
Physicist
Engineer
Teacher
Instructor or professor
Software developer
Consultant
Manufacturing technician
Project manager
Research scientist
Grad study options
Physics
Mechanical or civil engineering
Computer Science
Electrical engineering
Education
Business administration MBA
Law school
Aeronautics
Biochemistry
The physics and astronomy department was instrumental in my development and helped to prepare me for what I would experience in my future career. I walked away with many friendships — not only classmates but many of the professors and other staff. I am grateful for the time I spent at UWEC.
Where are Blugold physics grads currently working?
We keep track of all of our graduates and the marvelous work they are out doing. Click on the button below to see the most recent sampling of the incredible companies and agencies employing our physics alumni. Prepare to be impressed!
See a list of positions our graduates have held!

Physics and astronomy alumni employer/occupation list

Agilent Technologies, engineer
Alfred Wagener Institute, Federal Republic of Germany, research
Alliant Techsystems Inc., engineer
American Family Mutual Insurance, actuary
AMOCO Foam Products, marketing services
Analysts International Corp., programmer analyst
AT&T Bell Labs, technical manager, research and development
CEIT System, software manager
Central Life Assurance, computer assurance design
CESA-10; Science, Technology and Resource center
China Mobile, assistant planning consultant
Chippewa Valley Technical College, instructor
City of Kenosha, Civil Engineer
City of Marshfield, data processing manager
Coherent General, laser service engineer
College of Siskiyous, math instructor
Colorado State University, vice president, administration
Commercial Testing Laboratory, quality control/lab safety manager
Computer Sciences Corp., programmer/analyst, spacecraft control
Consolidated Papers Inc., operations research
Consolidated Papers Inc., staff telecommunications administration
Cooper Engineering, systems analyst
Cray Research, computer scientists
Cray Research, development engineer Cray Research, failure analyst
Cray Research, IC process technician
Cray Research, materials and component analysis engineer
Cray Research, technical engineer
Cummins Fuel Systems, controls engineer
CUNA Mutual Insurance Group, product manager
Dairyland Power Cooperative, manager, transmission security
Defense Mapping Agency, cartographer
Defense Mapping Agency, geodesist
Delco Electronics, Aerospace engineer
Dermatologist, self employed
Dimensional Medicine, documentations assistant
Displaytech Inc., research assistant, opto-electronics
Distek, testing engineer/LabVIEW engineer
Donohue and Associates, computer applications analyst
Dow Chemical, senior polymer research chemist/physicist
Dupont Corp., research engineer
EBSCO Publishing, CSI science editor
EG&G Inc., research physicist
Falk Corp., senior systems analyst
Federal Aviation Administration, air traffic controller
Financial planner, self employed
Focus Software, project engineer
GECO Geophysical Co., exploration geophysicist
General Electric, AEGIS Program, Government Electronic Systems Dept., weapons system design analysis
General Electric, data processing/IMS specialist
Generant, staff engineer
GeoQuest Systems Inc., assistant manager customer support
Harris/3M, instructional developer
Heritage Mutual Insurance, director, data processing
Honeywell, design engineer
IBM, consultant, mid-range systems
IBM, contract administrator
IBM, electrical support
IBM, senior systems engineer
International Totalizators System Inc., director, project management
Jacobs Engineering, control systems engineer
JAMF Software, account manager
Johnson City Medical Center, radiologist
Johnson Machine and tool, self employed, engineering job shop
Jones Day, Patent Lawyer
Kansas State University, psychology professor
Lawrence Livermore National Laboratory, engineer, chemical sciences
Lawyer, self employed
Life insurance general agent, self employed, management/sales
Lockheed Space Operations, associate engineer
Louisiana Arts and Science Center, planetarium curator
Loyola University, assistant professor/physicist
Madison Public Schools, coordinator, building service systems
Manalapan-Englishtown Regional Schools, science supervisor
Mason Shoe Co., vice president of manufacturing
Mayo Clinic Rochester, medical physicist
Mayo Clinic Scottsdale, assistant administrator
McLaughlin Body Co., vice president, sales and marketing
MECC, test specialist
Medtronic, mechanical engineer
Medtronic, test/LabVIEW engineer
Menard Inc., assistant data processing manager
Mentor Graphics, manager, corporate applications engineer/corporate marketing
Mercy Medical Center, pathologist
Mitre Corp., systems analyst/engineer
NASA, flight simulation engineer
NASA, Johnson Space Flight Center, research scientist
Naval Research Labs, research scientist
Naval Surface Weapons Center, physicist
Nebraska Public Power District, nuclear training specialist
Nicolet Instrument Corp., manufacturing engineer
Northeast Wisconsin Technical College, instructor, applied physics and math
Northern States Power Co., engineer associate, nuclear analysis department
Northern States Power Co., plant operator
Northern States Power Co., supervisor, market research group
Northland College, professor/athletic director
Northwestern Michigan College, museum director
NWML, chief systems analyst
OakRiver Technology, systems engineer
Omnion Power Engineering Corp., senior project manager
Poc and Associates Inc., senior vice president, insurance
PPT Vision, applications engineer
Proctor and Gamble Co., research engineer
R.A. Smith National, civil engineer
Real estate broker, self employed
Rice Lake Weighing Systems, electrical engineer
Rockwell International, aerospace engineer
Sheboygan Paint Co., plant engineer
Solberg Consulting, self employed, computer consultant/dealer
Speed Queen Co., plant engineer
Star Plan Data Processing, programmer
State of Minnesota, programmer/analyst
Sunrise Technologies, founder, vice president, research and development
Teel Plastics Co. Inc., design engineer
Teltech Resource Network, vice president
Third Wave Systems, product quality manager
3M Co., lead systems programmer
3M Co., manager, college relations
3M Co., process/project engineer
3M Co., quality engineer
3M Co., scientist
Transamerica Occidental Life Insurance, vice president and chief actuary, reinsurance
Uniroyal, chemist
Uniroyal, plant engineering and maintenance manager
Uniroyal, quality control engineer
Uniroyal, supervisor of labor relations
UNISYS, principal software engineer
UNISYS, satellite programs engineer
UNISYS, senior design engineer
UNISYS, software engineer
University of California, radioactive quant. analyst
University of Idaho, professor
University of Kansas, professor/chairperson
University of North Dakota, professor of computer science
University of Tampa, biology professor
University of Wisconsin Children's Hospital, pediatrics intern
U.S. Army Engineer School, deputy Director of Department of Topographic Engineering, senior physical scientist
U.S. Food and Drug Administration, compliance officer
U.S. Food and Drug Administration, consumer safety officer
U.S. Geological Survey, hydrologist
U.S. Geological Survey, seismologist
U.S. Treasure Dept., criminal investigator/special agent
UTC Aerospace Systems, guidance, navigation, and control engineer
UW-Eau Claire, assistant dean, arts and sciences
UW-Eau Claire, associate professor, physics and astronomy
UW-Eau Claire, instructor, computer science
UW-Eau Claire, manager of systems design and programming, information management
UW- Eau Claire, professor, mathematics
UW- La Crosse, professor
UW- Stevens Point, assistant professor, mathematics
UTC Aerospace Systems, manufacturing engineer
Warner Electric, engineer
Waste Research and Reclamation, chemist
Wausau Insurance, assistant vice president, data services
Western Kentucky University, professor
Westinghouse Electric, nuclear training engineer, senior phase two instructor
Wigwam Socks, mechanic
Zywave, database analyst
---
Keep in touch!
If you are a graduate of this program, we truly want to hear from you! It's essential to the ongoing success of the department and incoming Blugolds that we are able to maintain connections with physics alumni, near and far. We want your expertise, we want to hear your success stories, and even your advice to Blugolds. Please take our Alumni Survey if you have not, and if you did long ago you can always submit an update. Thank you!