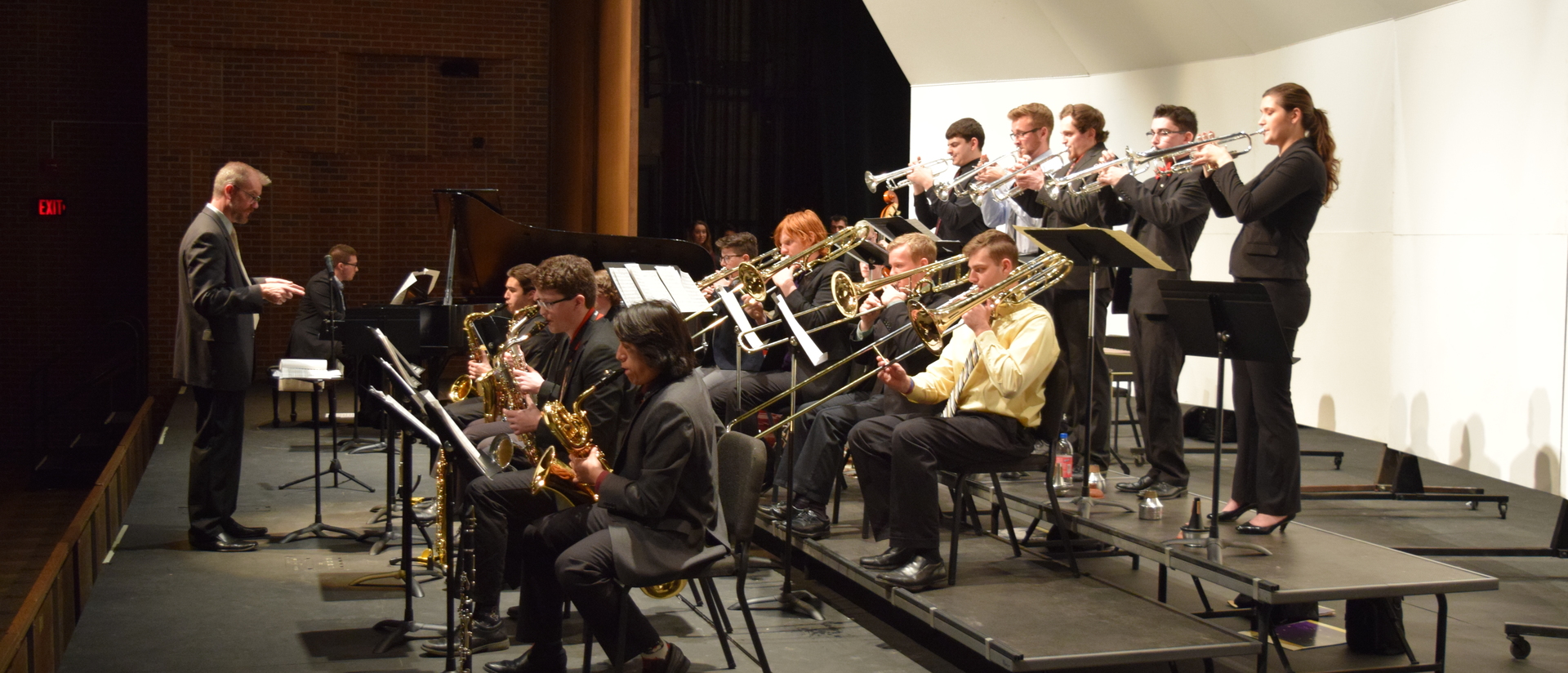 Immerse yourself in the world of jazz. At UW-Eau Claire, our ensembles are led by faculty who have years of experience playing in groups large and small. Within these groups are students with a broad range of interests, from hardcore bebop enthusiasts to passionate part-timers. Students don't even have to be music majors or minors to audition. As well as our University sponsored big bands and combos, there are several student-led, faculty-guided groups that play shows throughout the region.
The opportunities that have been granted to me here are extraordinary. From accompanying professional musicians, playing in jazz bands, to conducting operas and musicals, I have had experiences that have not only shaped me as a musician, but as a human being as well. There just isn't another place like Music & Theatre Arts at the University of Wisconsin-Eau Claire.
What We Offer
Four Big Bands.
Make them swing, make them dance! In big band they play timeless music that anyone can get down to. They perform at the Eau Claire Jazz Festival and the annual Gatsby's Gala with professional guests, as well as a variety of concerts and shows throughout each semester.
Endless Combos.
Create a sound all your own in jazz combos. These small groups focus on improvisation from students, and are coached by active professionals. Performance opportunities on and off campus are also generated for each group.
Join Jazz at UWEC
Jazz studies auditions help us place you in groups of similar skill level to maximize cohesiveness. Even if you're not a music major or minor, we invite you to come audition. These auditions will also help prepare you for the future career challenges of performing in front of a panel of evaluators. We want to see you at your best and have put together information, requirements and tips for you so you can shine your brightest.
Ensemble Audition Information
Jazz ensemble auditions take place on the second and third day of classes every semester. Audition materials can be obtained any time within the weeks leading up to a semester's audition dates by contacting Mr. Robert Baca.
Big Band Rehearsal Schedules
Jazz Ensemble I, TR, 12:30-1:45 p.m. and F, 1-1:50 p.m.
Jazz Ensemble II, MW, 12-12:50 p.m.
Jazz Ensemble III, MW, 1-1:50 p.m.
Jazz Ensemble IV, MW, 11-11:50 a.m.
Combo Audition Information
Combo Auditions take place at the same time as Big Band auditions. Audition material can be obtained the week leading up to the audition by contacting Dr. Aaron Hedenstrom.
Jazz scholarships
Jazz scholarships are available to students based on need and ability. To audition for a jazz scholarship, send a digital recording of yourself performing a standard jazz composition with an electronic rhythm section, live players or feature or solo with your big band. Scholarships are available for original composition/arrangement abilities, rhythm section instruments, improvisation, saxophone doubles, and lead trumpet.