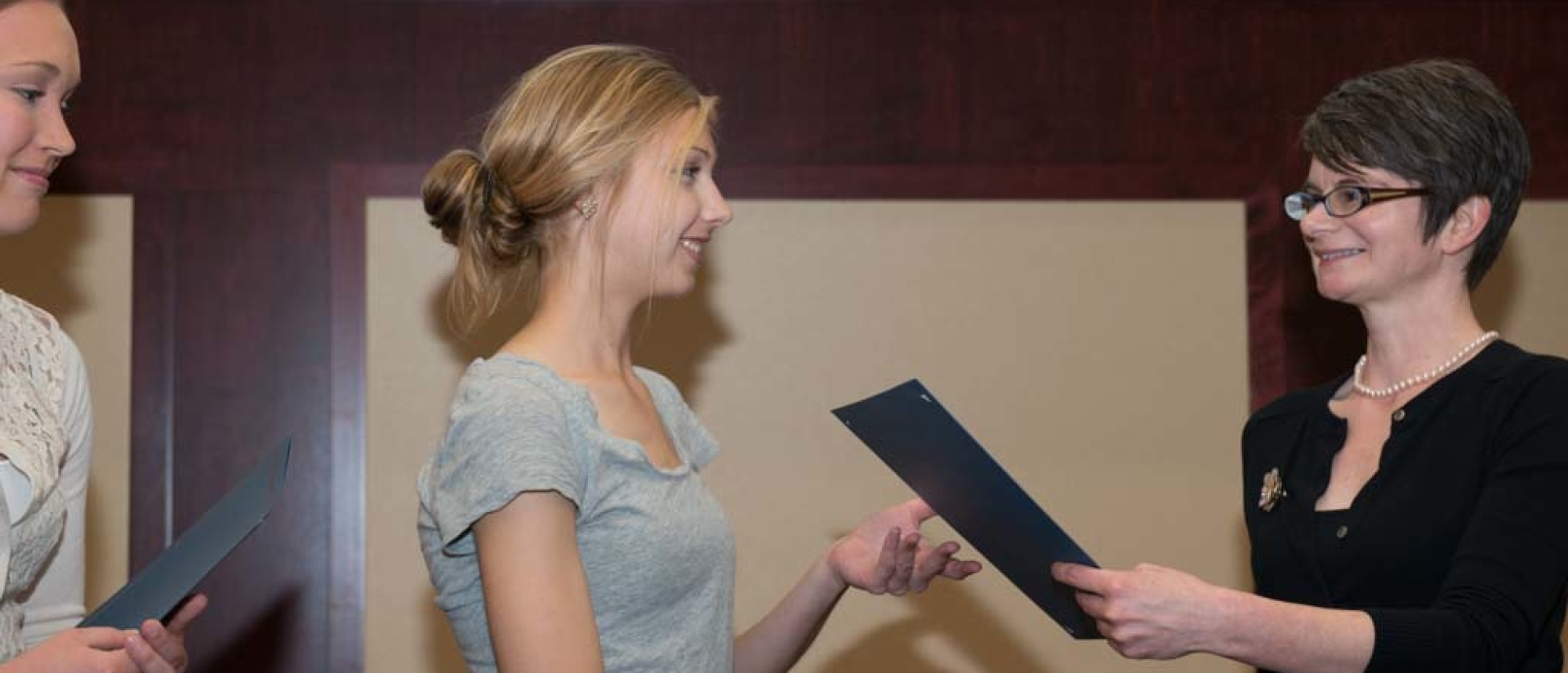 Students in all emphases of English can earn support for their studies, obtain funding for a special project, and gain recognition for their work through the English Department's scholarship and award funds. The department is grateful to the generous donors, who make it possible to reward students year after year and, at the same time, pay tribute to the beloved professors and members of the community that the scholarships and awards honor.
English department scholarships
Click on name for eligibility and application information
Jane Colville Betts Scholarship

One award of $500

This scholarship was established in 2011 in honor of UWEC English professor Jane Colville Betts, who taught creative writing, literature, and composition for 20 years. Dr. Betts lived in a time when her father was not unusual in saying, "Women don't need to go to college." After World War II, he changed his mind, and she had the great happiness of four years at Wilson College, a bachelor degree program for women in Chambersburg, Pennsylvania, where she enjoyed great help and attention from faculty. In her retirement, she has published a book of her poems to leave to her daughter and grandchildren and her husband and friends.
Dr. Helen Dale Excellence in Education Scholarship

One award of $500 annually

This scholarship will be awarded to a junior or senior English major, with preference for a student majoring in English Education. Preference will be given to a student who comes from a background underrepresented in English Education and has demonstrated financial need. This scholarship will be open to graduating English Education majors.
Nan Dougherty English Education Scholarship

One award of $1,100 annually

This scholarship was established in 2006 in honor of Nan Dougherty, who taught English at UWEC for nearly 20 years from 1967-1988. Mrs. Dougherty was a former president of the Wisconsin Council of Teachers of English, and was well-known and beloved by her colleagues, friends, and former students.
Les Gilbertson Scholarship

Two awards of $500 annually

The oldest scholarship currently available to English majors, this fund is in memory of '36 alumnus Les Gilbertson, who also became an English teacher and veterans' advisor at UW-Eau Claire after serving in WWII. The Les Gilbertson Scholarship was created to help freshman and sophomore English majors. Les hated to hear that a student had to drop out of school after the first year or so due to financial problems, so his family created this fund to provide some assistance to those students. UW-Eau Claire was such an important part of Les Gilbertson's life, and he was very proud to have been a part of its rich history.
Gloria Hochstein English Opportunity Grant

One award of $400 annually

This fund was established in 2007 by UWEC professor Gloria Hochstein to encourage English majors and minors to take advantage of value-added educational experiences in English-related activities in addition to their classroom experiences. Some examples of qualifying activities include, but are not limited to, the following: provide leadership for Sigma Tau Delta activities or English Fest, develop outreach programs to inspire young students to hone their writing and reading skills, engage in undergraduate research experiences, support research and writing leading to presentation or publication.
Kirkwood Poetry Award

$300 annually

This award shall be given to a student who has been selected to have written the most outstanding poem submitted in traditional poetic form for that year. All English majors and minors and any UW-Eau Claire student who has submitted work to, or been published in, NOTA during the academic year for which the award is given may submit a poem.
Sandra Lindow Teacher of English and Language Arts Scholarship

One award of $1,500 annually

This scholarship, named after Sandra Lindow (71' and 74') is for an English Education student with a GPA of at least 3.0. The $1500 award is available for renewal for up to two additional years.

Sandra Lindow graduated summa cum laude in English Education, and continued her studies to earn a Masters of Science degree in English teaching. Sandra also received her reading teacher and reading specialist licenses through classes taken at UW-Eau Claire. Her teaching career spanned 42 years. We are excited to be able to offer this fantastic opportunity to future educators.
Dr. Mary Jordan Meiser Fund for English and Language Arts Teaching Professional Development

$1,500 available annually

The Dr. Mary Jordan Meiser Fund for English and Language Arts Teaching Professional Development provides valuable professional development and immersion opportunities for students who have declared a Teaching – English and Language Arts (ELAT) major. Elementary Education majors who are enrolled in or have completed ELAT coursework may also be considered. Recipients must have Junior or Senior Status with a GPA of at least 3.0. Preference is for students with demonstrated financial need and/or a background underrepresented in ELAT.

Funding is available to students who have been approved to participate in a qualifying professional development opportunity that will enhance their ability to become successful educators or professionals in the field.

To apply, email the English department chair.
Elizabeth Morris English Ed Scholarship

Two $3,700-$7,400 awards annually

This scholarship was established in 1999 in honor of UWEC English professor Elizabeth Morris, who loved the English language – its words, grammar, and structure – every bit as much as its power to paint pictures, tell stories, communicate ideas. A devoted teacher and scholar herself, she believed that one of the most important challenges the university faced was not just to train teachers but to educate them in the disciplines they would be taking out into the schools of Wisconsin. In particular she wanted to know that those who taught the language she loved shared both her passion and her expertise, and to that end she directed her efforts for twenty-four years in the UWEC Department of English.
John W. Morris Scholarship

One award of $3,400 annually

This scholarship was established in 2003 in honor of UWEC English professor John W. Morris, an academic renaissance man, with undergraduate degrees in naval science and mathematics and graduate degrees in English. An inspiring teacher and skilled administrator for 32 years, Dr. Morris instilled in students his own love of learning along with his delight in language and literature. Firmly committed to the idea of service to his professions, he was influential in the early growth of the Wisconsin Council of Teachers of English and directly involved in the development of new programs at UWEC, from Nursing to Studies Abroad, Computer Science, and Philosophy and Religious Studies. To support his commitment to liberal education, the John W. Morris Scholarship is offered to an outstanding English student with a liberal arts focus.
Passion for Reading and Writing Award

Three awards; one of $500 and two of $250 each.

The Passion for Reading and Writing Awards are intended to foster student reading and writing. These awards are set up and funded by William H. Phillips, who has taught reading and writing courses in English departments of five U.S. universities, including UW-Eau Claire. Courses taught include first-year composition, junior-level composition, business writing, introductory creative writing, dramatic literature, and various introductory film courses. His publications include Film: An Introduction (1st to 4th editions), Writing Short Scripts (1st & 2nd editions), and Writing Short Stories. Dr. Phillips believes that successful developing writers learn to read diverse texts before they create their own written texts. Reading and writing are parts of the same process, like breathing in and breathing out.

Scientist/teacher/writer Carl Sagan wrote, "Books break the shackles of time. . . . If information were passed on merely by word of mouth, how little we should know of our own past. How slow would be our progress. Everything would depend on what we had been told, on how accurate the account. Ancient learning might be revered, but in successive retellings it would become muddled and then lost. Books permit us to voyage through time, to tap the wisdom of our ancestors."
Grace Shipley and Eleanor Jones Scholarship

One award of $1,000 annually

This scholarship was established by Eleanor Jones in memory of her long-time friend of Grace Shipley. Eleanor and Grace met when they both were members of the Hormel Caravan and later shared a home in Eau Claire's Third Ward. In honor of Grace's friendship and legacy at UW-Eau Claire, Ms. Jones has established a scholarship in Grace's name. Grace, who died January 21, 2017, was an English professor at UW-Eau Claire for many years. She also served in the US Army from 1943-45 where she was in charge of a company of WACs whose task was to load munitions onto ships moving through the Pacific toward Japan. She was discharged in 1945 with the rank of First Sgt. and a bronze combat star. Grace later received her B.A. and M.A. degrees at the University of Arkansas and continued her studies at the University of Wisconsin-Madison.
Clara B. Small Scholarship

One award of $1,650 annually.

This scholarship was established in 1982 by UWEC professors Nadine S. and Robert V. St. Louis to honor Nadine's mother, Clara B. Small, who though she never had the opportunity to finish high school, was a life-long learner and inspired her daughter to excel.
Nadine St. Louis Creative Writing Scholarship

Two annual awards of $1,000

This scholarship honors Nadine "Dina" St. Louis, who taught English at UWEC from 1969 until her retirement in 2000, during which time she was appointed as the first Assistant to the Chancellor for Affirmative Action and the first woman chair of the UW-Eau Claire Faculty Senate. She also served as the Chair of the English Department for five years. She was active in the arts and poetry community of Eau Claire and was named the city's first poet laureate in 2010. She passed away in 2012. Her notebooks and manuscripts are now available for students in the Kate Gill Library.
Maurice & Alma Swan English Ed Scholarship

One award of $1,000 annually

This scholarship was established in 2005 in honor of Maurice & Alma Swan, parents of the then-President of the UWEC Foundation, Carole Swan Halberg. The Swans believed their daughter would be an English teacher and were surprised when she chose a different career path. The scholarship was established to attach Mr. and Mrs. Swan's names to the teaching profession and to demonstrate their high regard for public education.
Applying for Scholarships
There is one application to fill out, and by filling out this application, you will be entered into consideration for all scholarships for which you are eligible.
In addition to English department scholarships, Blugolds who major in English are eligible to apply for a whole host of Foundation based scholarships across many disciplines. Many of these are open to students in humanities majors, and are generally awarded through a donor based selection process. Be sure to look into the criteria, because each year some scholarships do not receive any applications.
Find scholarship information and helpful links here: Scholarships at UW-Eau Claire