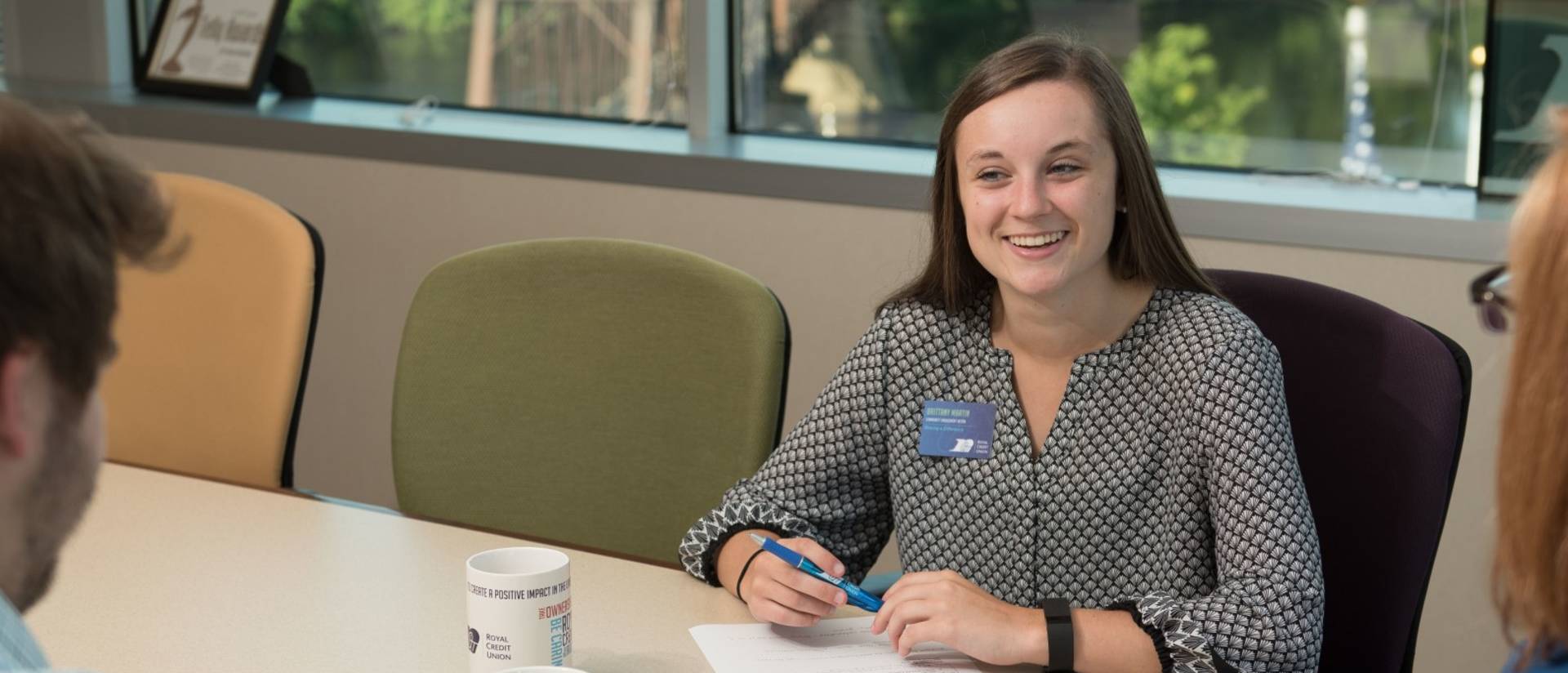 Take what you've learned within the classroom beyond the classroom
Are you looking for real-world professional opportunities that allow you to showcase your skills (and learn a few new ones!) while working closely alongside business and community leaders? If so, then consider applying for an English internship!
UW-Eau Claire does not make empty promises, and when we tell students that organizations are looking to hire people with excellent written and oral communication skills, we back it up with a robust writing internship program unrivaled on campus.
Thanks to a network of connections decades in the making, students majoring or minoring in English have some fabulous opportunities for on-the-job learning that allows them to synthesize and apply what they've learned in their coursework. Our interns work at businesses and non-profit organizations throughout the Chippewa Valley, resulting in valuable professional experience that sets our graduates apart.
Working as the English department's intern last semester allowed me to step into the professional side of my college career. I am so glad to have had the experience to write on the successes of members of the UWEC English community. I recommend taking advantage of all opportunities UW-Eau Claire has to offer as the more you participate in, the more prepared you will be for professional ventures after college.
The internship advantage
Opportunities to work in professional environments and address communication challenges.
Sustained interaction with professionals in the Chippewa Valley who can serve as valuable career and community contacts.
Focus on issues of professionalism and career development.
An opportunity to build a professional portfolio of documents and publications that demonstrate your abilities to potential employers.
Additional income as some internships are paid!
Fulfillment of your service-learning requirement.
Earned upper-division credit and ongoing academic support for your internship through ENGL 498 Internship in Writing.
How to apply

Step 1: Attend the Internship Information Meeting offered bi-annually in October and March to learn about exciting internship opportunities. These internship opportunities are also available on Handshake.

Step 2: To view these opportunities on Handshake, visit https://uwec.joinhandshake.com/ and login using your UWEC credentials. Then, search for eligible internships under "ENGL 498 Internships in Writing."

Step 3: Apply for 2-3 internships for which you are qualified. Application materials will include a.) a well-written, rhetorically effective cover letter addressed to the employer, b.) an up-to-date, polished resume, c.) the names of two English Department faculty who can vouch for your writing ability and professionalism. Career Services is available to help create and proofread your application materials. You can make an appointment by visiting, https://uwec.joinhandshake.com/. You must apply by the stated deadline (information forthcoming).

Step 4: If you are selected for an interview, the internship site supervisor will coordinate an interview time.

Step 5: If you are selected for an internship by the site supervisor, please inform Professor Hollars (hollarb@uwec.edu) AND complete the Handshake Experiences form available here. After logging into Handshake, click the "Career Center" tab and select "Experiences." On the right side of the "Experiences" page, click "Request an Experience." Select "English Department" in the "Experience Type" question. Then, respond to the questions and submit your internship information.

Step 6: Following Handshake approval, you'll receive an email granting you permission to register for 1-3 credits of ENGL 498: Internship in Writing. To register for an internship but not the class, you must fill out the Handshake form and indicate that the internship is not for credit.

Step 7: Once you're registered for ENGL 498, contact your internship site supervisor and set up a start date and first week schedule.

Step 8: Attend the first class meeting at the time/place scheduled for the course.
FAQs

FAQs

What projects can I expect to work on?
Each internship position is different. While some focus on writing text, other internships focus more on gathering information, editing text, and design and layout. You may apply for the positions that interest you most or you can work with the Internship Director to create a customized, writing-intensive internship.

Who can apply for a writing internship?
Any student who is majoring or minoring in English may apply regardless of emphasis. There are no GPA requirements. However, some internships require prerequisite courses. Junior and seniors are especially encouraged to apply.

How often should I plan to work?
Depending on the internship, you may work anywhere from 5 to 15 hours per week. Not all internships require you to work on-site.

What skills do interns possess?

Strong written and oral communication skills
Organized
Detail oriented
Ability to work with a deadline
Listening skills
Willingness to collaborate

How many applicants become interns?
Most students who apply for a writing internship are placed at a site. Some sites hire more than one intern depending on the number of applicants.

Am I limited to one internship opportunity?
No; you may apply for internships as many semesters as you want and are welcome to accept more than one position for the same semester. However, there is a limit on the number of course credits you can earn.

Can I do two or more internships simultaneously?
No, although you could undertake two internships over two terms for a total of 6 ENGL 498 credits.
A partial list of recent internship sites
Volume One
The Ronald E McNair Postbaccalaureate Program
The Eau Claire Area School Foundation
Junior Achievement
Chippewa Valley LGBTQ+ Community Center
UWEC English Department
Chippewa Valley Cultural Association/Heyde Center
JONAH (Joining Our Neighbors, Advancing Hope)
UWEC University Honors
Midwest Artist Academy
Chippewa Valley Writers Guild
Barstow & Grand
Mason Companies, Inc
RealityWorks
Beaver Creek Citizen Science Center
WEAU News Center
My internship at Volume One is by far my favorite learning experience at UWEC. As an aspiring novelist, the creative liberty woven into the internship allowed me to exercise my creativity while strengthening my writing and editing skills. I felt I grew not only as a writer, but as a member of the community. The connections I made through Volume One were unbelievable. Even though my internship has officially ended, I am honored to continue to write as a contributor for such an inclusive magazine!