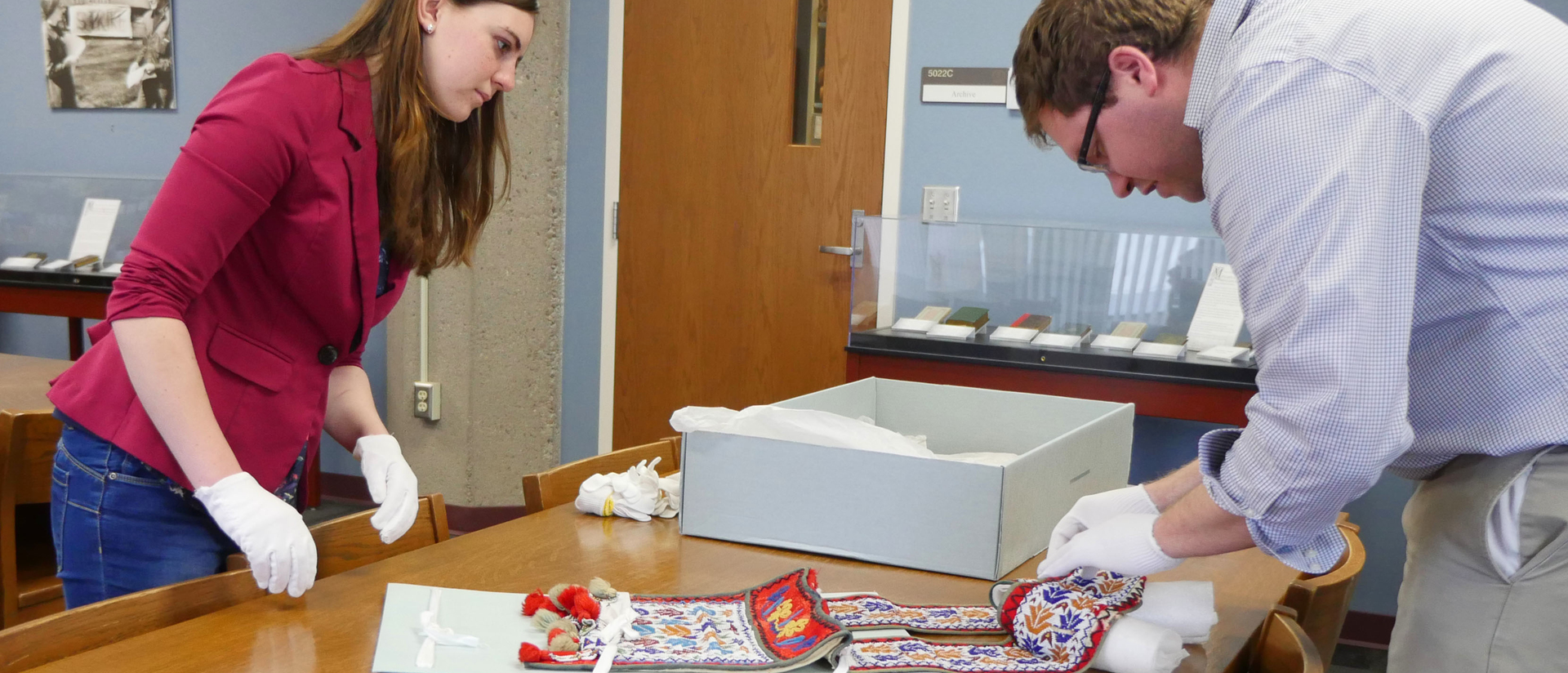 A real jump start to a career
UW-Eau Claire places a premium on what we call high-impact practices, those student experiences able to transform academic experiences, career paths and lives. Internships are one of these pillars of our undergraduate experiences, and student in American Indian Studies will find multiple avenues for internship opportunities, some on campus, some in Wisconsin, and even national internships.
See the links below for some of the unique internships available, and be sure to contact the program director about options closer to home. A capstone project can often become an internship as well. . . .so many options!
State and national internship programs
NMAI Internship Program

The National Museum of the American Indian, New York Gustav Heye Center | The National Museum of the American Indian, Washington, D.C. | The NMAI Cultural Resources Center
Application Deadlines: November 20, February 6, July 12

This internship provides educational opportunities for students interested in the museum profession, American Indian studies, and related fields. Ten-week Internships are available for the Winter/Spring term, Summer, and Fall. Applicants must be enrolled in an academic program, with a GPA of 3.0 generally expected. Stipends are available, as is academic credit. Multiple internships are available in:

Collections Information
Collections Management
Repatriation
Technology
Cultural Interpreter
Film and Video
ImagiNATIONS Activity Center
Media
Museum Advancement
Development
Public Affairs
Research Project
Education
Visitor Services
Contemporary Native Art
Udall NA Congressional Internships

Application Deadline: January 31

The Udall Native American Congressional Internship provides 12 Native American and Alaska Native students with the opportunity to gain practical experience with the federal legislative process in order to understand first-hand the government-to-government relationship between Tribes and the federal government. Educational stipends of $1,200 are available upon completion of the ten-week summer internship; apartment-style living is provided. Roundtrip airfare to Washington, D.C. and a daily allowance for food also included. Applicants must be either a junior or senior in college, a recent graduate from a tribal or four-year college, or a graduate or law student. Other conditions apply.
Ho-Chunk Nation Internship

Application Deadline: Open

For more information, please contact Dr. Debra Barker.
SAR-Anne Ray Internship

The school for Advanced Research, Indian Arts Research Center (IARC) offers two nine-month internships (Sept. 1-May 31) to individuals who are recent college graduates, current graduate students, or junior museum professionals interested in furthering their professional museum experience and enhancing their intellectual capacity for contributing to the expanding field and discourse of museum studies. The internships include a monthly salary, housing, book allowance, travel to one professional conference, and reimbursable travel to and from SAR. One internship is open to an indigenous individual from the U.S. or Canada, and one internship is open to any U.S. or Canadian citizen meeting the application requirements.

The interns will devote their time to working on IARC educational programming, research and writing activities, and collections management and registration. Other requirements include presenting a research paper a the SAR Colloquium Series; attending a professional conference; assisting with IARC seminars, symposia, and collection tours; and working on outreach initiatives to local Native communities. Interns will also participate in interviews, photo sessions, video recordings, and exit interviews to document their experience. During the internships, the Anne Ray Resident Scholar provides mentorship and academic support to the interns.

For more information, please visit SAR's website.
SAR--Internships for Credit

Application deadline: Ongoing

Internships are available for high school, undergraduate, and graduate students interested in anthropology, art history, history, museum studies, or a related field. Internships last a minimum of one semester (20 weeks) and are appropriately designed to suite the education and maturity level of the student. Internships are geared toward practical experience and maximizing job market visibility in the museum field.

The IARC encourages interns to work with the IARC collections on individual projects based on their academic or professional interests. Depending on interest, interns may work on projects relating to collections handling and cataloguing, community outreach/programs development, or academic research. While these internships are unpaid, the IARC can work with the student's school or university department to establish academic credit.

For more information, please visit SAR's website.
Semester in Washington--NAPLP

A full scholarship for Native American, Alaska Native, and Native Hawaiian students who want to take part in Semester in Washington Politics. The Semester in Washington is comprised of four main components, including two core classes, an internship, weekly networking events, and the option to be paired with a mentor. The NAPLP covers tuition, housing, a small stipend, and airfare. Non-native students may apply directly to the Semester in Washington program.

For more information, please visit the George Washington University's website.
National Park Services--CR Internships

Multiple internships are available, including a Cultural Resources Diversity Internship, a Heritage Documentation Programs Internship, and a National Council of Preservation Education Internship Program.

For more information, please see the National Park Service's website.
NCAI--Internships

NCAI offers internships and fellowships to provide an opportunity for young leaders from throughout Indian Country to serve on the front lines of legislative action and policy development. All interns and fellows are selected through an application and interview process. Students enrolled in institutions of higher learning are invited to apply for semester or summer-long internships.

For more information, please see NCAI's website
WTCAC Internships

Established in 2001, the Wisconsin Tribal Conservation Advisory Council (WTCAC) is an Association that provides a forum for eleven (11) Native American Tribes in Wisconsin to identify and solve natural resource issues on Tribal lands. We are a council that gives a voice to our Tribes of Wisconsin on conservation issues that are important to us at the state and national levels.

Through a strong partnership with the USDA-NRCS, the council reviews and recommends proposals for conservation projects from Tribes of Wisconsin. Tribal Conservation Advisory Councils were first authorized in the 1995 Farm Bill as advisory bodies to NRCS and all of USDA on Tribal issues. WTCAC was the first such council formed in the country.

WTCAC posts internships for the summer. For more information, please visit their website.