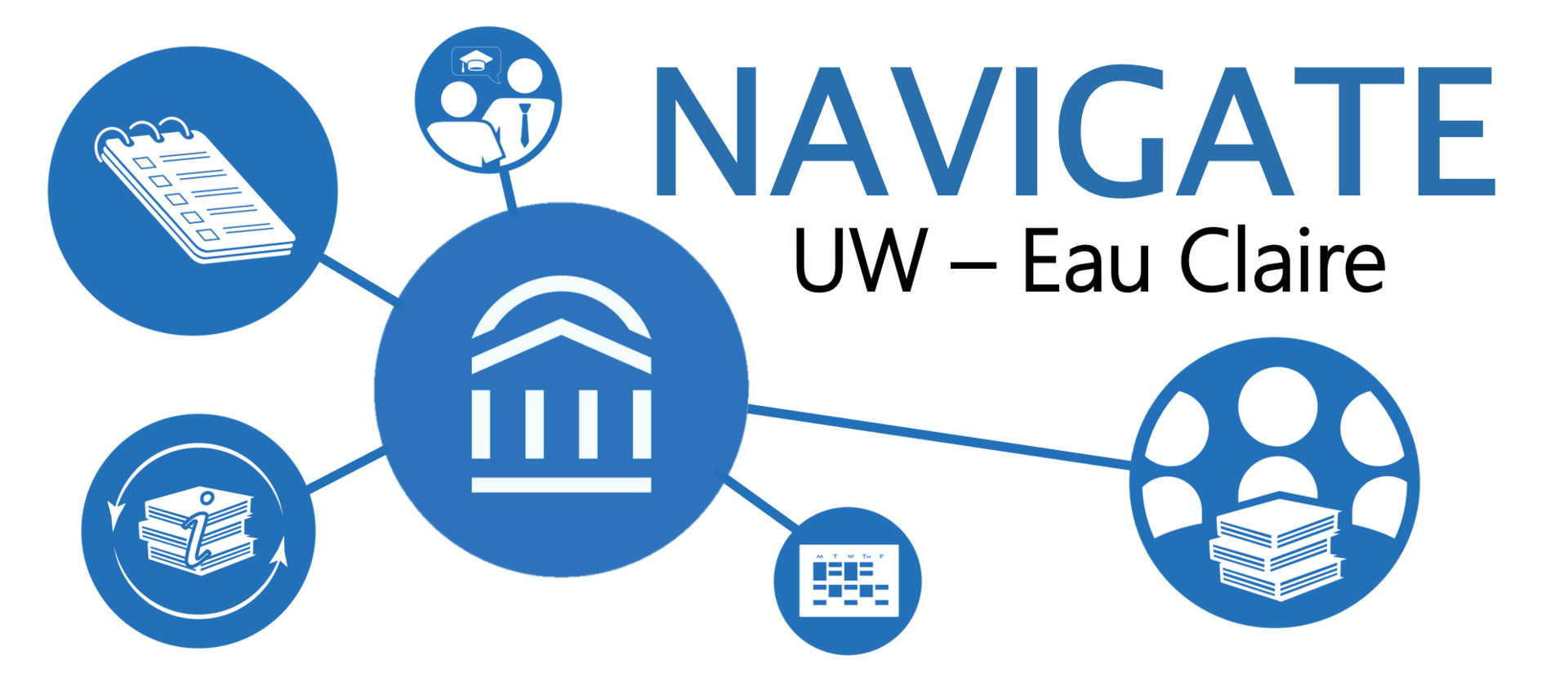 Find Your Direction With Navigate
Meet Navigate – your very own student success coach for higher education. Through the combination of predictive analytics, continual and ongoing research, and progress reporting, Navigate puts a map in the hands of the advisor and a compass in the hands of the student. College can have some challenging terrain and every undergraduate's path is different, so let Navigate be your compass and help you guide your way to your degree at UW – Eau Claire.
It's all so easy in the app
Navigate allows you to stay organized with the following functions:
Schedule view: Be in the right place at the right time with your class schedule at your fingertips!
Appointment scheduler: Keep in touch with your advisor and schedule advising appointments with the push of a few buttons.
Resource hub: Find the locations and other useful information for all the resources UW-Eau Claire has to offer in the Resource Center of the app.
Study smarter: Connect with others enrolled in the same classes as you and study smarter with Study Buddies.
Notifications: Keep up with requirements and see the bumps before they trip you up with alerts and to-do's that mark important actions you need to take. Make your own to-do lists too.

Pretty neat right? So get it now!
Remember, you need Navigate to Schedule your Advising Appointments!
Don't have a smartphone? No worries! You can also...
I've Got Some Questions...
Help! It Won't Let Me Log In To Navigate!

Can you get to the sign-on page?

Yes, but my credentials are rejected

Looks like something might be wrong with your Blugold Username or Password
Follow the on-screen instructions for how to change your password!

Yes, but it says "Uh-oh…" or "Something went wrong"

Your username must not be in the system yet. Contact helpdesk@uwec.edu and let them know of your situation
It Won't Let Me Accept The Terms Or Complete The Survey

You hate to see it. I'm afraid you'll have to uninstall and reinstall the app on your device!
Navigate Froze, What Do I Do?

Looks like you'll have to force the app closed with a "hard close"

Android – Open the app manager view and swipe the app away

Apple – Double click the Home button and swipe the app away
How Can I Change My Notification Settings?

Visit the Settings tab where you'll find a link for Notification Settings. You can personalize your notification preferences there!
My Class Schedule Isn't Right...

No worries! Navigate updates every 24 hours and if you just added or dropped a class today it won't know just yet. Check back tomorrow if you're not seeing a course you added or still seeing a course you dropped!
I'm Multi-Majoring, But Navigate Is Only Showing One Major!

Don't worry! As amazing as Navigate is, it can only show one major at the moment. Rest easy though, your other majors and minors are still in place and accessible for viewing in CampS!
So… How Much Does It Cost?

The app is approximately $0.00. Wait, is that right? (*Checks notes*) Yep! It's totally free! Enjoy!