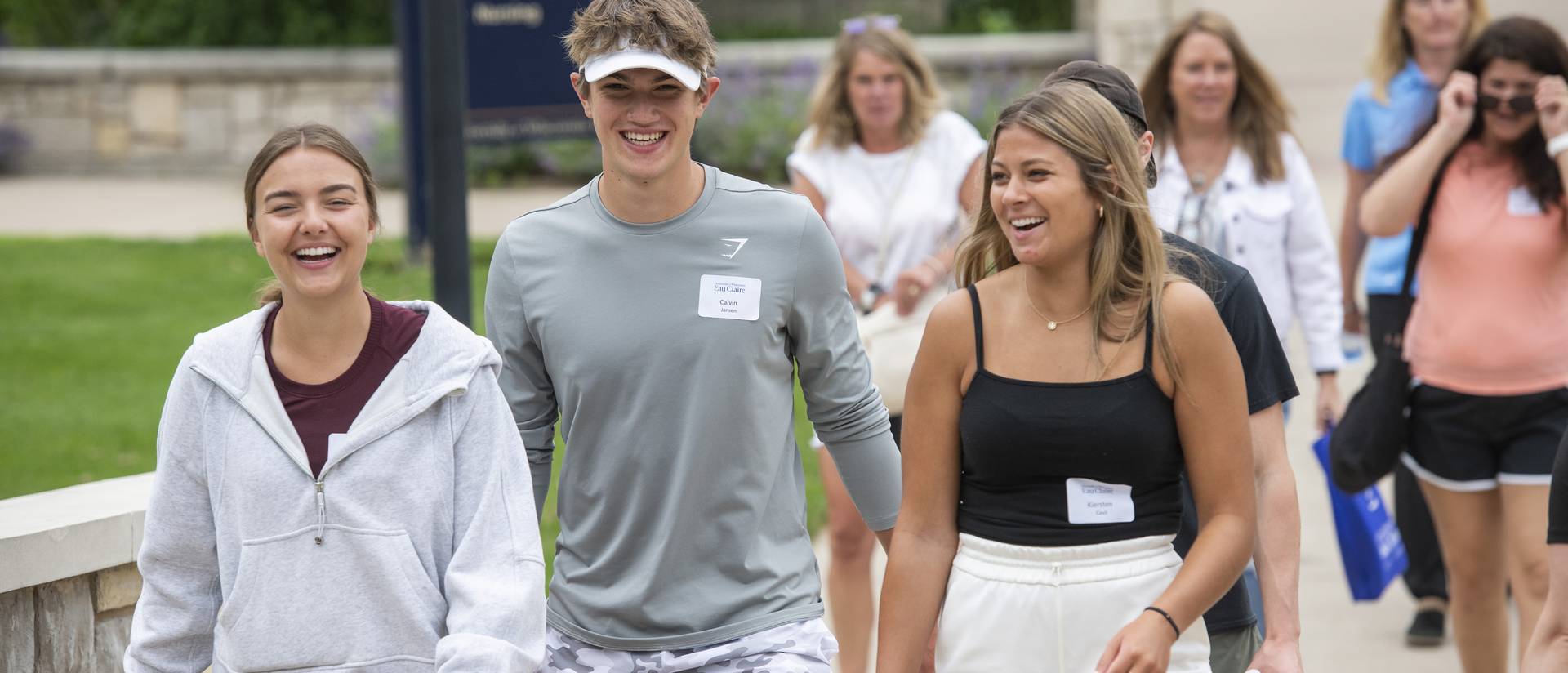 Hey there, Blugolds! We are so excited that you will be joining us at UW-Eau Claire! Until then, there will be plenty of opportunities to connect and get to know each other.
2023 Blugold Experience Days | Jul. 19, 20, 21, 26, 27, 28 + Aug. 2, 3, 4
On these days, students and their families can tour our beautiful campus and residence halls, connect with staff, faculty, and other Blugolds, dine on campus, attend a live resource fair and other sessions, check out places in the community, and much more! Programming is subject to change by semester, and registration is required.
Registration for Blugold Experience Days will open on March 15, 2023 for Fall 2023 admits.
Frequently Asked Questions (FAQs) about Blugold Experience Days:
I've already attended an Admitted Day at UW-Eau Claire. Do I need to attend BGE?

Yes! These are two different programs - Admitted Day is hosted through our Admissions office.

Blugold Experience Days are a crucial part of the orientation experience, and they provide opportunities for students and families to explore our beautiful campus during the summer, engage more directly with Academic staff and faculty, build deeper relationships with other Blugolds, get some cool UWEC swag, pick up your Blugold ID and textbooks ahead of your first semester, and essentially check out your new home with a different lens (touring the space you'll be living, checking in with an academic advisor if you need to, connecting with your roommate in person, etc.)

We can't wait to see you here!
Am I able to come on campus another day if I can't make BGE?

Blugold Experience Days are a required part of your New Student Orientation Experience. If you are unable to make BGE for any reason, please reach out to us at orientation@uwec.edu or 715-836-5053.
I've already registered, when will I hear more?

Registered participants will receive a confirmation email immediately following registration with more information. Those participants will also receive a reminder email with details on the day's schedule, parking, check-in, and more 2 weeks prior to their scheduled Blugold Experience Day. If you have questions before this time, please contact orientation@uwec.edu.
What does the general schedule look like?

Although subject to variations year to year, here is a listing of anticipated activities for each Blugold Experience Day:

Music Department Auditions (for those interested)
Campus Tours
Campus Resource Fair
Live Sessions from Campus Partners in Housing, Counseling Services, Financial Aid, and more!
Recreation Center activities + discounted rentals for outdoor equipment available
Small group connections with other Blugolds
Residence Hall Tours
Campus community exploration
Breakfast/Lunch
And more!

We'll also have our text rental and Blugold Card offices open for students to obtain their textbooks and Blugold ID.
Are there recommended accommodations if we want to stay the night?

There are! We actually have UWEC family discounts at local hotels, and can offer insights on additional accommodations as well. Email us to learn more at orientation@uwec.edu.
I love UW-Eau Claire. The campus is beautiful and full of life — with not only students but wildlife, too! It is a campus that allows me to be entirely myself and feel comfortable doing so.