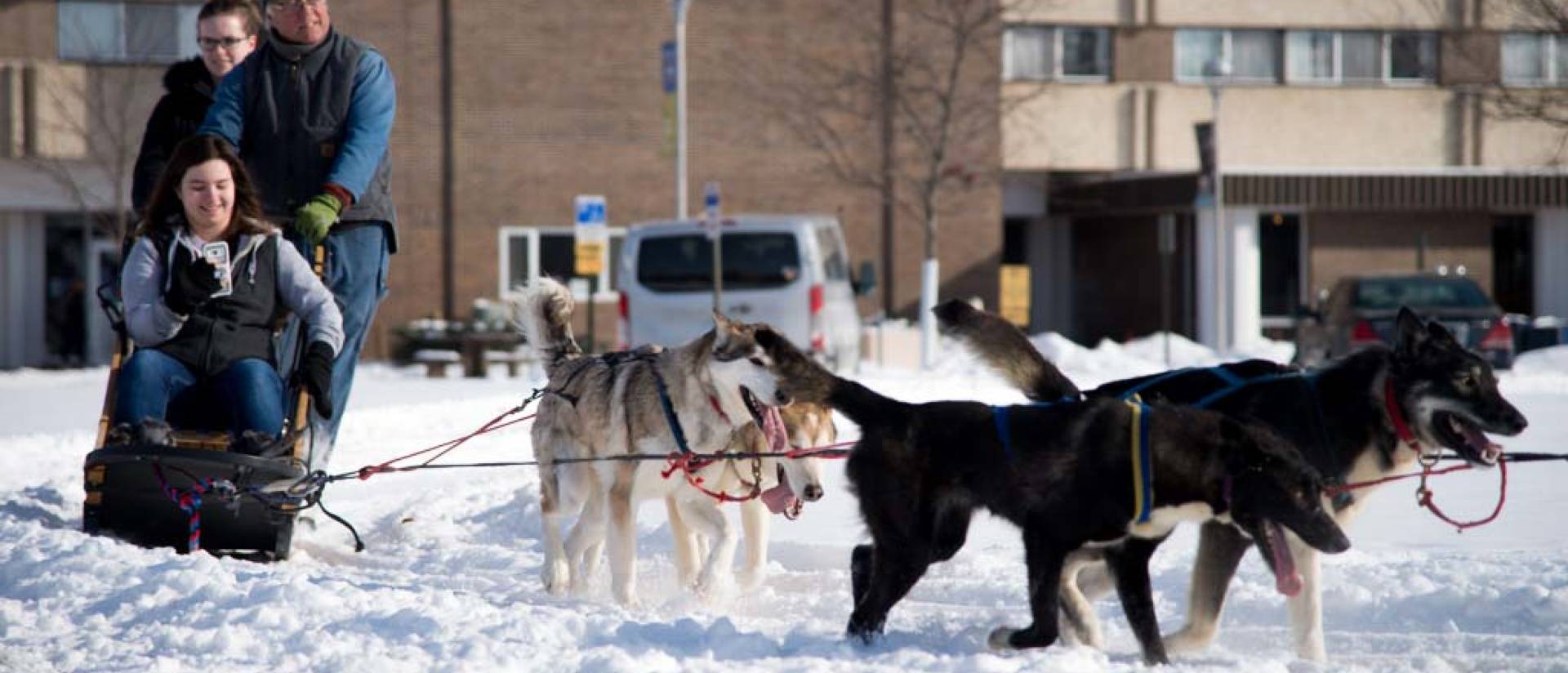 Everyone needs a mid-winter break to celebrate all things winter during the annual Winter Carnival. See this year's calendar of festival events below, which typically include indoor and outdoor activities.
Winter Carnival | February 14 - 19
Monday, Feb. 14th
Valentine Crafts | 11:00 am - 2:00 pm, Davies Marketplace
Share some love and kindness with the people in your life! Find us down on the first floor across from the Blugold Card Office and craft with us!
Tuesday, Feb. 15th
Chili Feed | 11:00 am, Davies Plaza
We've brought back free chili! We will have regular and vegetarian chili available outside of Davies while supplies last!
Wednesday, Feb. 16th
Cider and Hot Chocolate | 11:00 am, Davies Plaza
Stay cozy and warm with some cider or hot chocolate while supplies last!
Thursday, Feb. 17th
Dog Sledding | 1:00 - 3:00pm, Towers Field
Dog sledding is back as well! Find us out on Towers Field for a free dog sled ride.
Winter RecXperience! | 12:00 - 10:30pm, Hilltop and McPhee
Come enjoy bouldering, glow group fitness, try out snowshoes and fat-tire bikes, sign up to go snow tubing, and MUCH more with the Recreation Department's Winter RecXperience! Details https://www.uwec.edu/recreation/events/
Friday, Feb. 18th
Open Mic Night | 6:00 pm, The Cabin
Either come and listen to your fellow Blugolds or sign up yourself! Submissions are open to poetry, comedy, music, and more. Sign up by emailing us (uac@uwec.edu) or shooting us a DM on Instagram (uwec.uac).
Saturday, Feb. 19th
Rocky Horror Picture Show | 11:45 pm, Ojibwe Ballroom
Join us for this cult classic and Winter Carnival tradition! Come dressed as your favorite character and get ready to participate. Props and lines will be provided. Tickets are on sale NOW! Students are $3 and public are $5.