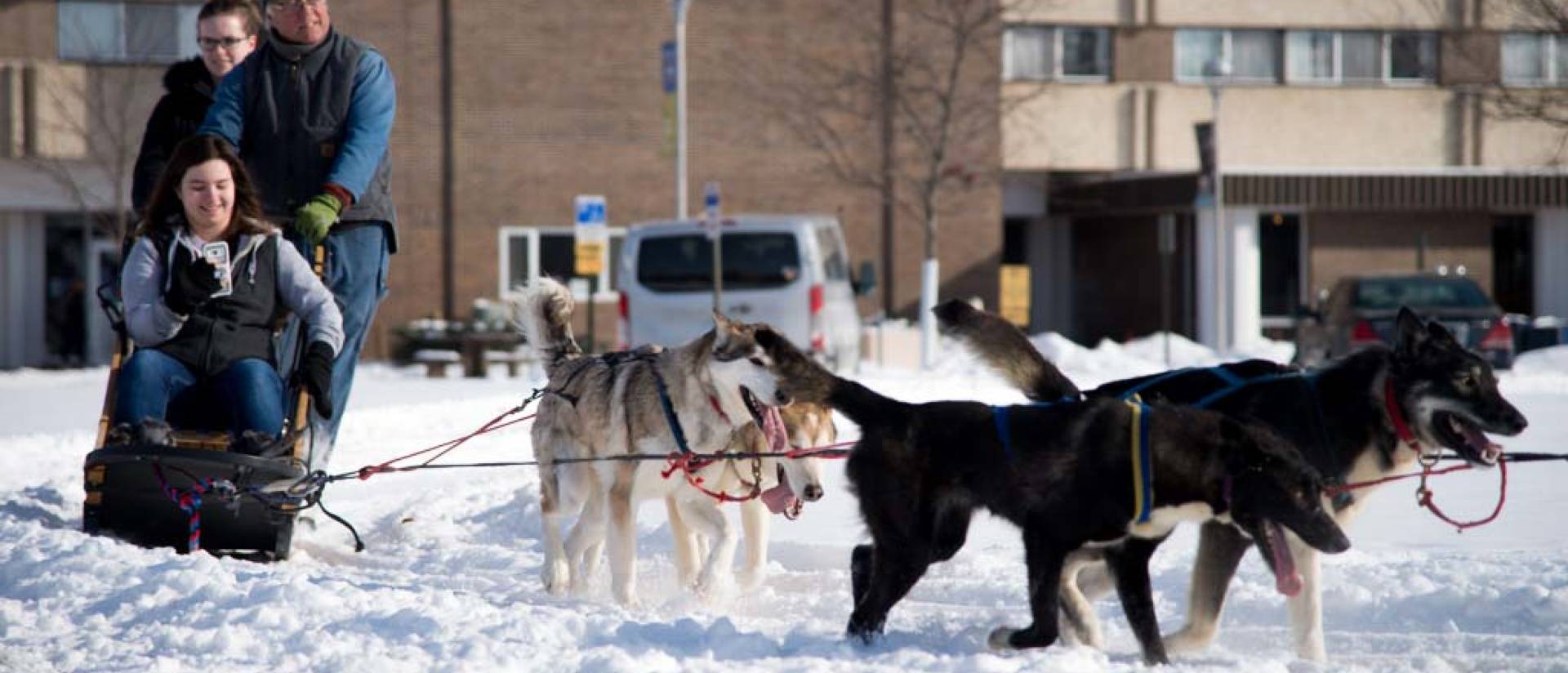 Everyone needs a mid-winter break to celebrate all things winter during the annual Winter Carnival. See this year's calendar of festival events below, which typically include indoor and outdoor activities.
Winter Carnival | February 12-17
Sunday, Feb. 12th
Snow Sculpture Contest Starts | Campus Mall
Show off your artistic side with a winter twist.
Monday, Feb. 13th
Hot Chocolate + Sticker Handout | 11:00 am, Marketplace
Stay cozy and warm with some hot chocolate and free stickers while supplies last!
Snow Sculpture Contest Continues | Campus Mall
Tuesday, Feb. 14th
Valentine Cards | 11:00 am - 1:00 pm, Student Organization Complex
Share some love and kindness with the people in your life! Find us on the second floor of Davies, at the top of the main staircase!
Chili Feed | 11:00 am - 1:00 pm, Davies Plaza
We've brought back free chili! We will have regular and vegetarian chili available outside of Davies while supplies last!
Film: Fault in Our Stars with Cookie Decorating | 6:00 pm - 9:00 pm, Woodland Theater
Decorate a cookie or two and enjoy a film on us!
Wednesday, Feb. 15th
TBD
Thursday, Feb. 16th
The 502s with Oliver Hazard | 7:30 pm (Doors open at 6:30pm), Ojibwe Ballroom
Friday, Feb. 17th
Upper Campus Extravaganza! | 12:00 pm - 10:00pm, Upper Campus
Free Snowshoe Rentals | 12:00 pm - 4:00 pm

Give snowshoeing a try with free snowshoe rentals at the Environmental Adventure Center (EAC). Grab a pair of snowshoes and hike the Putnam Trail along the river, the Vita Course behind McPhee, or behind Governor's Hall on upper campus

Lighted Snowshoe Hike | 5:00 pm

Meet at the EAC in Hilltop Center, dress warm, boots required, space limited, weather permitting

Night at the Ropes Course | 5:00 pm - 8:00 pm, Behind Sutherland


Come join us for an evening of swinging from the ropes and riding the zip line at night! We will have a bon fire in the Sutherland Hall fire pit and Hot apple cider for all!

Fire at Sutherland | 5:00 pm - 8:00 pm
Games | 8:00 pm - 10:00 pm, McPhee 210 Gyms

Plinko
Life-size Bingo
Badminton
Hungry Hippo
9 Square in the Air
Climbing Wall (open for free)
Human Foosball
Bag Toss

Key Log Rolling and Open Swim | 8:00 pm - 10:00 pm, McPhee Pool
Sustainable Crafts | 8:00 pm - 10:00 pm, McPhee Hallway
EAC Adventure Trips
Cross Country Skiing at Tower Ridge | February 16th | Cost: $35
Ice Climbing in Duluth, MN | February 18-19th | Cost: $95