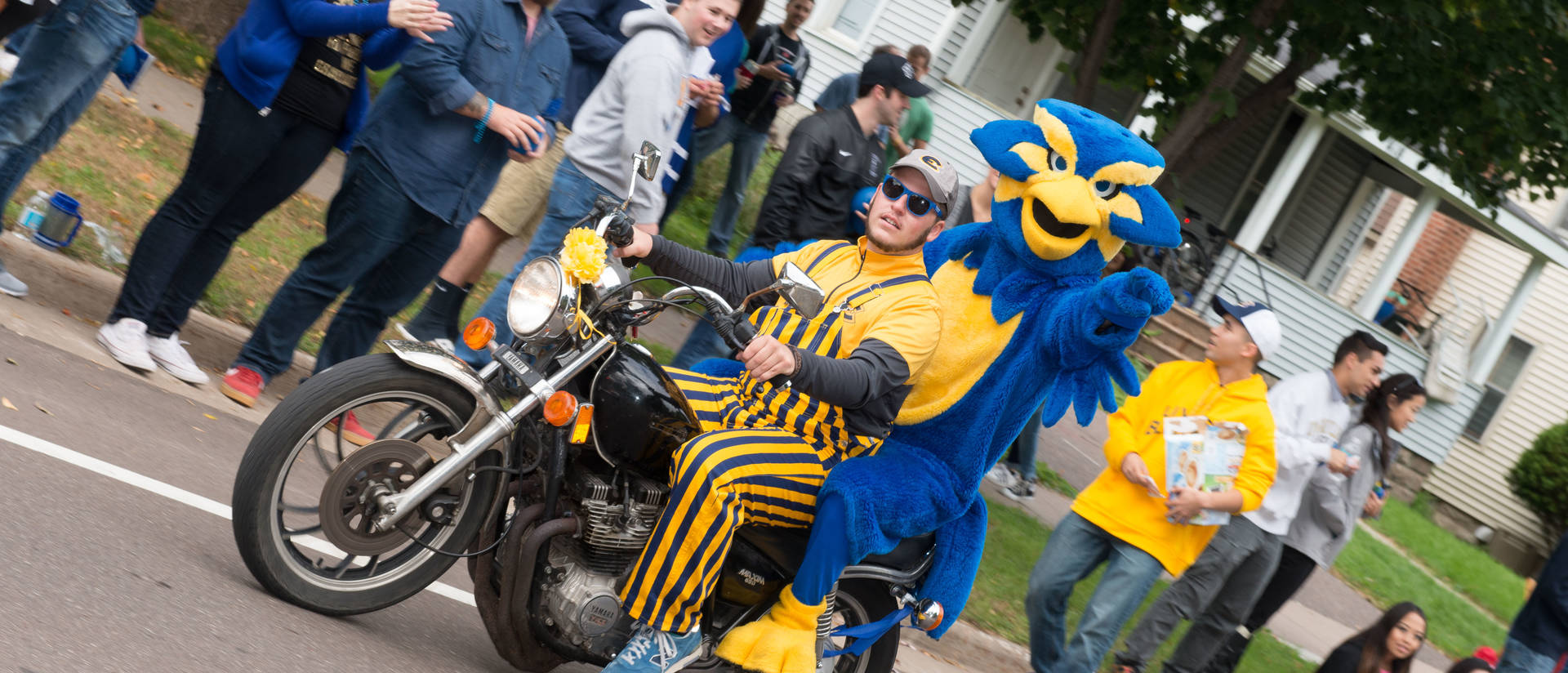 Although the details change from year to year, the traditions of the UWEC Homecoming carry on, and we are reminded each fall why this place is so special. Blugolds old and new alike can be guaranteed a weekend of fun times and exciting events, along with a perfect dose of nostalgia.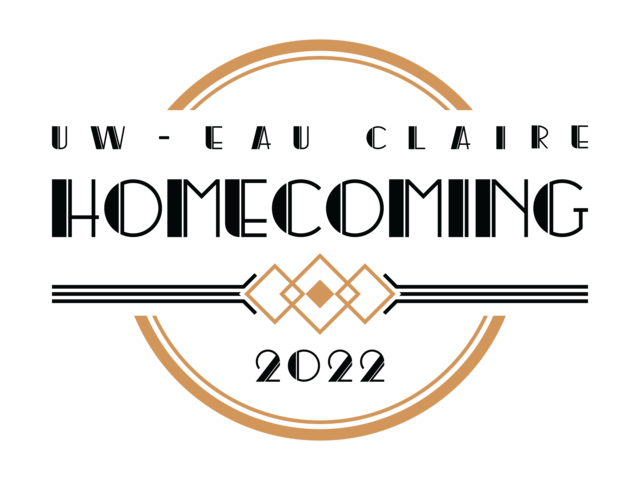 Homecoming | Gridiron & Glitz: Blugolds Puttin' On the Ritz
October 2nd - 9th
Spirit Competition
Homecoming Information Session
Anyone participating in the Royalty Campaign must attend one session! All organizations participating in the Spirit Competition will receive points for attending one information session. These sessions are open to anyone interested in learning more about Homecoming events as well.

Wednesday, September 7 at 2:00 p.m. | Student Organization Complex (Davies 220)
Thursday, September 15 at 8 p.m. on Teams
Tuesday, September 20 at 12:00 p.m. | Woodland Theater (Davies 328)
Wednesday, September 21 at 8 p.m. on Teams
Monday, September 26 at 5 p.m. | Woodland Theater (Davies 328)
Sunday, October 2 at 7 p.m. | Suites Bonfire Pit
Spirit Competition Forms:
All forms are due Monday, September 26 at 11:59 pm.
Event Schedule
Sunday, Oct. 2
Window Painting and Campus Camp-out | Davies Marketplace 3:00 pm
Registered teams will window paint their best version of Blugold Spirit or rendition of the theme: Gridiron and Glitz: Blugolds Puttin' on the Ritz - on the north windows of Davies Center!
Blugold Spirit Photo Giveaway
Show off your Homecoming pride and be entered to win a Blugold prize package! Tag the uwec.involvement or uwec.uac Instagram with one or all of the following to be entered to win:

Photo at a Homecoming Event
Photo with a Homecoming Button
Photo showing off your Blugold pride

Giveaway runs from Sunday until Saturday of Homecoming Week!

Residence Hall Lobby Decorating Contest
Residence Halls will compete for a traveling trophy for the best hall decorated along with the Homecoming theme. Halls can start on Sunday, October 2nd and will be judged on Friday, October 7th.
Monday, Oct. 3
Royalty Campaigning Begins
Groups or student organizations supporting a candidate must complete the form in advance.
Medallion Hunt Begins
Each day the UAC Instagram (uwec.uac) will release one clue on the story until the Medallion is found!
Chancellor Homecoming Kickoff | Davies Plaza 12:00 p.m.
Enjoy free Homecoming swag with the Chancellor to officially kick off the week!
Tuesday, Oct. 4
Blu's Fan Art Competition | UAC Instagram
Tag UAC in your Blu fan art for spirit points! Instagram story voting will take place later in the week.
Homecoming Hike | Putnam Drive 11am - 1pm
Run/walk a 5k or enjoy a hike of any length on beautiful Putnam Drive. Meet Recreation at the bottom of the McPhee staircase and receive a FREE Experience Recreation t-shirt for participating. No pre-registration required - sign up upon arrival to receive your free shirt. Visit UW-Eau Claire Recreation on Facebook the day of for any changes due to inclement weather.
Wednesday, Oct. 5
Royalty Voting Begins | Check your UWEC email for the survey link!
Voting will close Thursday at 3:00 pm!
Campus Games | Campus Mall 5:00 - 7:00 pm
Teams compete in scooter races, water balloon toss, giant tick tack toe, back Pictionary and tug-o-war! *Rain site Zorn Arena
UWEC vs. UW-Stout Women's Volleyball Game | McPhee 7:00 pm
Support our Women's Volleyball team!
Thursday, Oct. 6
Varsity Night Live | Schofield Auditorium 7:00 pm
Co-hosted with the Singing Statesmen, come support various acts that sing, dance, and lip sync their way into the Homecoming weekend! This is also the event in which Royalty will be announced.

You can purchase your tickets here! The student price is $3 before the day of the event and $5 the day of the event so don't wait to purchase!
Friday, Oct. 7
Homecoming Food Handout | Davies Plaza 10:00 am
Enjoy free apple cider and cookies to celebrate the spirit of the week!
Blu's Fan Art Competition | UAC Instagram
Vote for your favorite fan art on uwec.uac to help your organization win spirit points!
Residence Hall Lobby Decorating Contest Judging
Blugold Trivia Night | Hilltop Lounge 7:00 pm
Saturday, Oct. 8
Parade | W Lake St and First Ave 10:00 am
Groups participating in the spirit competition must complete the form in advance.
Tailgating | Carson Park 11:00 am
Get ready for the football game by tailgating at Carson Park sponsored by the Alumni Association and the Foundation! Food and fun available prior to and during the game!
UWEC vs. UW-Whitewater Football Game | Carson Park 1:10 pm
Free with Blugold ID
UWEC vs. UW-La Crosse Women's Soccer Game | Simpson Field 7:00 pm
Sunday, Oct. 9
Adopt-a-Block | 1:00 pm Water Street Parking Lot
Students gather at the Water Street lot to assist in city-wide clean-up of post Homecoming events. Groups participating in the spirit competition must complete the form in advance.
Questions?
Contact the University Activities Commission
uac@uwec.edu