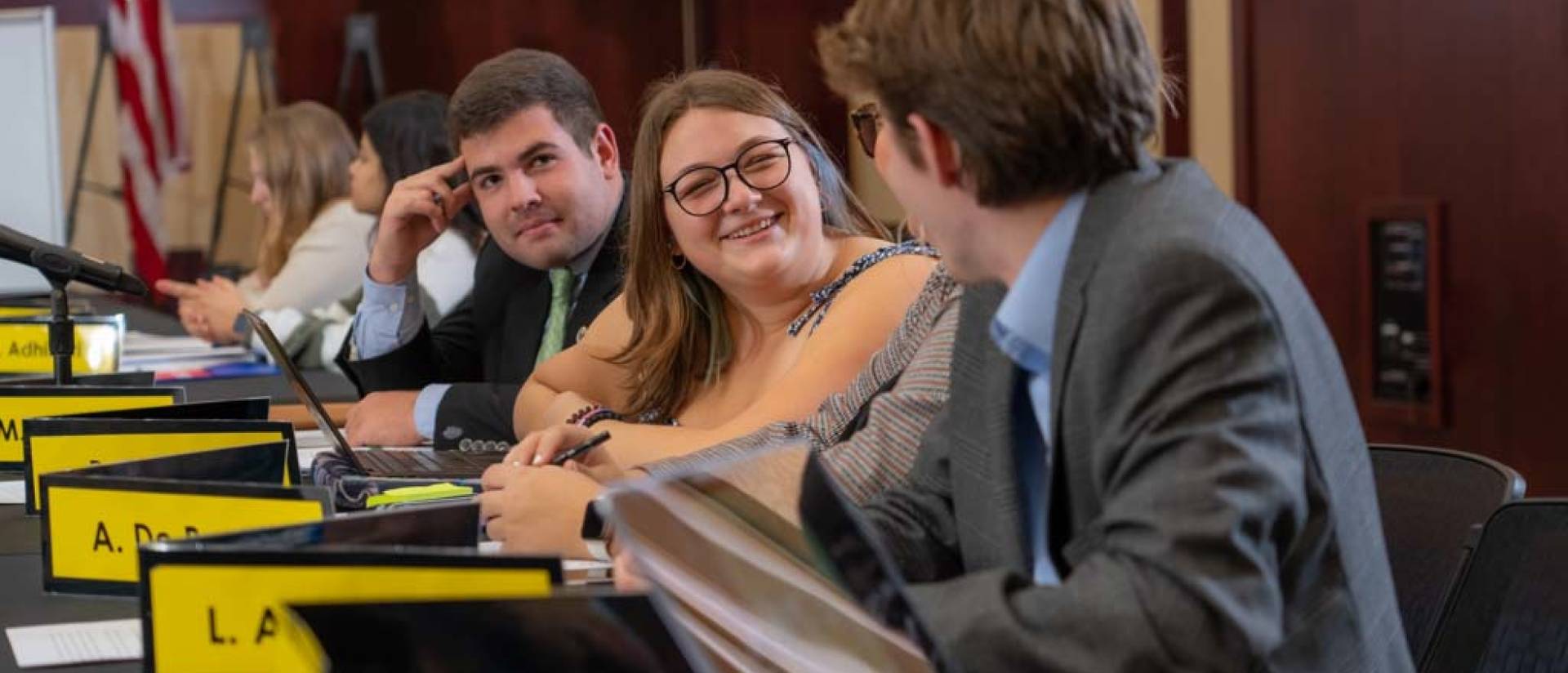 Opportunities are endless, get involved today
Unlock the full potential of your university experience by getting involved with the Student Senate, open and available to any student. Whether you aspire to become a senator, lead as a chair or director, contribute on a commission, or provide insights at meetings—your participation is invaluable.
Discover the Senate in Action
Curious about our operations? Join us at our open general meetings every Monday at 6:00 p.m. in Davies. Experience our discussions firsthand, and if you feel inspired, share your thoughts in the gallery section—your voice matters to us.
Your First Step into Leadership
Venturing into the Student Senate begins at our office. Drop by to chat with our Program Assistant or any Senate member about your interests. We're here to guide you on how to take part and make an impact.
Connect with Commissions
Our commissions are the heartbeat of our initiatives, covering a wide array of interests. For a dynamic start, choose from one of our seven commissions detailed on our commission page. Engaging is simple: reach out to the respective director, express your interest, and inquire about the next meeting.
Events and Services Tailored for You
The Student Senate enriches campus life with a plethora of services and events crafted for you. Enjoy access to unique offerings like Blu the Blugold, Legal Services, and streamlined Online Voter Registration. Immerse yourself in our vibrant event lineup, from concerts and festivals to films and special events. There's something for everyone.
Motivation Mondays: Starting your week off right
The Student Senate wants to support you!
We want to uplift all students at the start of the week! Every Monday, the members of the Student Senate will greet passing students with smiling faces, hot water, hot chocolate packets, music, and candy!
Join us for a fantastic opportunity to learn more about your Student Senators.
Trusted legal advice for students
Occasionally students will be in need of legal advice, which can be not only daunting but also costly. Eau Claire attorney Harry Hertel comes to campus once a week to help students. This program can help students with a very broad range of common student legal needs including traffic issues, small claims, personal injury, landlord disputes, alcohol issues and employer/employee disputes.
A $10.00 first-time fee is charged, with a $5.00 fee for each follow-up appointment concerning the same subject matter. To schedule an appointment stop by the Student Senate Office (220 Davies Center), call 715-836-4646 or e-mail studentlegal@uwec.edu. Appointments are scheduled from 4:30 - 8 p.m.
Fall 2023 Legal Services Dates:
September 5, 19, 25
October 17
November 7, 14, 21, 28
December 5, 12
Local, state and national elections: Voting information
Student Senate is a staunch proponent of getting out the vote among Blugold students--your voice matters and now is the time to build those civic engagement skills and interests.
Whether you're registering to vote at your Eau Claire address or signing up to receive an absentee ballot to vote in your home district, Wisconsin voters must provide proof of residence that includes a picture ID- students can do this by using a valid Wisconsin Driver's License or UWEC voter ID, which can be picked up in the Blugold Card Office in Davies Center, and a tuition fee receipt; students can also generate a proof of residence form in MyCampS.
Visit the University Centers website for more specifics on Wisconsin voting laws and registration information.