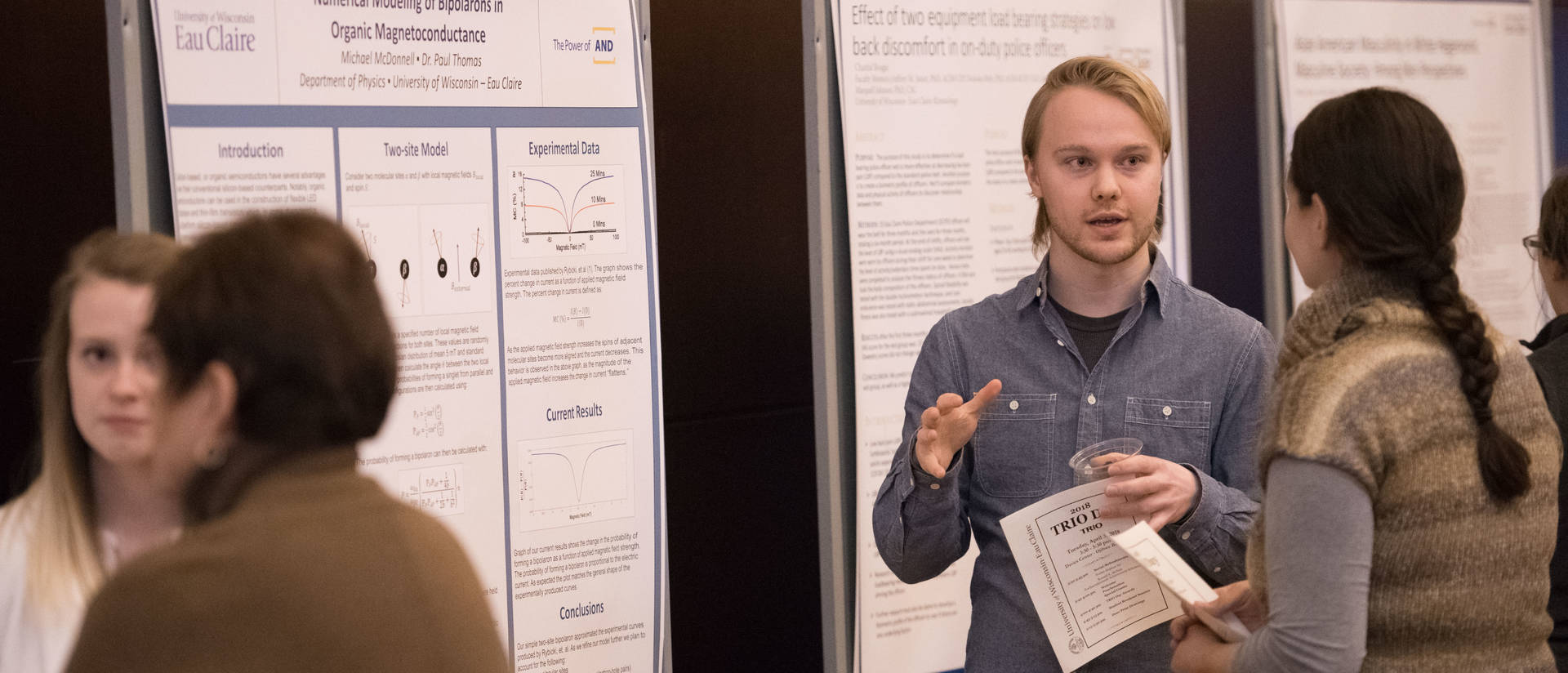 Who can apply and why they should
The TRIO program requirements will lay out the guidelines for who can apply to become a McNair scholar.
In order to be considered for the McNair program, a student needs to meet both Federal TRIO and UW-Eau Claire criteria:
Federal TRIO criteria, scholars must be:
A U.S. Citizen or Permanent Resident
150% below federal government determined poverty line ("low-income") and from a family in which neither parent graduated from a four-year postsecondary educational institution
OR
From groups that are traditionally underrepresented in graduate studies and among doctoral recipients. The federal government defines "underrepresented" to include:
Black (non-Hispanic)
Hispanic
American Indian/Alaskan Native
Native Hawaiians and other Pacific Islanders
UW-Eau Claire criteria, scholars must be:
A UW-Eau Claire student
Have potential and desire to apply for, enter, and pursue a graduate program leading to a research doctorate
Be recommended by a UW-Eau Claire faculty or academic staff member
Have a minimum standing of rising sophomore with a GPA of 2.75 or greater
Take this quiz to find out if you are eligible.
Why become a McNair Scholar? Immediate benefits include:
Receiving intense mentoring in a nurturing and supportive environment
Undertaking collaborative research with UW-Eau Claire faculty members
Receiving all the benefits of the program's personalized services including seminars, Summer Research Institute, workshops, travel funds for conferences and graduate school site visits, GRE preparation, CV services, personal statements, presentation opportunities at professional venues, and networking opportunities
Receiving personalized assistance with graduate school selection and application
Benefitting from application fee waivers available from many graduate schools across the country
Learning about financial aid, fellowships, and grant opportunities
---
Long-term benefits: A McNair Scholar for life
The expected long-term benefits of the McNair program are derived from the program purpose of providing disadvantaged college students with effective preparation for doctoral study. Research provides irrefutable evidence that a doctoral degree bestows monetary and non-monetary benefits that last over a lifetime. These include highest annual median income compared to lower levels of educational attainment, an unemployment rate of close to zero percent, a life-time earnings curve that is much higher than lower levels of educational attainment, and a wide array of research and academic employment possibilities.