Risk Management, Safety and Sustainability provides health and safety training courses to support a culture of safety for the University of Wisconsin–Eau Claire.
---
First Aid/CPR/AED Training
Learn how to recognize and respond to first aid emergencies, choking victims, and adult breathing and cardiac emergencies. UWEC's Risk Management, Safety and Sustainability (RMSS) Department, in collaboration with UWEC Foundation, is providing free Adult First Aid/CPR/AED (automated external defibrillator) certification training to UWEC faculty and staff.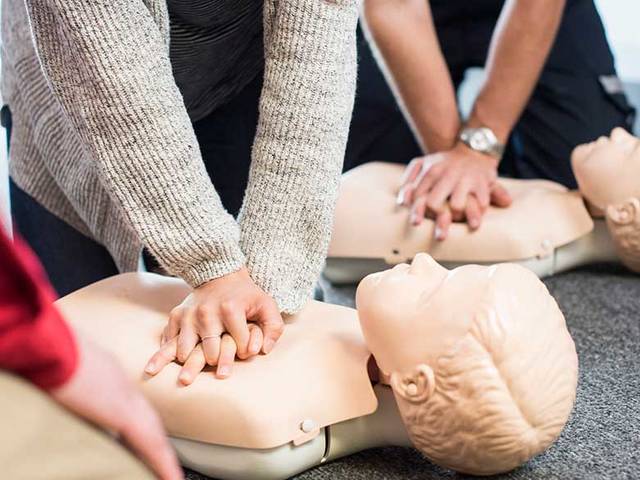 Classes are being offered in a blended learning format, meaning, you will complete interactive online training and then receive two-hours of in-person classroom training to learn and practice critical lifesaving skills for certification. Once you have successfully completed the Adult First Aid/CPR/AED online course, you will have up to 90 days to take the in-person skills session. During this time, you will have access to Red Cross online content so that you can refresh your knowledge before the skills session. After successfully completing a skills session within 90 days, a 2-year, OSHA-compliant Red Cross certification is issued.
Several dates will be available each semester, during which you will practice and demonstrate the skills you learned in your online training. (Online training must be completed prior to the in-person training)
Sign up here to take a class.
12- to 15-Passenger Van Training

Studies conducted by the National Highway Traffic Safety Administration (NHTSA) reveal that loaded 15-passenger vans have significantly higher risk of rollover than passenger cars and light trucks. Driving large vans requires skill and experience from the operator, with little or no margin of error.

UW-Eau Claire, UW-River Falls and UW-Stout jointly would like to announce a new opportunity developed in coordination with Chippewa Valley Technical College (CVTC). 12- to 15-passenger van training courses, offered three times throughout the year, will be available to qualifying university employees. Trainings will consist of classroom and behind-the-wheel instruction from trained CVTC personnel. Registration information for the next available session can be found here: 12/15 Passenger Van Training (11.01.2023). (Please note: You must cancel 5 days prior to the training date, to not be charged)

Costs associated with completing this course are the responsibility of the participant (and/or participant's department). Approximate costs total $85-$150/participant, not including travel expenses. Here is the registration link for the November 1st training.

Please contact safety@uwec.edu with additional questions. 12-15-Passenger-Vans-Safety-Policy.pdf (uwec.edu)
Musculoskeletal Health Training and Prevention

Musculoskeletal disorders (MSD) are injuries or disorders of the muscles, nerves, tendons, joints, cartilage, and spinal discs. According to the US Bureau of Labor Statistics, MSD's are the largest category of workplace injuries and are responsible for almost 30% of all workers compensation costs.

UWEC, in collaboration with Marshfield Clinic Health System, hosted two training sessions for UW-Eau Claire employees in October 2022. Below are a few areas covered during the training.

Examples of MSD

Carpal Tunnel Syndrome, Tendonitis, Muscle/Tendon Strain, Ruptured Disc

What causes MSD's?

Work related factors: Force, Repetition, Posture
Individual factors: Poor work practices, poor fitness levels, poor health habits
Fatigue and Recovery (or lack thereof)

Safe lifting techniques

Stretch before work and throughout the day
Avoid twisting
Wear proper clothing and footwear
Stand close to the object, bend at the knees, and use leg muscles while keeping back straight
Don't: hold your breath, use a partial grip, lift quickly, or pull if you can push
Fire Door Safety and Training

Fire Doors are important because they keep fire or smoke in certain areas and stop fire from spreading throughout the building. Fire doors are an integral part of any building's passive fire protection system.

In collaboration with the Eau Claire Fire Department, UWEC conducted a training for our residence life staff in regards to fire doors and general fire safety. To view this training click here.

Click Fire Door Information to learn more on the importance of fire doors and keeping them closed.