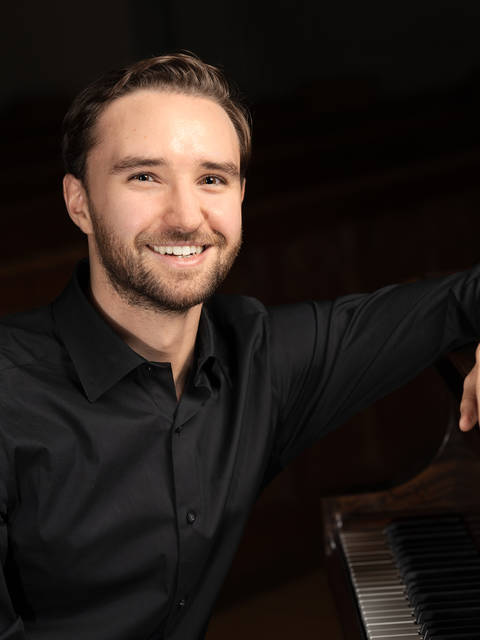 Alexander Woods is a pianist and music teacher living in the Twin Cities, MN. A versatile and collaborative musician, his passions include art song, instrumental & chamber works, choral music, contemporary piano repertoire, and a variety of jazz and popular styles. He strives to maintain an innovative perspective in his performances, seeking out new and old works from diverse genres and composers.
Woods holds positions at the University of Wisconsin-Eau Claire, Borromeo Music Festival, and St. Mary of the Lake Catholic Church, and has performed in Switzerland, Italy, and throughout the United States. As a freelance accompanist and vocal coach in the greater Twin Cities, he has worked at the University of Minnesota, Gustavus Adolphus College, and for several competitions, churches, and choral ensembles. Woods is also an active keyboardist in the Twin Cities pop music scene, having performed and recorded with bands in a variety of genres.​​
Woods completed his master's degree in Collaborative Piano at the University of Minnesota, earning the Rydell Fellowship in Accompanying & Coaching. He also holds bachelor's degrees in Music and Religious Studies from Pomona College, where he received the McCord Memorial Grant to fund summer music study at several festivals. His primary teachers include Timothy Lovelace, Lydia Artymiw, Genevieve Lee, and Ming Tsu.
---
Teaching Interests
MUSI 106 Class Piano
MUSI 108 Advanced Class Piano
MUSI 151/351 Applied Piano
Honors Colloquium - Women Composers in Society
Performing Interests:
Art Song
Contemporary Music
Chamber Music
Jazz, Musical Theatre, and Pop Styles
Academic Interests:
Music Theory & Composition
Music and Religion
Education
M.M. Collaborative Piano & Coaching, University of Minnesota
B.A. Music, Pomona College
B.A. Religious Studies, Pomona College