Dr. Nicolas Wheeler, PhD (he/him/his)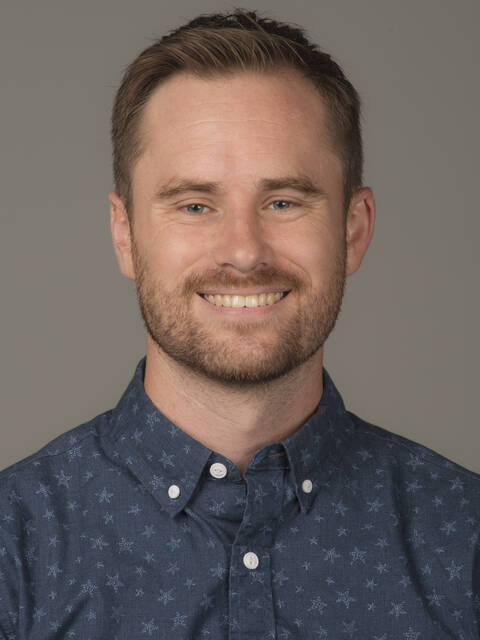 ---
Teaching Interests
Parasitology
Infectious diseases
Bioinformatics
Cell and molecular biology
Research and Creative Activities
Investigating the sensory processes and behaviors utilized by parasites to find their obligate hosts
Developing technology and software to analyze parasite behaviors
Wildlife parasitology (collaboration with Dr. Jennifer E. Smith)
Swimmer's itch surveillance and control
Education
Ph.D., Genetics & Genomics, Iowa State University
B.S., Oxbridge Honors Molecular Biology, William Jewell College
Published Research
UWEC Publications
‡ Corresponding author(s) † Co-senior authors § Equal contribution
5. LR Nunn, TD Juang, DJ Beebe, NJ Wheeler‡†, M Zamanian†. A high-throughput sensory assay for parasitic and free-living nematodes.
Integrative Biology 2023.
4. EG Rehborg§, NJ Wheeler§, M Zamanian‡. Mapping resistance-associated anthelmintic interactions in the model nematode Caenorhabditis elegans.
bioRxiv (In revisions at PLOS NTD) 2023.
3. NJ Wheeler, KT Ryan, KJ Gallo, CR Henthorn, SS Erickson, JD Chan, M Zamanian‡. Multivariate chemogenomic screening prioritizes new macrofilaricidal leads.
Communications Biology 2023.
2. KT Ryan, NJ Wheeler, IK Kamara, H Johnson, JE Humphries, M Zamanian, JD Chan‡. Phenotypic profiling of macrocyclic lactones on parasitic Schistosoma flatworms.
Antimicrobial Agents and Chemotherapy 2023.
1. IK Kamara, JT Thao, K Kaur, NJ Wheeler, JD Chan‡. Annotation of g-protein coupled receptors in the genomes of parasitic blood flukes.
microPublication Biology 2023.
Honors and Recognitions
UWEC ORSP Celebration of Scholarship nominee
Professional Memberships
American Society of Parasitologists
Previous Professional Experience
NIH NIAID NRSA post-doctoral fellowship - University of Wisconsin-Madison
Merck KGaA Global Health post-doctoral fellowship - University of Wisconsin-Madison