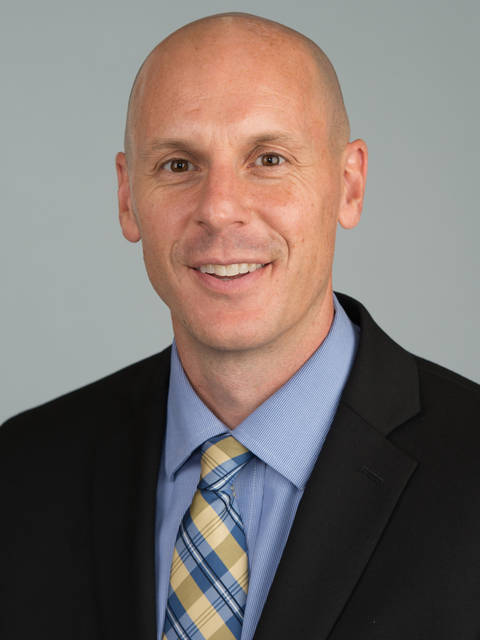 Chip Schneider enters his 17th season as head coach for Men's Indoor and Outdoor Track and Field (13th season for Women's) in 2018-2019 for the University of Wisconsin-Eau Claire. Schneider also serves as Director of Cross Country.
In 2015 and 2016, Schneider was named the U.S. Track & Field and Cross Country Coaches Association (USTFCCCA) NCAA Division III Indoor Coach of the Year. In 2008, he earned WIAC Coach of the Year honor for women's indoor and outdoor, and he added an outdoor recognition in 2017.
The Blugolds have been successful at the national level for Schneider, finishing in the top-ten, 20 times. The men's two national indoor titles (2015 and 2016) were preceded by a second place finish in 2014, third in 2013, and second in 2012. The outdoor team placed second in 2013, 2015, and 2016 and fifth in 2017. The women's indoor team finished second in 2015, third in 2007, and seventh in 2009; the outdoor team finished fourth in 2009, second in 2013, ninth in 2014, and tenth in 2017.
Under Schneider, the Blugolds have found great success. He has coached 133 individual All-Americans, 34 All-American relay teams, 109 Conference Championship titles, and had 111 school records broken.
Before coming to UW-Eau Claire, Schneider was a graduate assistant coach at UW-La Crosse. He coached hurdles, long jump, triple jump, and sprints for the 2002 men's indoor and outdoor NCAA Division III National Champions.
He coached for two seasons at UW-Platteville, once in 1995-1996 and again in 1999-2001 for sprints, hurdles, and all jumps. Schneider was a lead instructor at the University of Wisconsin Learn-By-Doing Camp between 2007-2009 in hurdles and sprints.
Schneider earned his bachelor's degree at UW-Platteville in 1995. He was the national champion in the long jump and in the 400-meter hurdles, eight-time individual All-American, four-time UW-Platteville track and field most valuable athlete, and three-time captain. In 1994, he was named the UW-Platteville Student Athlete of the Year and led his team to Conference Outdoor Champions that year. He also earned Wisconsin State University Conference (WSUC) Academic All-Conference honors.
He is married to Joanna and has one son, Drake.
---