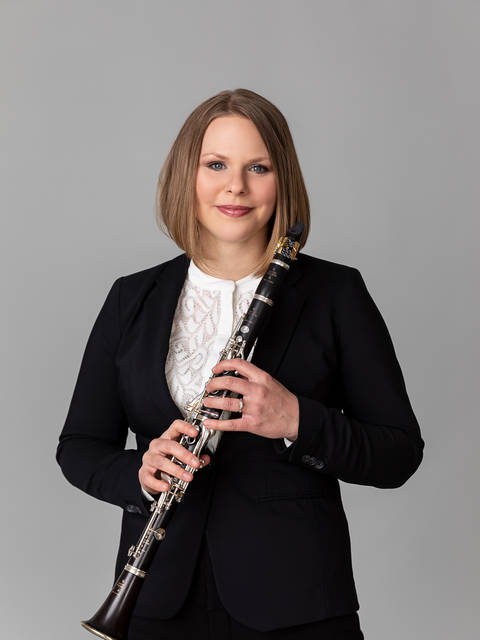 Dr. Alyssa Powell, Assistant Professor of Music, recently joined the faculty at University of Wisconsin-Eau Claire to teach clarinet and chamber music. She is a passionate performer and dedicated educator with a growing reputation for her research in clarinet pedagogy. She has presented on her unique comparisons of clarinet and voice technique at the International Clarinet Association ClarinetFest in 2019 and 2021. An avid chamber musician, Dr. Powell has performed recently at the Corsi Internazionali di Perfezionamento Musicale in Cividale del Friuli, Italy, with bassist Barry Green in Anna's Gift, as a faculty bass clarinet soloist with the Adams State Percussion Ensemble in Malachite Glass, and for the world premiere of Life, Love and Timelessness for tenor, clarinet and piano by Persis Vehar at the Professional Music Teachers of New Mexico conference. She currently has a new commissioning project in the works for clarinet and soprano. Dr. Powell has performed with orchestras in Montana, New Mexico, Colorado, and Ohio including the New Mexico Philharmonic, Santa Fe Symphony, Performance Santa Fe, San Juan Symphony Orchestra, Westerville Symphony, Central Ohio Symphony, and Missoula Symphony Orchestra.
Prior to joining the faculty at UW- Eau Claire, Dr. Powell taught woodwinds at Adams State University in Alamosa, Colorado as well as elementary and middle school music in Albuquerque, New Mexico. Dr. Powell holds a DMA from The Ohio State University where she was a University Fellow and graduate teaching associate; a MM at The University of New Mexico where she was a graduate teaching assistant; and a BM and BA at The University of Montana where she studied clarinet and voice. She was a concerto competition winner at all three alma maters. Her teachers include Caroline Hartig, Keith Lemmons, Christopher Kirkpatrick, Maxine Ramey, and singer Kimberly Gratland James.
When Dr. Powell is not teaching or performing, she can be found outside enjoying nature with her family.
---