Dr. Crispin Pierce, M.Sc, Ph.D. (he/him)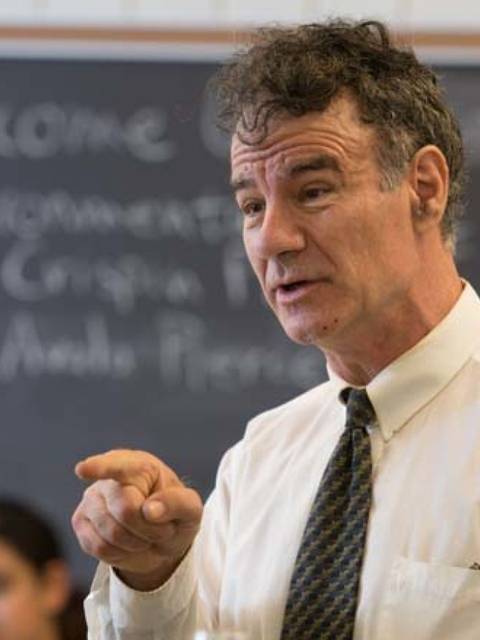 Dr. Pierce earned his undergraduate degree in Biology from the University of California-Santa Cruz before continuing on to earn his M.S. in Bioenvironmental Studies from California State University at Hayward and his Ph.D. in Pharmaceutical Chemistry (emphasis toxicology) from the University of California-San Francisco. He completed a postdoctoral fellowship in toxicology at the University of Washington in Seattle.

Dr. Pierce came to UW-Eau Claire in 2003 and holds the position of Associate Professor of the Environmental Public Health program. Previously, he worked as a lecturer and research scientist in Washington and as a toxicologist in California. Dr. Pierce teaches classes including Introduction to Environmental Health, Water and Wastewater, Solid and Hazardous Waste Management, and Environmental Toxicology and Risk Assessment.

The focus of Dr. Pierce's teaching and research is environmental and public health and developing environmental health competencies for future public health professionals. Research focus includes measurement of airborne fine particulates and silica around frac sand plants in Wisconsin and measurement of heavy metals in human hair as predictors of disease, for which he was recognized as a Fulbright Scholar to Finland.

He is the author of 25 peer-reviewed publications and his invitational presentations include "Identifying Home Environment Hazards" and "Health Consequences of Energy Choices." He received the 2023 UWEC CAS Career Excellence in Teaching Award and serves as a National Environmental Health Association Technical Advisor.

Active in the community, Dr. Pierce served on the City of Eau Claire Advisory Committee on Sustainability and Earth Day Celebration Planning Committee.
---
Research and Creative Activities
Featured news stories on ventilation testing to reduce COVID transmission:
https://www.tmj4.com/news/national-politics/the-race/college-students-test-air-ventilation-on-campus-to-ensure-a-safe-return-to-school
https://www.wqow.com/archive/uwec-professors-and-students-examine-ventilation-rates-in-classrooms/article_54ada2d1-5d99-5f84-a6bd-5135eebc0d1e.html
https://www.leadertelegram.com/covid-19/uw-ec-students-profs-test-classroom-ventilation-before-semester-starts/article_d49db4ec-8fe0-5b43-8c29-4725c5630dd0.html
https://www.denver7.com/news/national-politics/the-race/students-teaching-young-children-to-build-air-filters-to-stop-covid-19
Featured news stories on COVID monitoring in wastewater:
https://www.leadertelegram.com/covid-19/wastewater-offers-another-way-to-track-covid-19-in-eau-claire/article_c95cb63c-b689-5e1f-8204-0fab23b898ba.html
https://www.spectatornews.com/campus-news/2022/02/covid-on-campus-40/
Professional Memberships
Wisconsin Environmental Health Association
National Environmental Health Association