Tess Onwueme, Ph.D. Emeritus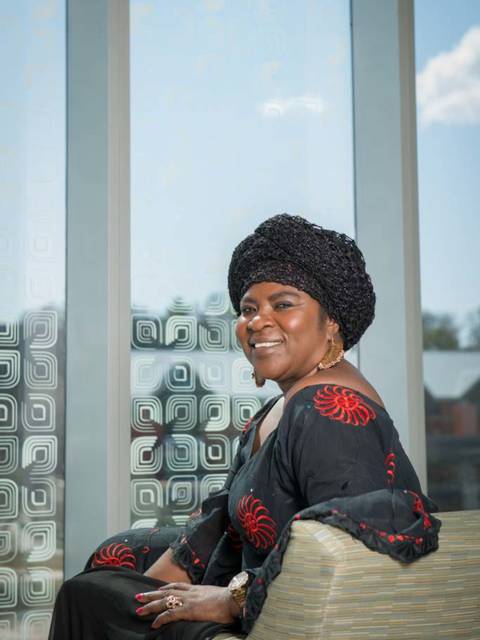 Nigerian-born playwright and Nobel Prize in Literature nominee for 2016, Tess Onwueme rose to prominence writing plays about social justice, women, culture and the environment. In 2010, she became the eminent Professor of Global Letters at University of Wisconsin- Eau Claire.
She has won several international awards, including the Fonlon-Nichols award, the Phillis Wheatley/Nwapa award for outstanding black writers, the Martin Luther King, Jr./Caeser Chavez Distinguished Writers Award, the Distinguished Authors Award, and the Association of Nigerian Authors Drama Prize which she has won for her plays The Desert Encroaches (1985), Tell It To Women (1995), Then She Said It (2003) and Shakara: Dance-Hall Queen (2006). Among her other award-winning works are: The Missing Face (2002); No Vacancy (2005); Legacies (1989); The Broken Calabash (1984); The Reign of Wazobia (1989; 2014); Why the Elephant Has No Butt (2000); and What Mama Said (2004).
In 2007 she was appointed to the US State Department Public Diplomacy Speaker/Specialist Program for India. The mother of five children whose lifework
is officially housed in the UW System Archives following the 2014 Declaration of a Proclamation in her honor by the Wisconsin State Senate, Dr. Onwueme is highly celebrated as a groundbreaking pioneer female dramatist acclaimed by notable international writers and scholars.
---
Teaching Interests
African
Diasporan
Cultural
Postcolonial
Women's studies
Emphasis on the experience and conditions of rural women in the postcolonial, globalized Third Worlds
Education
Ph.D., University of Benin, Nigeria (English - specializing in African Drama)
M.A., University of Ife, Nigeria (Literature)
B.A., University of Ife, Nigeria (Education English) - Honors *Received Faculty Prize for Overall Best Performance in the BA/BSC degree programs
Certification
W.A.S.C. (West African School Certificate/High School Diploma), Grade One/Distinction, Mary Mount College, Agbor, Bendel/Delta State, Nigeria