Jessica Sertling Miller, Ph.D. (she/her/elle/la)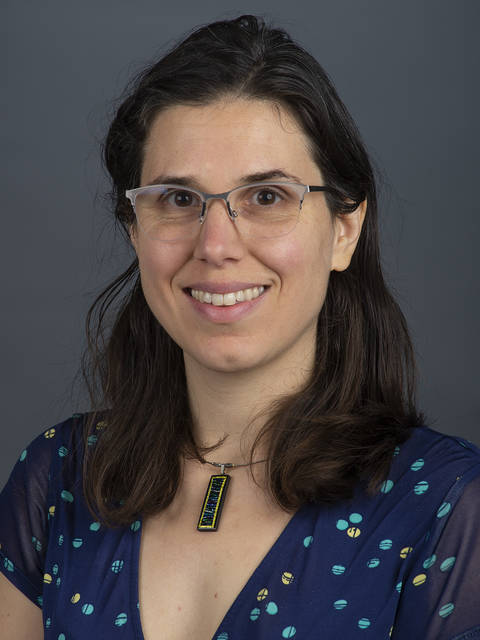 Jessica Sertling Miller has been teaching all levels of French at the University of Wisconsin-Eau Claire since 2006 and has been a certified ACTFL OPI Tester since 2015. She received the Wisconsin-AATF Award of Recognition for professional dedication in 2016. Under her leadership, the UW-Eau Claire French section has been recognized twice as a National AATF Exemplary Program (2017 & 2020). Her professional interests include second language acquisition, phonetics, and oral proficiency.
---
Teaching Interests
ACADEMIC INTEGRITY & EQUITABLE COURSE DESIGN
Equitable instructional course design is hypothesized to encourage academic integrity by facilitating access to learning material, clarifying criteria for success, and helping learners understand the life-long benefits of working through difficulties. Those are the research topics I am exploring during my sabbatical leave.
PROFICIENCY THROUGH COMMUNICATIVE SUCCESS
I teach proficiency-oriented language classes. We focus on communicative success: learners' language does not have to be perfect in order to be understood. Class, including evaluations, is designed to help learners speak their best French.
Here are the main characteristics of a proficiency-oriented language class:
French is used as much as possible by everyone.
Communication matters more than grammatical accuracy.
All modes of communication receive equal attention.
Errors are valuable learning tools.
Risk-taking and leaving your comfort zone help you learn

FLIPPED LEARNING
In a traditional teaching model, students attend a lecture in class and complete related assignments at home. In a flipped learning model, students explore new materials at home prior to class to gain foundational knowledge that is then actively applied collaboratively with classmates and teachers in the classroom. Research shows that flipped learning has positive effects on learners, including in second language courses. This course follows principles of flipped learning, which means that you will study new vocabulary, grammar, and pronunciation concepts at home, and we will practice those concepts in class.
Brewer R., Movahedazarhouligh S. (2018) "Successful stories and conflicts: A literature review on the effectiveness of flipped learning in higher education". Journal of Computer Assisted Learning, 34, 409–416. doi:10.1111/ jcal.12250
Tonkin, K., Page, S., & Forsey, M. (2019). "Managing cognitive load with a flipped language class: An ethnographic study of the student experience". Foreign Language Annals, 52(3), 551-575. doi:10.1111/flan.12412
Responsibilities
Head of French Section
French Faculty Adviser
Research and Creative Activities
Academic Integrity
Open Educational Resources
Second language acquisition
Phonetics
Proficiency development
Scholarship of Teaching and Learning
Education
Ph.D. in French linguistics (University of Illinois at Urbana-Champaign, 2007)

Dissertation title: Swiss French Prosody: Intonational Features in the Vaud Canton.

M.A. in French literature (St. Louis University, December 2001).

Thesis: Pascal Quignard et Marguerite Duras : la musique dans tous ses états.

M.A. (Maîtrise) in English linguistics, mention bien. (Université Marc-Bloch, Strasbourg, France, June 2001).

Thesis: The Social Function of Anglicism in France.
Certification
Certified oral proficiency interview (OPI) rater/tester in French
Published Research
Miller, J. S. (2021). Diversifying the Curriculum: From Structural Changes to Classroom Lessons. In N. Meyer and E. Hoft-March (Eds). Teaching Diversity and Inclusion: Examples from a French-Speaking Classroom. Routledge.

Miller, J. S. (2021). "Academic Integrity by Design: Universal Solutions for Face-to-Face, Remote and Online French Classes". The French Review, 94(3).

Miller, J. S. (2019). "Bienvenue à Marly-Gomont". Allons au cinéma: Promoting French through film, Volume 3, handbook published by the AATF (American Association of Teachers of French), 179-186.

Miller, J. S. & Lindseth M. (2019). "Taking Ownership: Making Program Assessment Doable, Sustainable, and Rewarding". The Language Educator, 14(2), 40-43.

Miller, J. S. (2018). Bridging the gap between pronunciation research and proficiency-based teaching. In J. Levis (Ed). Proceedings of the 9th Pronunciation in Second Language Learning and Teaching Conference (ISSN 2380-9566), Salt Lake City, UT (pp. 111-119). Ames, IA: Iowa State University.
Honors and Recognitions
AATF National Exemplary Program with Honors (2017 & 2020)
Award of Recognition sponsored by the Wisconsin Chapter of the American Association of Teachers of French for professional dedication (2016)
ACTFL Global Engagement Initiative Award for the course "Cajun Watershed & Intercultural Immersion Program" (2015)
Certified oral proficiency interview tester (since 2015)
Professional Memberships
American Council for the Teaching of Foreign Languages (ACTFL)
American Association of Teachers of French (AATF)