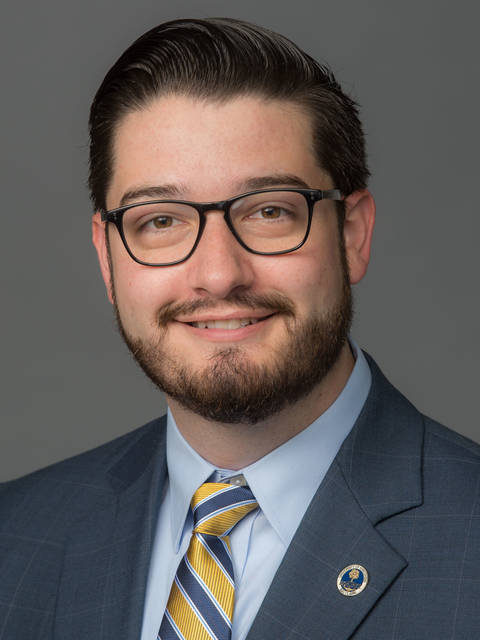 Jake Wrasse joined UW-Eau Claire in 2018 on a two-year project appointment as a government and community relations specialist. He was hired by a search and screen committee, which included community representation, for the permanent legislative and community relations liaison appointment in June of 2020.
Wrasse serves as the university's state agency liaison, who represents UWEC and UWEC-BC in the state capitol, and he assists in developing and executing university relations campaigns. Key campaigns have related to replacing Phillips Hall with a new Science and Health Sciences Building, raising public awareness of the County Materials Complex public-private partnership, and promoting COVID-19 public health efforts on campus and throughout the Chippewa Valley.
A 2016 UWEC graduate, Wrasse competed for the Blugold forensics speech team and was elected to the Student Senate, where he held roles including senator, intergovernmental affairs director, vice president, and student body president. He was appointed to the Curriculum Rapid Action Task Force formed in response to 2015 state budget cuts around the same time he led student advocacy efforts that secured state funding and passed referenda for "The Confluence Project," the public-private partnership that led to the construction of Pablo Center at the Confluence.
---
Responsibilities
In consultation with the chancellor, senior administrators, Integrated Marketing and Communications, and the UW-Eau Claire Foundation, the legislative and community relations liaison directs the planning and execution of a comprehensive, proactive government and community affairs strategy that advances the University's mission and goals with local, county, state, and federal elected officials. They are a strategic communication advisor to the chancellor, senior university administrators, and the foundation, tasked with preserving and enhancing the university's relationships with internal and external publics.
The liaison is a resource for students, faculty, staff and shared governance representatives with questions related to external relations, university policies, and government affairs.
Education
MA, Communication & Advocacy: Strategic Communication
James Madison University, '18
BA, Communication Studies: Rhetoric and Public Culture
University of Wisconsin-Eau Claire, '16
Published Research
Publications:
Wrasse, J. W. (2020, March). Looking for hope within a crisis. Volume One, 1(407). https://volumeone.org/articles/2020/03/25/209345-looking-for-hope-within-a-crisis
Wrasse, J. W. (2019, December). 5 tips for a healthier, happier winter. Volume One, 1(400). https://volumeone.org/articles/2019/12/27/209144-5-tips-for-a-healthier-happier-winter
Wrasse, J. W. (2018). The confirmation of Betsy DeVos: Polarization, populism, and moral foundations in U.S. political rhetoric. Retrieved from JMU Scholarly Commons: Masters Theses. (566)
Wrasse, J. W., Schill, D., & Kirk, R. (2018). Meeting the commander-in- waiting: Undecided voters and the 2016 vice-presidential debate. Argumentation and Advocacy, 54(1-2), 139-158. doi:10.1080/00028533.2018.1446871
Wrasse, J. W. (2017, September). NO FEDERAL FUNDS? President Trump's rhetorical intervention at UC-Berkeley. Paper presented at the meeting of the Carolinas Communication Association, Clemson, SC.
Professional Memberships
The legislative and community relations liaison represents UW-Eau Claire to numerous off-campus entities. Currently, Wrasse serves on four boards of directors and several committees in the Eau Claire area.
Board of Directors:
Eau Claire Jazz, Inc.
Visit Eau Claire
Downtown Eau Claire, Inc.
UW-Eau Claire Alumni Association
Member:
Chippewa-St. Croix Passenger Rail Commission, 2022-present
Governmental Affairs Committee, Eau Claire Area Chamber of Commerce, 2018-present
Putnam Park Commission, 2020-present
Organizing Committee, West Central Wisconsin Rail Coalition, 2020-present
Leadership Council, National Conference on Undergraduate Research 2023, 2020-23
Wintermission Eau Claire grant steering team, 2018-20
Marketing Committee, 1st Hmong Entrepreneurship, Research, and Equity (HERE) Conference, 2021-22