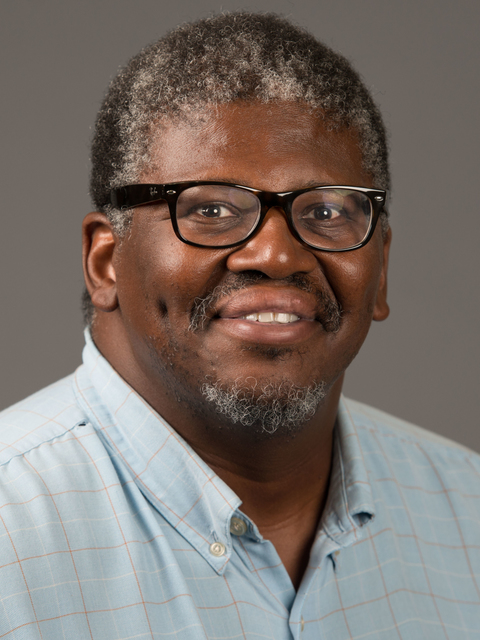 I am a Professor of English and Honors Education at the University of Wisconsin at Eau Claire. I also serve as the Director of Graduate Studies for the English Department at UWEC. In the past, I have had leadership roles for the UWEC Honors Program, the Liberal Studies Program, and several diversity initiatives. It is a lifelong goal to help improve how public institutions serve our whole communities equitably.

As a professor, my primary field is African American literature. My faculty peers in English would probably describe my approach to teaching as "New Historicism" or "Cultural Studies." For me, historical and cultural contexts are just as important as literary expression, and in a typical class of mine, nonfiction readings supplement works of poetry, fiction, and drama. Some of the courses I teach have conventional titles such as "Making Sense of the Movies," "Survey of American Literature," etc., but you can get a stronger sense of my teaching interests from more specialized courses I have taught:
Black Feminism in the Humanities
Sexism in the 60s
American Childhood and the Culture Wars
Fordism and the Great Depression
Analytical Thinking about Social Issues
Rock and Roll and the American Experience (1950s/1960s/1970s)
Whenever I get the chance to write for publication, I greatly enjoy the opportunity. My publications tend to examine U.S. cultural history in relation to social movements, group identities, and popular trends in literature, film, and public politics. Recently, I've published a book chapter on the film 12 Years a Slave (published in 2014 in the collection, Movies in the Age of Obama) and a book chapter in 2016 on strategies for improving diversity and equity in Honors programs. Going further back, there are two book projects that I am proud to have completed: a book on the Black Arts Movement (A New Breed of Black Consciousness) and a collection of essays that I co-edited with Dr. JoAnne Juett (Coming Out to the Mainstream: New Queer Cinema in the 21st Century).

I am also a professional musician (a vocalist, guitarist, and songwriter) who performs under the names Davey J & Friends and Davey J and the Jones Tones. Music is definitely a passion, as I have published five original music CDs with my own independent label, B Major Productions (the most recent CD is called Chippewa Love). In music industry language, our style would probably be "Americana" or "Roots," but there are elements of rock, blues, reggae, indie, folk, and even jazz in my music. You can hear some of my music and see my live show calendar at www.chippewalove.com.

In my past creative work, I also produced and hosted two radio programs on popular music and Wisconsin culture for Wisconsin Public Radio: Jazz, Blues, and Beyond and Wisconsin Wealth. I really enjoy maintaining a flexible and relevant range of academic interests, and I'm so thankful that innovation is welcome in our English Department!
---
Teaching Interests
African American Literature
American Literature and U.S. Cultural Studies
History of US Popular Music
Inclusive Excellence and Honors Education
Critical Race Studies
Responsibilities
Director of Graduate Studies, Department of English
UWEC EDI Implementation Team — Co-Chair
Interim Director, Liberal Studies Program
Faculty Instructor, University Honors Program
Research and Creative Activities
History and Legacy of the Black Arts Movement
Race, Ethnicity, and Media Representation
Integrative Studies in Human Identity
American Literature and Culture of the 1950s
Education
Ph.D., University of Minnesota (English Literature)
M.A., University of Nevada-Las Vegas (English, Composition Emphasis)
B.A., University of Iowa (English Education)
Certification
Certified Trainer, 7 Habits for Highly Effective People (Franklin-Covey)