Stacey Jackson, Ph.D. (she/her/hers)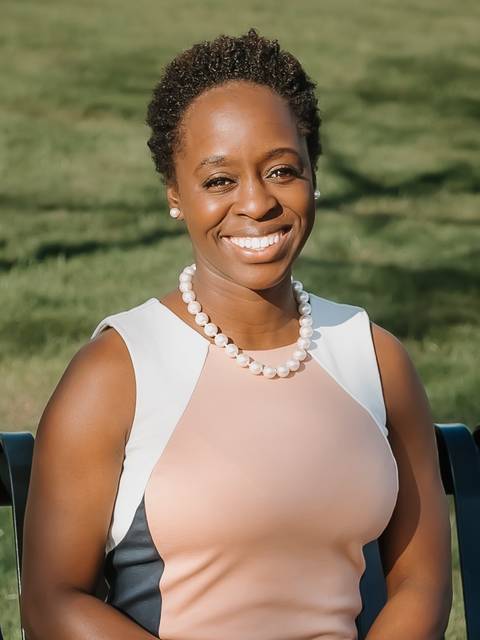 Dr. Stacey Jackson is an Associate Professor of Psychology. She also serves as a Clinician at the University Counseling Center where she sees students for individual, couples, group, and crisis counseling, along with providing psychoeducation and outreach services. Dr. Jackson serves on several committees on campus, within the Eau Claire community, and within her field devoted to Equity, Diversity and Inclusion efforts.
Pronouns: She, her, hers
---
Teaching Interests
Abnormal Psychology
Black Psychology
Counseling I
Introduction to Psychology
Multicultural Counseling
Theories of Counseling
Research and Creative Activities
Dr. Jackson's research is heavily geared toward the mental health and well-being of diverse and often marginalized students. She is the faculty advisor of the M.I.S.T: Marginalized Identity Status and Trauma Research lab in which she advises and mentors students engaged in research examining various predictors of mental health and academic outcomes in this student population. The goal of Dr. Jackson's research program is the social justice and empowerment of diverse collegians. For more information regarding Dr. Jacksons research lab visit the lab website at: M.I.S.T Research Lab
Dr. Jackson also has received multiple grants from the Mayo Clinic-UW-Eau Claire Research and Innovation Council for her on-going research regarding collegiate athlete mental health.
Other area of research interest:
-African American mental health outcomes
-The intersection of race and criminal justice
-Athlete mental health
-Psychosocial factors that impact mental health outcomes
-Allyship and racial advocacy
-Transracial adoption
-Africa and the African diaspora
Education
Ph.D., The University of Texas at Austin (Educational Psychology- Counseling Psychology)
M.A., The University of Texas at Austin (African and African Diaspora Studies)
M.S., Florida A &M University (Community Psychology with a specialization in Black Psychology)
B.A., South Carolina State University (Psychology)
Published Research
Awosogba, O. O. R., Jackson, S. M., Onwong'a, J. R., Cokley, K. O., Holman, A., & McClain, S. E. (2023). Contributions of African-centered (Africentric) psychology: A call for inclusion in APA-accredited graduate psychology program curriculum.American Psychologist, 78(4), 457–468.
Stone,S., Saucer, C., Bailey, M., Garba,R., Hurst, A., Jackson, S., Krueger, N., & Cokley, K. (2018) Learning while Black; A culturally informed model of the imposter phenomenon for Black graduate students. Journal of Black Psychology, 1-41.
Chapman-Hilliard, C., McClain, S., Sherry, A., Broyles, S., & Jackson, S.( 2018). Writing for an N of 1: Cultural Competence in Personality Assessment Report Writing. In S. R. Smith & R. Krishnamurthy (Eds.). Diversity-Sensitive Personality Assessment. New York: Routledge.
Cokley, K., Smith, L., Bernard, D., Hurst, A., Jackson, S., Stone, S., Awosogba, O., Saucer, C., Bailey, M., & Roberts, D. (2017). Impostor feelings as a moderator and mediator of the relationship between perceived discrimination and mental health among racial/ethnic minority college students. Journal of Counseling Psychology, 64(2), 141.
McClain, S., Beasley, S. T., Jones, B., Awosogba, O., Jackson, S., & Cokley, K. (2016). An Examination of the Impact of Racial and Ethnic Identity, Impostor Feelings, and Minority Status Stress on the Mental Health of Black College Students. Journal of Multicultural Counseling and Development, 44(2), 101-117.
Cokley, K., Awad, G., Smith, L., Jackson, S., Awosogba, O., Hurst, A., Stone, S., Blondeau, L., & Roberts, D. (2015). The Roles of Gender Stigma Consciousness, Impostor Phenomenon and Academic Self-Concept in the Academic Outcomes of Women and Men. Sex Roles, 73, 414-426.
Cokley, K., Cody, B., Smith,L., Beasley,S., Miller, I.S.K., Hurst, A., Awosogba, O., Stone, S., and Jackson, S. (2014). Bridge over troubled waters: Meeting the mental health needs of black students. Phi Delta Kappan, 96: 40-45.
Smith, L.V., and Jackson, S. (2014). Overview of Black Achievement: Current Trends at all Levels of the Education Trajectory. Texas Education Review, (2), 191-202.
Honors and Recognitions
University of Wisconsin System Administration 2022 Outstanding Women of Color in Education Award 2022
UNIVERSITY OF WISCONSIN- EAU CLAIRE CENTER FOR TEACHING EDUCATION AND LEARNING EQUITY DIVERSITY AND INCLUSION CERTIFICATE 2022
UW SYSTEM BOARD OF REGENTS DIVERSITY AWARD- UWEC COUNSELING SERVICES 2021
Professional Memberships
The American Psychological Association
The Association of Black Psychologists