Jerry K. Hoepner, Ph.D., CCC-SLP, ASHA Fellow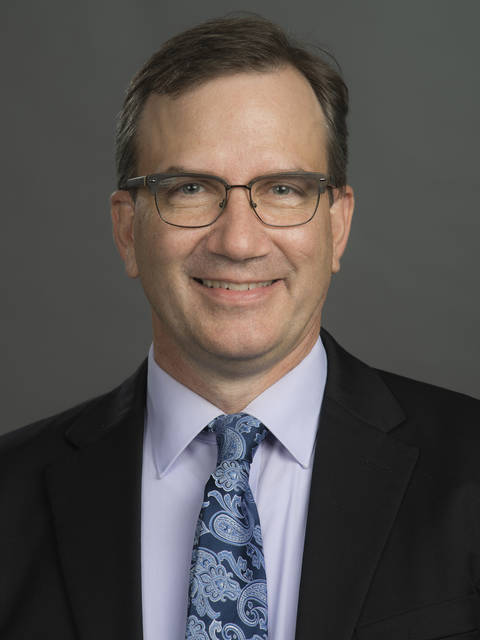 Dr. Jerry Hoepner is a Professor at the University of Wisconsin - Eau Claire, Department of Communication Sciences and Disorders. He began teaching for UWEC CSD in 2003. He teaches courses in anatomy and physiology, undergraduate research, acquired cognitive disorders, dysphagia, and counseling. His research addresses healthcare perceptions, video self-modeling interventions for persons with acquired language or cognitive disorders, counseling methods and training, undergraduate research, non-course based learning, and instructional pedagogies. He is a founding editor of Teaching and Learning in Communication Sciences and Disorders (TLCSD) and editorial board member for Clinical Archives of Communication Disorders (CACD). He is an Aphasia Access affiliate and interviewer for the Aphasia Access Conversations Podcast series. He is a co-founder of the UWEC CSD SoTL Lab (scholarship of teaching and learning research). He continues to have a regular role in clinical contexts and supervision. He is a co-founder of the Chippewa Valley Aphasia Camp, co-founder of the Mayo Brain Injury Group, and founder of the Blugold Brain Injury Group. He also co-facilitates a Thursday Poetry Group for people with brain injuries and aphasia. Outside of work, Jerry is an avid outdoors person and enjoys traveling/spending time with his family.
Dr. Hoepner is passionate about teaching and mentoring. He was the 2020 recipient of the University of Wisconsin Systems Regent's Teaching Excellence award and the 2018 University of Wisconsin - Eau Claire, Excellence in Mentoring in Research, Scholarship and Creative Activity award recipient. He has mentored countless undergraduate, student-faculty collaborative research projects as well as numerous graduate theses and doctoral dissertation committees. In 2021, he was honored as an American Speech-Language Hearing Association (ASHA) Fellow for his contributions to the field in clinical service, teaching, and research.
---
Teaching Interests
Counseling in speech-language pathology
Acquired Cognitive Disorders
Neurological Aspects of Communication and Cognition
Anatomy and Physiology of the Speech and Hearing Mechanism
Dysphagia
Undergraduate research
Responsibilities
Co-advisor of the UWEC CSD SoTL research lab
Student-faculty research advisor
Clinical supervisor at the UWEC Center for Communication Disorders
Clinical supervision of the Blugold Traumatic Brain Injury Group, BIAW 3rd Thursday Brain Injury Group, and Thursday Poetry Group
Collaborator and clinical supervisor for the Mayo Brain Injury Group
Co-facilitator of the Chippewa Valley Aphasia Camp
UWEC CSD Pro-Sem Co-Coordinator
Research and Creative Activities
Counseling and motivational interviewing in speech-language pathology
Healthcare perceptions of individuals with chronic traumatic brain injuries
Partner training and assessments for persons with acquired cognitive-communication disorders and their partners
Video self-modeling interventions for individuals with acquired cognitive-communication disorders and their partners
Scholarship of Teaching and Learning (SoTL) - evidence-based instructional techniques
Examining non-traditional student learning experiences (e.g., camp immersion, embedded clinical experiences, teaching apprenticeships, and student research)
Education
Ph.D., University of Wisconsin - Madison (Communication Sciences and Disorders)
M.S., University of Wisconsin - Eau Claire (Communication Sciences and Disorders)
B.S., Minnesota State University - Mankato (Psychology)
Certification
American Speech-Language-Hearing Association Certificate of Clinical Competence (CCC-SLP)
Wisconsin State Licensure