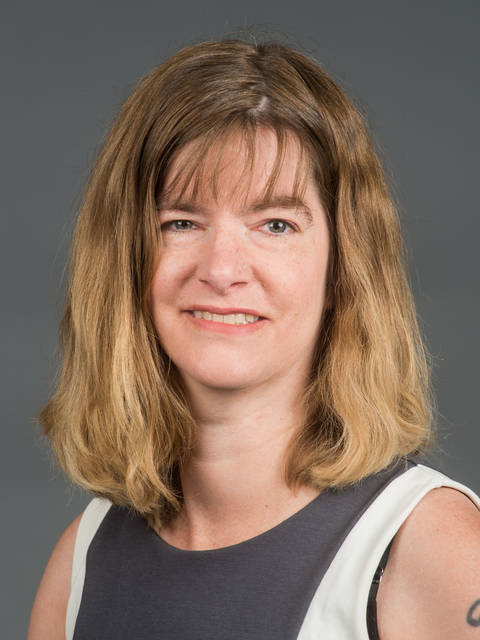 Kate moved to Eau Claire in 2002 to take a job as the Web Librarian in McIntyre Library. In 2005, she moved to the English Department where she taught first year composition, as well as literature and creative writing courses. She returned to the library in 2013. In addition to her work at the university, she serves as the Poetry Editor for the literary journal Barstow & Grand.
Library Liaison Areas: English, Music and Theatre, Women's, Gender, and Sexuality Studies, Economics and the College of Business.
---
Education
University of Illinois at Urbana-Champaign
MS in Library and Information Science, May 2002
Purdue University
MFA in English (Creative Writing), May 1998
Cornell University
BA in Cultural Anthropology, May 1993
Published Research
Miller, Robin and Kate Hinnant. Making Surveys Work for Your Library: Guidance, Instructions, and Examples. Forthcoming from ABC-CLIO, 2018.
Miller, Robin and Kate Hinnant. "When Students Accept Their Corporate Overlords: Privilege and Position In Our Information Society" (book chapter). Credit-Bearing Information Literacy Courses: Critical Approaches. Forthcoming from ACRL, 2018.
Miller, Robin and Kate Hinnant,"Seeking meaning: Capturing patron experience through a user survey"
Journal of Library Administration 56 (5), 559-571, 2016.

Markgraf, Jill, Kate Hinnant, Eric Jennings, and Hans Kishel. Maximizing the one-shot: Connecting library instruction with the curriculum, Rowman & Littlefield, 2015.

Watson, Shevaun, Cathy Rex, Jill Markgraf, Hans Kishel, Eric Jennings, Kate Hinnant, "Revising the "one-shot" through lesson study: Collaborating with writing faculty to rebuild a library instruction session"
College & Research Libraries 74 (4), 381-398, 2013.