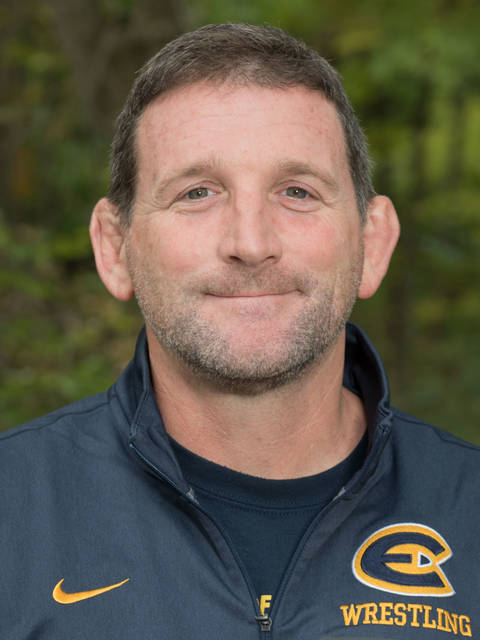 Tim Fader enters his fourth season as the UW-Eau Claire head wrestling coach in 2018-19.
While just in his fourth season at Eau Claire, Fader has a long history in the Wisconsin Intercollegiate Athletic Conference, having served as the UW-Whitewater head coach for 10 years, the UW-La Crosse head coach for six years and a La Crosse assistant for three seasons.
Fader won conference championships all six years he was head coach at La Crosse and his last three seasons at Whitewater. He was WIAC Coach of the Year four times in 1999, 2001, 2002 and 2014 and National Wrestling Coaches Association Coach of the Year in 2001 and 2012, and the d3Wrestle.com National Coach of the Year in 2014 with a national runner-up finish at Whitewater. His teams have had eight top 10 finishes at nationals. His 2000 La Crosse squad won the national dual meet championship. He has coached more than 40 All-Americans and 55 Scholastic All-Americans.
Fader is giving the Blugold wrestling program some stability for the first time since veteran coach Don Parker retired in 2009 after 32 years as head coach. Prior to Fader, the Blugolds had five different head coaches in six years.
A native of Illinois, Fader wrestled for his father Pete in high school at Rochelle High School, which is 80 miles west of Chicago and 25 miles south of Rockford. He wrestled collegiately at Augustana College (IL), where he graduated Summa Cum Laude with a degree in Accounting and Finance-Business Administration. He earned a master's degree in Sports Administration from UW-La Crosse in 1997. At Augustana, Fader was a two-time team MVP, two-time conference champion, three-time national qualifier, two-time NCAA Division III All-American and twice was named a First Team Academic All-American by the College Sports Information Directors of America (CoSIDA).
Fader was inducted into the NWCA D3 Coaches Hall of Fame in 2017. He wrestled for Hall of Fame coach Kevin Puebla at Augustana. At La Crosse, he coached with Hall of Fame coach Greg Lonning. At Whitewater, he took over for Hall of Fame coach Willie Meyers.
Fader is the proud father of son Rye, age 15, and daughters Molly, age 13, and Shae, age 9.
---