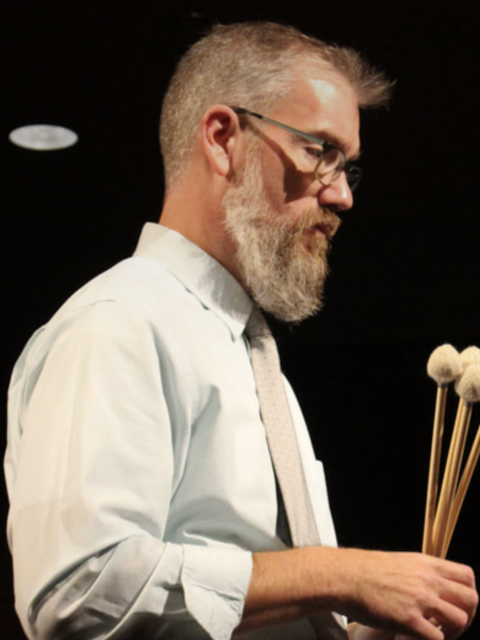 Dr. Jeffery Crowell is a Professor of Music at the University of Wisconsin-Eau Claire where he teaches applied percussion and percussion techniques, conducts the UW-Eau Claire Percussion Ensembles, and leads Jazz Ensemble III, part of the outstanding UW-Eau Claire award-winning jazz area. Before joining the faculty at UW-Eau Claire, Dr. Crowell taught on the faculties of several colleges, including Purdue University.
Dr. Crowell received his DMA in percussion performance (classical/contemporary) with minor fields in jazz performance and electro-acoustic media from the University of Southern California's Thornton School of Music. He is active throughout the United States as a performer, clinician, adjudicator, and educator with performances internationally and nationally including South Africa, Argentina, Uruguay, and at the John F. Kennedy Center for the Performing Arts in Washington D.C.
A versatile artist and a champion of diverse music of many genres, Dr. Crowell's performance and recording credits include such artists as Bobby Shew, Louie Bellson, David Samuels, Henry Mancini, Joan Rivers, Lou Harrison, Kent Nagano, David Garibaldi, Buddy Baker, Glen Velez, and John Bergamo. He has performed at the Los Angeles Philharmonic's Green Umbrella Series, presented and performed at the Percussive Arts Society International Convention several times, is in the motion picture "The Majestic" starring Jim Carrey, marched with the Velvet Knights Drum and Bugle Corps, and has taught on the staffs of numerous award-winning groups including the Tournament of Roses Marching Honor Band.
He is an active member of the Percussive Arts Society, currently on the Percussive Arts Society University Pedagogy Committee as well as having served on the Music Technology and Education Committees. Dr. Crowell is also serving as a member of the Wisconsin PAS Chapter Advisory Committee in addition to having been the Wisconsin Chapter President.
Dr. Crowell is also active in the publishing realm. He has an arrangement, Nanafushi for percussion trio, published through Tapspace Publications, LLC and has recent articles in School Band and Orchestra magazine and Percussive Notes, the journal of the Percussive Arts Society.
Dr. Crowell is a performing artist/clinician for Tama/Bergerault Concert and Marching Percussion, Sabian Cymbals, Innovative Percussion Sticks and Mallets, Tycoon World Percussion, and REMO Drumheads. He is also an Ensemble Artist and Educator Network member for Black Swamp Percussion.
---
Teaching Interests
MUSI 169/369 Applied Percussion
MUSI 186/386 Jazz Ensemble
MUSI 198 Percussion Techniques
MUSI 258/458 Percussion Ensemble
Education
B.A., California State University, Fresno
M.A., Eastern Illinois University
D.M.A., University of Southern California-Thornton School of Music (Percussion Performance)