Dr. Elena N. Casey, Ph.D.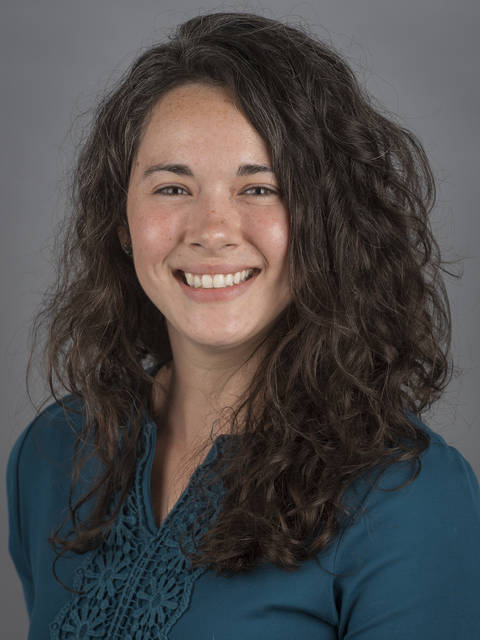 Dr. Casey works at UW-Eau Claire as Assistant Professor of Spanish, Program Advisor for the Spanish for Health Professions Minor, Affiliate of Latin American & Latinx Studies, Advisory Board Member for the Health Humanities program, and Core Member of the Wisconsin Latinx History Collective. Dr. Casey teaches and performs research on topics at the intersection of Spanish and the health sciences. She is co-PI with Dr. Jiménez Frei (History) for the Voces del Campo / Rural Voices student/faculty research project, training UWEC students to recruit, conduct, transcribe, translate, and analyze Spanish-language oral history interviews with Hispanic & Latinx community members in Wisconsin. She is PI for a grant through the Collaborative Research program between UWEC and Mayo Clinic Health System - NWWI, analyzing language services and pandemic experiences for patients with limited English proficiency. She is also co-investigator and Spanish Student Interpretation Coordinator for a study and practicum with UWEC Communication Sciences and Disorders, "Preparing Communication Sciences and Disorders Students to Collaborate with Interpreters." She has published and presented on COVID-19 oral histories, healthcare access, fever, disability, and mental illness in historical and present contexts, ranging from early modern Spain and the colonial Americas to present-day Hispanic and Latinx communities in the Midwest. Dr. Casey is also an active member of the Chippewa Valley Free Clinic's community advisory board and the Eau Claire City-County Health Department's Community Health Equity workgroup, advocating for equitable and inclusive healthcare practices for Hispanic and Latinx community members.
---
Teaching Interests
Spanish for Health Professions
Health Humanities
Early Modern and Colonial Spanish Literature and Culture
Research and Creative Activities
Ongoing Projects & Activities*
Project Lead, "Descriptive Analysis of Interpreter Service Mode Costs & Usage," UW-Eau Claire – Mayo Clinic Research Collaboration
Co-Lead, Rural Voices / Voces del Campo Oral History Interview Project
Coordinator, UWEC Spanish Student Interpreters, UWEC Center for Communication Disorders PreK-Elementary Speech Developmental and Hearing Screenings, Arcadia, WI
*Contact Dr. Casey if you are a student interested in learning about or joining any of these ongoing projects!
Past Projects & Activities
Co-Lead, Artes Latinas Cultural Arts, Traditions and Celebrations Oral History Interview and Folk Life Festival Organization Project, Chippewa Valley Museum, 2021 – 2022
Education
Dr. Casey completed her PhD in Romance Studies at the University of North Carolina at Chapel Hill (2019), following an MA in Hispanic Studies at the Middlebury College School in Madrid, Spain (2013). While completing her BA in Spanish & English at Messiah University, PA (2012), she studied abroad at the University of Barcelona, Spain and Oxford University, UK.
Published Research
Casey, Elena Nicole. "'Notable melancolía': Writing American Illness from Imperial Spain in Calderón's La aurora en Copacabana." Comedia Between Worlds/La Comedia entre mundos. Edited by Esther Fernández, Glenda Nieto, Susan Paun de García, and Erin Cowling, Sociedad Menéndez Pelayo, Anticipated 2023 (Accepted for Publication).
"'Grove of the Infirm' and 'Wonder at the Works of God' (1470s) by Teresa de Cartagena." Disability Experiences: Memoirs, Autobiographies, and Other Personal Narratives, edited by G. Thomas Couser and Susannah B. Mintz, vol. 1, Macmillan Reference USA, 2019, pp. 286-90.
"The Cuartanas of Lisis: The Remissive Etiology of the Novelas amorosas y ejemplares by María de Zayas y Sotomayor." eHumanista vol. 32, 2016, pp. 570-585.