Jose Felipe Alvergue, Ph.D., M.F.A.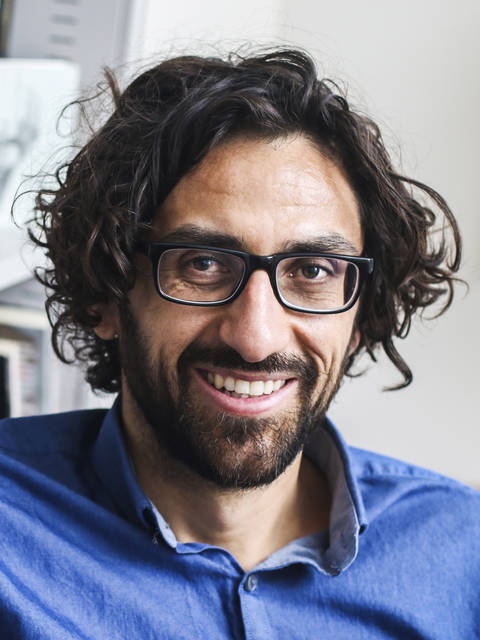 Dr. Alvergue is a graduate of both the Cal Arts Writing (MFA) and Buffalo Poetics (PhD) programs. Rather than distinguish between critical and creative inquiry, his work engages the intersection of aesthetic experience and political discipline, and appears in numerous journals. He is the author of gist : rift : drift : bloom (2015) and precis (2017). His third book, scenery, is forthcoming with Fordham University Press. He is currently at work on a new project, asylum : After Nation, which is a scholarly-lyric investigation into the lasting, catastrophic effects on the meaning of national identity following the current practices of detention at the Mexico/US Border. His research shapes the way he approaches teaching, in that he believes we can't unlock the empathy hidden behind words if we don't understand what is at stake in the risk writers and artists take when they decide to transform the matter which makes up the world around them.
---
Education
Ph.D., SUNY at Buffalo (English)
M.F.A., California Institute of the Arts, School of Critical Studies (Writing)
B.A., UC San Diego, John Muir College (Literature/Writing) - Departmental Honors with Distinction
Published Research
books
gist : rift : drift : bloom (Further Other Book Works 2015)
precis (Omnidawn 2017)
scenery (Fordham University Press 2020)
articles & essays
"Feeling the Riot: Fugitivity, Lyric, and Enduring Failure," in 21|19: Reading in Proximity. Edited by Kristen Case and Alexandra Manglis. Minneapolis, MN: Milkweed Editions (March 2019), 33-62.
"It Matters What You Call A Thing: War, Disavowal, and Contemporary Poetry," the minnesota review. Issue 91, Fall 2018: 68-91.
"Lyric Redress: the Racial Politics of Voice and American Personhood," Criticism. Issue 60.2 (2018).
"Poetic Seeing/Beyond Telling: the Transnational 'Call' in Theresa Hak Kyung Cha's Dictée," College Literature: A Journal of Critical Literary Studies, Spring 2016, Vol. 43 No. 2: 427-455.
"20th Century Experiments in Form: a Critical Re-reading of Cecilia Vicuña's Indigenism as Episteme," Comparative Literature, Spring 2014, Issue 66(2): 208-226.
"The Material Etymologies of Cecilia Vicuña: Art, Sculpture, and Poetic Communities," the minnesota review, Spring 2014, Issue 82: 59-96.
"Precarious/Sense: memory, history, and the poetics of spatial performance," Biopolitics and Memory in Postcolonial Literature and Culture. Edited by Michael Griffiths. Ashgate Publishing.
Review of "The Ethnic Avant-Garde: Minority Cultures and World Revolution. By Steven S. Lee," Comparative Literary Studies, 54: 3. 2017.
"Poetic Disinterest: Power, Movement, and Language After Heidegger," a review of Language After Heidegger, by Krzysztof Ziarek. Indiana University Press. SubStance: A Review of Theory and Literary Criticism. Volume 45, Number 2. 2016.
Review of Intersection, Sidewalks and Public Space, Eds. Marci Nelligan & Nicole Mauro. Chainlinks, 2008. Jacketmagazine 36 (online). 2008. 5 pages.
"Giftwork," essay for exhibition catalogue of Noncommittal: A Prospective Glance 2, UB Art Galleries, Buffalo, NY, November 5-December 12, 2009.
poetry & poetics
"senescence," P-Queue, V. 16, Fall 2019.
"riot: scott, king, long." Touch the Donkey, Issue 22, Summer 2019.
"scenery," Pamphlet Series 2, #6. Happy Monks Press, 2019.
"hogtied," TQ16, Spring 2018 (selected by Bhanu Kapil for the Prose Open Prize).
"born to violence," Tupelo Quarterly, Cross-Disciplinary Texts, Spring 2018.
BAX 2018: Best American Experimental Writing, eds. Myung Mi Kim, Seth Abrhamson, and Jesse Damiani. Wesleyan University Press 2018, 14-25.
"autochthony: or, so goes the logic," Boston Review, What Nature special issue, Summer 2018.
"[nation building / women's legal identity : the border's apocalyptic mater-futurity:]" Apogee. Spring 2014, Issue 4.
"interstice (ca. 1899)," TAB: The Journal of Poetry and Poetics. Spring 2014, Vol. 2, No. 11: 7-9.
"Totality vers Totality: notes experimentalism & Cecilia Vicuña's poetics," Kadar Koli 7 Special Issue on Violence, Spring 2012: 84-91.
"A Note on Performance," Becoming Poetics 2, 2011 (online).
"Dynamis/Poesis," in Building is a Process / Light as an Element: Essays and Excursions. Eds. Michael Cross and Andrew Rippeon. Queue Books 2009.
"cor-," in Scrapbook: A Small Press Portfolio, 2008 (hand-assembled commissioned artbook of material and poetic artifacts, various artists).
"The Red Glow of Flooded Americas," P-Queue 4 (2007): 127-146.
"Wealths & the Orchids," Nocturnes 3, (re)view of the literary arts: the "blues," (Spring 2004) Audio CD supplement of studio recording.
prose & fiction
"Those, Autumns of Dust," Trepan 5: monstrous (2006): 65-75.
"______-american," Black Clock 3 (Spring 2005).
"Dolores de la Primavera," Fourteen Hills (Spring 2002,) Vol. 8 No. 2: 25-32.