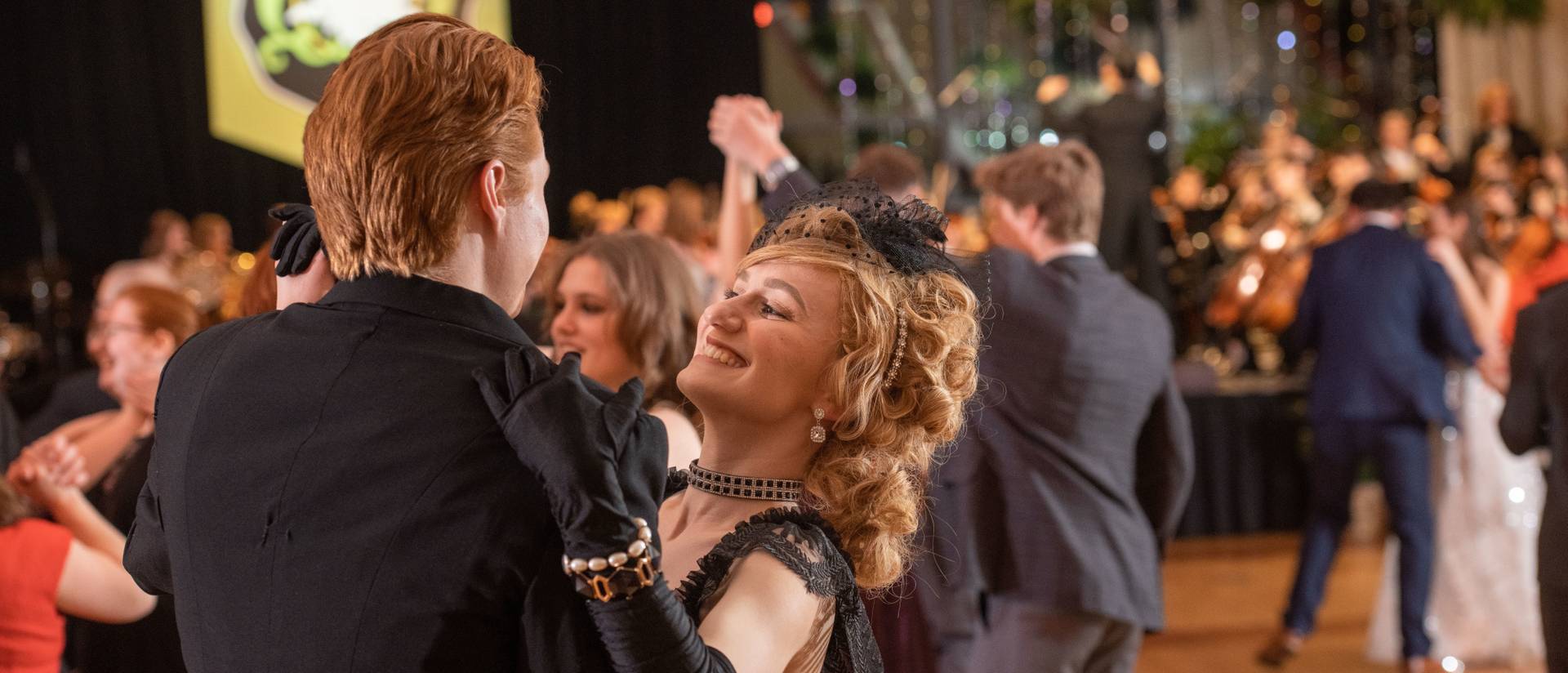 Friday, March 31 & Saturday, April 1, 2023
Supporting Student Scholarships
Through your attendance and support of the Ball, we have raised more than $1.5 million in music, service and international study scholarships and awards. Now in its fifth decade, the Ball welcomes the community to support the Ball, experience the excellence of our music programs and appreciate the character of our student-scholars.
Donate Today
2023 Viennese Ball Scholarship Recipients

MUSIC AND THEATRE ARTS AWARDS
Senior Music and Theatre Arts Awards
Awarded for talent, academic achievement, and contributions to the Music and Theatre Arts Department. The Viennese Ball also annually supports additional music scholarships awarded by departmental faculty to incoming and continuing students based on competitive audition and academic achievement.

Joseph Elliott
Viola Performance
West Allis, Wisconsin

Jacob Hallett
Music Composition, Piano Emphasis
Waukesha, Wisconsin


Lauren Ische
Instrumental Music Education
Victoria, Minnesota


Sarah Kauphusman
Applied Piano
Altoona, Wisconsin

Rafael Puga
Applied Instrumental
Juneau, Wisconsin

McKinley Uelman
Music
Oak Creek, Wisconsin


Emma Wyman
Comprehensive Theatre Arts
Saint Michael, Minnesota

---

MUSIC AND THEATRE ARTS AWARDS
Ada Bors Music Service Award
Ada Bors (1937-2014)
Awarded to a senior student for outstanding service to the Music and Theatre Arrts Department. This award is named in recognition of Ada Bors for her 25 years as founder and coordinator of the Viennese Ball.

Katherine Rosenberger
Music Education
Grafton, Wisconsin


---

MUSIC AND THEATRE ARTS AWARDS
Noble Statesmen Award
Recipients of this award must bring musical leadership to the ensemble and display character both in the ensemble and on campus. Recipients must be a returning member to The Singing Statesmen in the year following the receipt of the Noble Statesmen Award.

Will Schaaf
Accounting
McFarland, Wisconsin


---

KAREN G. STUBER SERVICE AWARDS
Presented to student employees in recognition of outstanding achievements and service to W.R. Davies Student Center and, specifically, to the Viennese Ball. This award is named in recognition of Karen Stuber for her 45 years of service to the Viennese Ball.

Abigail Braaten
Organizational Communication
Amery, Wisconsin

Erin Hanson
Public Health
Eau Claire, Wisconsin


Nicole Kirchner
Unified Early Childhood
Clintonville, Wisconsin


Paul Meisner
Software Engineering
Eau Claire, Wisconsin


Brenna Strojinc
English, Creative Writing
Kenosha, Wisconsin

Elegance
The Viennese Ball is inspired by the historic Kaiser Ball housed in Vienna at the Hofburg Congress Center, the former Imperial Palace and seat of the Austrian emperors. A multi-roomed New Year's Eve extravaganza in the style of Emperor Franz Joseph and Empress Elizabeth's "Ball at Court," the Kaiser Ball features thousands of flowers, wonderful food, and a wide variety of musical events including Salonmusik, Volkmusik, and, of course, orchestras playing Viennese waltzes.
Music + Dancing

Waltz and swing dance to Big Band standards in our Grand Ballroom, polka in the Festival Hall, enjoy music and fun in the American Bar and enjoy showcase performances on our Bösendorfer Concert Grand Imperial Piano.

Schedule and program for the evening can be found here.
Food + Drink

Enjoy a variety of traditional Austrian street food offered in an a la carte setting in the Naschmarket as well as a variety of desserts featuring our famous Sachertorte style cakes.

Local Brewery Beer Sampling
Try out a variety of locally brewed beers. $2 for a 6oz pour or purchase a glass beer stein for $15 with includes one pour (additional pours are $5).

NEW THIS YEAR!
Viennese Ball Dinner

We cordially invite you to join us for a showcase of traditional Austrian and Viennese cuisine in the Dulany Inn located in the Davies Center at the University of Wisconsin Eau Claire. The classic dining room features a white table cloth setting with tableside beverage service and buffet style dinner service.

Seating will be available from 6:30 pm – 8:30 pm. The cost is $23.95 per person and includes dinner, dessert, and a non-alcoholic beverage. Beer and wine will be available for a la carte purchase.

Reservations are highly encouraged due to the intimate setting and can be made by contacting Julie Risen at (715) 836-2868 or at dining@uwec.edu. Please be sure to note any dietary restrictions upon reserving.

Dulany Inn
Viennese Ball Dinner
Viennese Ball Dinner Menu

Marketplace Dining

Bar Locations

Marketplace (Full Service)
The Cabin (Beer & Wine)
Ojibwe Ballroom Pre-Function (Full Service)
Volunteer

**Limited Volunteer Opportunities available**

Be a part of our team

The dedication of volunteers has always been instrumental in presenting the annual Viennese Ball. The Viennese Ball Committee deeply appreciates the commitment and enthusiasm of those who volunteer their time and talents before, during and after the event.

Your Pass To The Ball

Volunteers are issued a pass to attend the Viennese Ball on the night of their choice. The pass is valid only for the night selected.

Note: volunteers who attend the Viennese Ball but do not fulfill their volunteer obligations may be charged for the cost of the pass.

Expectations

Volunteers are required to commit to four (4) hours of time to volunteer duties during the week preceding the Viennese Ball, or on the day immediately following the Ball.
We will contact you before the event about your roles.

Interested in Volunteering?

Sign up here

Contact Volunteer Coordinator: Michael St. Ores
Best weekend of the year!! Everyone needs to attend this amazing event at least once. I have been attending for the last 5 years, and this was my first year attending as an alumni. It is so fun to return year after year and see old classmates, listen to the incredible talent UWEC has to offer, and dance the night away. The Viennese Ball is something that I look forward to every year, and I don't see that ever changing.