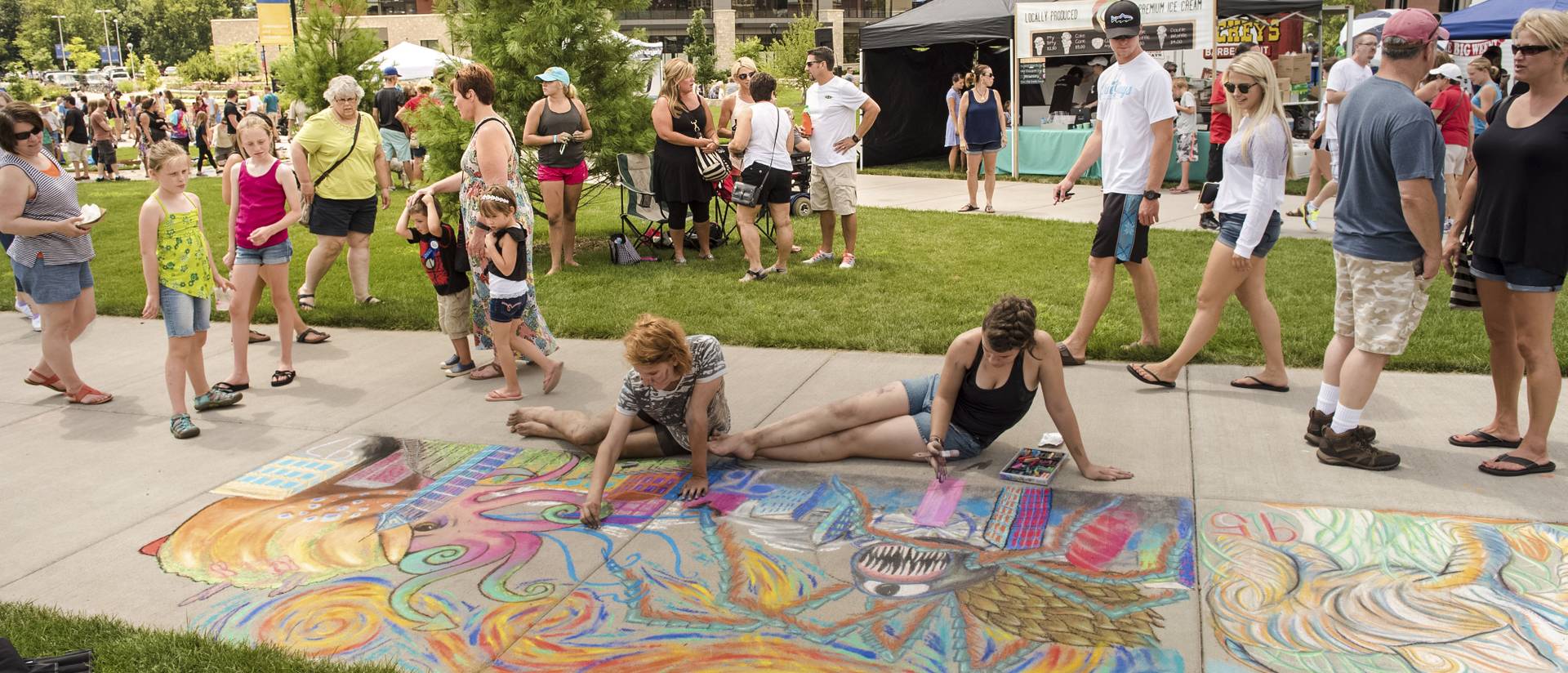 Saturday, July 29, 2023 | 11 a.m. - 7 p.m.
Chalkfest is a day-long firestorm of creativity and positive community energy, culminating in over a quarter mile of sidewalk space displaying amazing chalk artwork! Created by Volume One, this event is hosted on the beautiful UW-Eau Claire campus along the Chippewa River. Chalkfest is one of the most highlight anticipated events of the summer and it's a free urban art festival with tons of family-friendly fun!
2022 Winners

Adult

Jury Prize: Angela Clark (74)

Honorable Mention: Emily Pickhardt (156)

Youth

Jury Prize: Olivia Morning (87)

Honorable Mention: Elora Paine (191)

Group

Jury Prize: The Lambrechts (118)

Honorable Mention: Augusta HS Art Club (64)

Audience Choice

Trey King (166)

Honorable Mention: Alejandro Itehua (30)
Tentative Events Schedule

Saturday, July 30

7am-10am: Artist check-in and artwork begins

11am-6pm: Art is open to the public. Music, food and games will be on the campus mall. Audience Choice voting begins
Artist Details

Check-in

Saturday from 7 a.m. - 10 a.m. at the Registration Tent. We'll provide registration materials and show you your assigned space.

You may not register or begin chalking before 7 a.m. This is to ensure all artists are judged fairly.

General suggestions

Be Ready | Completing a drawing can be physically challenging depending on the complexity and size. Be ready to work hard and consider using friends as help!
Protect Yourself | Wear a hat and sunblock to prevent sunburn.
Focus on comfort | Knee pads are strongly recommended, and old pillows or other comfort devices are also encouraged. Perhaps a folding yard chair.
Consider Extra Chalk | Pastels will be provided for those who choose the $30 square, however if you are using a predominant color in your design you may want to purchase that color before the festival. Some swapping of colors with other artists may be possible. Additionally, we will have some pastels available for sale on site (cash only).

Rules + guidelines

Artists must be at least twelve (12) years old to participate.
Artwork must be appropriate for public viewing. Nudes, advertising or overt political statements are not allowed.
Oil pastels are not allowed.
Artists must stay within space provided, though the whole space does not have to be used.
Non-compliance with these rules may result in removal from the festival.
Chalkfest organizers may use photos or reproductions of your artwork for future advertising and media purposes.

Artists Lounge

We will have an artists lounge located in Centennial Hall for you to take a break from the sun. Refreshments will be provided at no cost.

Weather

It is the artist's responsibility to bring materials to cover their drawings and to weigh down the materials so they don't blow away. In case of severe weather, the festival will be cancelled and refunds will not be available due to costs incurred by Chalkfest.
Artist FAQs

How do I register to draw?

Click here to register.

How much is registration?

Registration fees for 2022 are: $35 which includes a concrete square, 48 box of colored chalk, 1-chalkfest branded cooling towel, 1 pair of gloves &
blending sponge or $20 for just the concrete square.

Where can I park?

Parking is available behind the Davies Student Center and Hibbard Hall. Click here for further parking and transportation details

When will judging begin?

4pm – 6pm Judges

11am-6pm Audience Favorite voting

What categories can we be judged on?

Group Awards:

Group Jury Award

Group Honorable Mention

Audience Choice

Audience Choice Honorable Mention

Individual Awards:

Adult Individual Jury Award

Adult Individual Honorable Mention

Youth Individual Jury Award

Youth Individual Honorable Mention

Can I bring a tent for shade?

Yes! However, to ensure there is no damage to our campus mall, we ask everyone either uses sandbags or small weights for tent stabilization. No stakes please!

Where are the restrooms?

Closest bathrooms to artists and attendees the day of Chalkfest will be inside Centennial Hall.
Available for purchase at Chalkfest

Artist Supply Pricing (quantities limited)

Extra Pastels - 50¢

Extra Sponges - 50¢

Extra Gloves - 50¢

3 Black & 3 White Sets - $3

6 Black Set - $3

12 Pastel Set - $7

24 Pastel Set - $10

48 Pastel Set - $16
Amazing Art
The UW-Eau Claire campus is covered with several large sidewalks where registered artists of all ages from throughout the community will create elaborate, large-scale chalk artwork. Throughout the day, artists will create their work as thousands of visitors watch their drawings come to life. Participants are encouraged to pre-register to reserve a spot.
Family Fun
Visit our Family Fun Zone for activities for the whole family! Enjoy the sweet sounds of local musicians in the Outdoor Amphitheater.
Entertainment
Live Music
Fantastic Food
We feature some of the best food trucks in the Chippewa Valley.
Volunteer

Interested in volunteering at Chalkfest?
It's an awesome way to get involved with a fun, community event and check out some great local art! We have shifts from 7am-6pm and they vary from registration tent help to chalk sales assistant to handing out programs.

Volunteer opportunities will be announced in June.
FAQs

Before you come

What time does Chalkfest start and end?

Chalkfest is open to the public at 11 a.m. and activities end around 7 p.m.

Where is Chalkfest held?

Chalkfest is held on the UW-Eau Claire lower campus mall.

Where can I park?

Parking is available free and readily available in the Hibbard or Phillips Lot and across the footbridge at the Water Street or Haas Fine Arts Lots. Click here for a campus map. Additional parking can be found on the street.
Become a sponsor
Chalkfest attracts thousands of people from the Chippewa Valley and beyond, and is covered widely in local and regional media. Sponsors are recognized through extensive local advertising, on social media and at the event. Contact us to learn more about joining us as a sponsor!