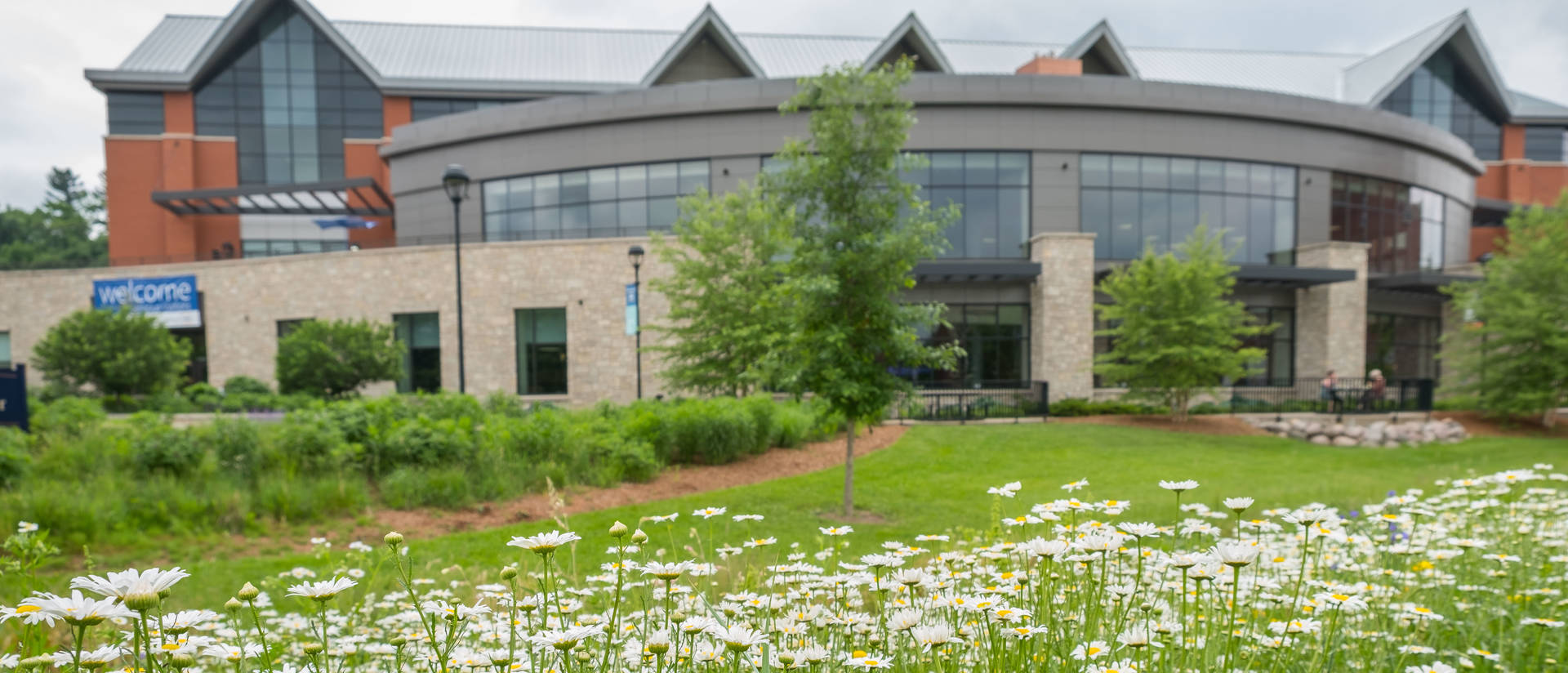 Supporting the Blugold Community
Housed in the W.R. Davies Student Center, University Centers is a student-focused, student-centered unit. We provide a plethora of social and educational programs, services and experiences central to the UWEC student co-curricular experience, while also being integral to the Eau Claire community.
As well as directing the programs, services and facilities of the Davies Student Center, the administration and staff of University Centers manages the unit budget and accounting operations, and oversees contracted services including dining, banking, bookstore, textbook rental and vending.
Our Mission, Vision and Values
Mission
University Centers supports the Blugold Community by creating a welcoming environment, and offering holistically transformative experiences outside of the classroom through our services, spaces, programs and people.
Vision
We are the heart of the campus community and aim to be the top student center in the nation by providing developmental opportunities, robust services, and dedication to the on-going needs of all students.
Values
Students, stewardship, inclusivity, collaboration and community development
Units
The Activities Involvement and Leadership Office (AIL) is an office in the Division of Equity, Diversity, Inclusion and Student Affairs, but is housed in the Davies Center. They administer arts and events programming, and oversee 230 student organizations. Programs include the Artists Series, The Forum, the International Film Series, University Activities Commission and Summer Events, all funded through student segregated fees making events very affordable to students.
Staff advise Greek life, the University Activities Commission, Student Organizations Commission of the Student Senate, and the Student Organizations Code of Conduct Committee; coordinate and plan the Artists Series and Forum; and administer the programs and services of the Student Organizations and Leadership Center.
The office coordinates student leadership initiatives and recognition programs, volunteer services, and special events and student involvement opportunities throughout the year. The staff also collaborates on many campus wide events.
University of Wisconsin-Eau Claire photo ID cards are issued at Blugold Card Services, the point of contact for ID-based activities offered campuswide — including door access, point-of-sale, attendance, circulation and e-commerce. Blugold Card Services also administers the meal plan that is required for nearly every student who lives on campus. Through the university's banking partnership, students also have the option of using their Blugold Cards as ATM or signature-based debit cards for transactions on and off campus. U.S. Bank has been UW-Eau Claire's banking partner since 2005, and opened a branch bank in Davies Center in 2012.
Cafeteria, fast food, à la carte, catered and fine-dining options are offered to the university community and to the public. Nearly all campus residents participate in a campus meal plan that offers the most economic options at the cafeteria in Hilltop Center. Davies Center retail facilities include a food court, organic store, coffee café and fine dining area. Sodexo Operations, LLC, has provided Blugold Dining service on the UW-Eau Claire campus since 2002.
The University Bookstore sells a variety of course-related and general interest reading materials; licensed emblematic gifts and clothing; greeting cards; and school, art, computer and office supplies. UW-Eau Claire undergraduates may rent textbooks and other course materials from the University Bookstore's Instructional Resource Rental Department, which is funded by a designated portion of undergraduate tuition. The textbook rental inventory currently numbers 93,000 books and is valued at $9,800,000. Since 2021 the University Bookstore has operated under contract with Follet.
Responsible for all non-academic reservations on campus, Conference and Event Services is the university's centralized event planning organization. The office works with students, staff and the community to plan conferences, meetings and other events on campus, and works with administrative offices and academic departments in executing programs that support instruction and co-curricular activities. An array of event technology is available. Conference and Event Services also directs the annual Viennese Ball, the largest social event presented on the UW-Eau Claire campus. In addition, the coordination of camps and conferences are administered.
Located on the lower level of Schofield Hall, Printing Services offers affordable and convenient printing and production services to the university community and the public. Printing Services offers competitive pricing on business cards, presentation materials, posters, labels, envelopes, postcards, brochures and booklets. High-speed black-and-white digital copies, high-quality color copies, large-format printing and a range of bindery services are offered, and student graphic designers are on staff to create custom materials. The area is UW-Eau Claire's designated agency printing manager, ensuring that all off-campus printing is purchased in accordance with state law and policy.
Service Center
The central source of campus information, the Service Center plays a key role in university communication, acting as the switchboard for the campus and providing one-stop convenience for many essential services. The university's centralized ticket office, the Service Center works with organizations, academic departments and administrative offices to produce and sell tickets to campus events. The Service Center is a U.S. Postal Service Contract Postal Unit, and a UPS drop box is also available. Faxing, scanning and copying services are also available.
Blugold students can enjoy the convenience of using the US Bank branch office located in the Davies Center. This bank offers the option of turning the Blugold ID card into a debit card, which can be used both on and off campus anywhere visa debit is accepted. Now that's a powerful student ID.